Physical Activity of Nurses.Comparative Study
Maria Chuchra

The John Paul II Catholic University of Lublin

Julia Gorbaniuk

The John Paul II Catholic University of Lublin
Keywords:
nurses; physical activity; lifestyle
Abstract
Nurses are important promoters of health in society, so they must consciously take care of their health to serve as spokespersons for a healthy lifestyle and role models. Physical activity is one of the significant dimensions of health-related behaviors and a healthy lifestyle. The purpose of this article was to compare physical activity in the free time of nurses and women performing other professions.
The research included 100 nurses and 100 women doing other professions. The respondents were tested with the matched pair-selection method, taking into consideration two variables: a place of residence and age. The survey questionnaire that was used was prepared for the purpose of a smaller study. The research revealed that the main difference relates not to the forms of physical activity, but its frequency and this is usually related to the age of the participants. The most common forms of physical activity in both groups are walking and cycling. However, nurses practice them with much less frequency. The essential reason for this is because they have significantly less free time, both on working days and holidays. The main motive of physical activity for nurses is health (52%) while in the control group – pleasure (35%). Nurses also significantly more often perform prophylactic and are convinced about the necessity of leading a healthy lifestyle.
References
Aktywność fizyczna Polaków, CBOS, Warszawa 2018, nr 125, s. 1-10.
Bergier J., Bergier B., Soroka A., Kubińska Z., Aktywność fizyczna pielęgniarek z uwzględ¬nieniem ich wieku, "Medycyna Ogólna" 16(2010), nr 4, s. 595-605.
Blake H., Stanulewicz N., Mcgill F., Predictors of physical activity and barriers to exercise in nursing and medical students, "Journal of Advanced Nursing" 73(2017), nr 4, s. 917-929.
Deluga A., Dobrowolska B., Kosicka B., Brzozowska A., Wartościowanie zdrowia w opinii pielęgniarek w odniesieniu do zmiennych społeczno-demograficznych, "Journal of Education, Health and Sport" 6(2016), nr 4, s. 167-180.
Deluga A., Dobrowolska B., Kosicka B., Ślusarska B., Jędrych M., Brzozowska A., Znaczenie zdrowia w hierarchii wartości osobistych pielęgniarek, "Studia Medyczne" 34(2018), nr 1, s. 64-69.
Dubray A., Bergier J., Gładysz I., Role of physical activity in the lifestyle of French nurses, "Health Problems of Civilization" 11(2017), nr 4, s. 253-260.
Góreczna A., Garczyński W., Motywy podejmowania aktywności fizycznej – przegląd literatury, "Heath and Sport" 2017, nr 7, s. 322-337.
Hicks M., Mcdermott L.L., Rouhana N., Schmidt M., Seymour M.W., Sullivan T., Nurses' body size and public confidence in ability to provide health education, "Journal of Nursing Scholarship" 40(2008), nr 4, s. 349-354.
Jankowska-Polańska B., Wijacka K., Lomper K., Uchmanowicz I., Zachowania zdrowotne personelu pielęgniarskiego w profilaktyce nadciśnienia tętniczego, "Współczesne Pielęgniarstwo i Ochrona Zdrowia" 3(2014), nr 3, s. 67-70.
Książek J., Jarzynkowski P., Piotrkowska R., Wybrane elementy stylu życia pielęgniarek ope¬racyjnych, "Medycyna Rodzinna" 2015, nr 3, s. 103-109.
Lin M-L., Huang J-J., Chuang H-Y., Tsai H-M., Wang H-H., Physical activities and influencing factors among public health nurses: a cross-sectional study, BMJ Open2018;8:e019959, doi:10.1136/bmjopen-2017-019959.
Mynarski W., Grabara M., Nawrocka A., Niestrój-Jaworska M., Wołkowyska B., Cholewa J., Rekreacyjna aktywność fizyczna i dolegliwości mięśniowo-szkieletowe pielęgniarek, "Medycyna Pracy" 65(2014), nr 2, s. 181-188.
Perry L., Xu X., Gallagher R., Nicholls R., Sibbritt D., Duffield Ch., Lifestyle Health Behaviors of Nurses and Midwives: The 'Fit for the Future' Study, "Journal of Environmental Research and Public Health" 15(2018), nr 5, s. 945; doi:10.3390/ijerph15050945.
Radsma J., Bottorff J.L., 'Counteracting' ambivalence: nurses who smoke and their health promotion role with patients who smoke, "Research in Nursing & Health" 32(2009), s. 443-452.
Raport Aktywność fizyczna Polaków 2017, https://sponsoringsport.pl/raport-aktywnosc-fizyczna-polakow-2017.
Remigrońska A., Włoszczak-Szubzda A., Zachowania zdrowotne pielęgniarek czynnych zawodowo co najmniej jeden rok, "Aspekty Zdrowia i Choroby" 2016, nr 1, s. 41-53.
Rush K.L., Kee C.C., Rice M., Nurses as imperfect models of health promotion, "Western Journal of Nursing Research" 27(2005), nr 2, s. 166-183.
Zagroba M., Kulikowska A., Marcysiak, M., Wiśniewska E., Ostrowska B., ¬Skotnicka-Klonowic G., Aktywność fizyczna pielęgniarek, "Problemy Pielęgniarstwa" 18(2010), nr 3, s. 329-336.
Zapka J.M., Lemon S.C., Magner R.P., Hale J., Lifestyle behaviours and weight among hospital-based nurses, "Journal of Nursing Management" 17(2009), nr 7, s. 853-60.
Zdrowie i prozdrowotne zachowania Polaków, Warszawa: CBOS 2016, nr 138, s. 1-15.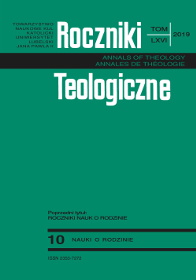 Copyright (c) 2019 Roczniki Teologiczne
This work is licensed under a Creative Commons Attribution-NonCommercial-NoDerivatives 4.0 International License.