Orders and Prohibitions for Sale? Moral Theology at the Time of Knowledge Commercialization
Keywords:
knowledge commercialization; moral theology; humanities; higher education; innovation; know-how
Abstract
Nowadays, very strong aspirations aiming to link science with the economy, are known. These aspirations create specific problems for human sciences, which don't generate products, technology and patents for sale, and thereby they don't bring measurable benefits to industry and universities. Moral theology, which essential part is to define norms and prohibitions, may seem to be rather a suppresion brake for innovative economy than its driving force. However, moral theology provides practical indications which can give a more human character to the technological development. It is possible only when its relationship with business at the level of scientific research will be as small as possible, and its financing completely independent from the market law.
References
Apanowicz J., Metodologiczne elementy procesu poznania naukowego w teorii organizacji i zarządzania, Gdynia 2000.
Białas A., Istota i cel nauki – spojrzenie fundamentalisty, "PAUza Akademicka. Tygodnik Polskiej Akademii Umiejętności" 3(2011), nr 127, s. 1.
Gawlik G., Łasecki T., Sielewiesiuk J., Komercjalizacja wiedzy. Podręcznik dla naukowców, Wrocław 2015.
Gocko J., Nauka społeczna Kościoła w poszukiwaniu własnej tożsamości, Warszawa 2013.
Grabski M., Uczciwość i wiarygodność nauki. Praktyka, "Nauka" 2(2009), s. 37-59.
Kalinowski T.B., Modele komercjalizacji i transferu technologii, w: Komercjalizacja wiedzy i technologii a własność intelektualna, red. D. Trzmielak, Łódź 2010, s. 11-27.
Koj A., Przemówienie podczas spotkania z Janem Pawłem II (Kraków, 8.06.1997).
Mroczkowski I., Teologia moralna. Definicja – przedmiot – metoda, Płock 2011.
Nagórny J., Natura teologii moralnej, w: Polska teologia moralna. 40 lat po Soborze Watykańskim II, red. J. Nagórny, J. Gocko, Lublin 2006, s. 91-125.
Oleś P., O niektórych etycznych i nieetycznych obrzeżach uprawiania nauki, "Nauka" 4(2007), s. 19-34.
Trzmielak D., Byczko Sz., Zarządzanie własnością intelektualną w przedsiębiorstwie i na uczelni, Gdańsk 2010.
Zadykowicz T., Chrystopraksyzm refleksji teologicznomoralnej. RT 61(2014), z. 3, s. 49-64.
Zadykowicz T., Etyka pracy naukowej i dydaktycznej teologa moralisty, w: Ksiądz Profesor Janusz Nagórny – teolog moralista (1950-2006), red. K. Jeżyna, J. Gocko, W. Rzepa, Lublin 2010, s. 199-211.
Zadykowicz T., Miejsce "nakazów" i "zakazów" w posłudze Kościoła wobec człowieka i świata, w: Archidiecezjalne Wyższe Seminarium Duchowne w Białymstoku. Informator 2001/2002, red. A. Proniewski i in. Białystok 2001, s. 19-30.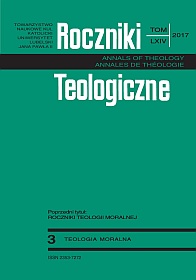 Copyright (c) 2017 Roczniki Teologiczne
This work is licensed under a Creative Commons Attribution-NonCommercial-NoDerivatives 4.0 International License.