Surrealistic Versions of John Paul II. Two Films – About Theatres, and not Only – "Featuring" the Pope
Keywords:
John Paul II, Jan Švankmajer, Spike Jonze, surrealism, puppetry, marionette
Abstract
The subject of this paper are such surrealistic films as Conspirators of Pleasure (Czech: Spiklenci slasti, by Jan Švankmajer, 1996) and Being John Malkovich (by Spike Jonze, 1999), in which John Paul II is featured in the form of a montage, and theatre also plays an important role, as either one of the leading topics or else as an artistic convention. The author questions the sense of these references and what can they possibly communicate.
In both of the films analysed, the interpolations of John Paul II usually break out of the normal order of things; they are additions to the represented world, elements of another reality, and thus constitute a perfect component of surrealist art, which aims – among other things – to increase confusion by the intentional incongruity of the elements presented. In these montages, John Paul II becomes an icon of seriousness, gravitas and the most important events in the world, but also a sort of "star," a celebrity, a media person. The clash between this gravitas and the grotesque world of the movie characters often elicits dissonance and confusion, as both movies are concerned with yielding to various, sometimes completely absurd, passions. In Conspirators of Pleasure this means – above all – erotic and sexual desires; in Being John Malkovich – a desire for success and fame (apart from various configurations of sensual lust). Additionally, there is the clearly emphasised dream of being somebody else, as well as dreams of earthly immortality. John Paul II did not share such dreams, believing that the most important things are conforming to God's will, one's self-esteem in the light of the evangelical truth about Transcendence and Christ's love towards men, and the "return to oneself" – playing one's own role, not somebody else's. The Pope exemplified with his own life how to go beyond one's own habits, how to worship God above everything else, how to respond to other people, defeat egoism and resign from comfort, and how to live a real life in a real space, not an illusory one, unlike the characters in the above-mentioned movies.
References
Bobowski, Sławomir. Między świętością a potępieniem. Martin Scorsese i religia. Wydawnictwo Uniwersytetu Wrocławskiego, 2007.
Breton, André. "Ankieta na temat miłości". Surrealizm. Antologia. Przeł. i oprac. Adam Ważyk, "Czytelnik", 1973.
Černy, Milan "gulaulin". "Jan Švankmajer", www.csfd.cz/tvurce/3305-jan-svankmajer/. Dostęp 15.07.2013.
Cooper, Jean C. Zwierzęta symboliczne i mityczne. Tłum. Anna Kozłowska-Ryś i Leszek Ryś, Dom Wydawniczy Rebis, 1998.
Film "Spiskowcy rozkoszy", Centrum Edukacji i Inicjatyw Kulturowych w Olsztynie, www.ceik.eu/aktualnosci-kalendarium/artykul/article/film-spiskowcy-rozkoszy.html. Dostęp 11.02.2020.
Gajda-Zadworna, Jolanta, i Beata Zadworna. "Być jak Malkovich". W Sieci, nr 23, 2016, ss. 45, 47. Hames, Peter. Czechosłowacka Nowa Fala. Tłum. Justyna Burzyńska i in., słowo/ obraz / terytoria, 2009.
Hames, Peter. "Interwiev with Jan Švankmajer". Dark Alchemy: The Films of Jan Švankmajer, edited by Peter Hames, Flick Books 1995, p. 104.
Jan Paweł II. Dzieła zebrane. Tomy 1–16. Wydawnictwo M, 2007.
Jan Paweł II. "Rozważanie przed modlitwą «Regina caeli»", 21 maja 1995, Ołomuniec, Czechy, opoka.org.pl/biblioteka/W/WP/jan_pawel_ii/modlitwy/ap_olomuniec_21051995.html. Dostęp 22.08.2019.
Jonze, Spike, i Kinga Dębska. "Tunel w murze". Rozmowę przeprowadziła Kinga Dębska. Wprost, nr 17, 2000, s. 108.
Kałużyński, Zygmunt, i Tomasz Raczek. "Podróż do wnętrza Malkovicha". Rozmawiają Zygmunt Kałużyński i Tomasz Raczek [Być jak John Malkovich – recenzja]. Wprost, nr 19, 2000, ss. 102–103.
Kopaliński, Władysław. Słownik symboli. Wiedza Powszechna, 1990.
Kornatowska, Maria. "Orson Welles kontra John Malkovich" [Być jak John Malkovich – recenzja]. Kino, nr 4, 2000, ss. 39–40.
Král, Petr. Private Screening. Translated by P. Hammond, Frisson, 1985.
Pasek, Beata. "Co ty wiesz o Malkovichu?" [Być jak John Malkovich – recenzja, 1999], www.filmweb.pl/reviews/recenzja-filmu-By%C4%87+jak+John+Malkovich-71. Dostęp 15.02.2020.
Pawlukiewicz, Piotr. "Wyruszyć w dal, by wrócić do samego siebie (konferencja)", 2012, www.youtube.com/watch?v=_Ej9Znjt-ig. Dostęp 03.04.2020.
Saunders, Nicholas. Dusze zwierząt. Tłum. Zbigniew Dalewski, MUZA SA, 1996.
Seul, Anastazja. Literatura polska w wypowiedziach Jana Pawła II. Sacrum. Prawda. Dobro. Piękno. Wydawnictwo Rys, 2014.
Švankmajer, Jan. "Jestem surrealistą". Rozmowa Bogusław Zmudziński. Przeł. Ján Golian, Kino, nr 4, 2002, ss. 23, 56.
Szczerba, Jacek. "John Malkovich chce być kimś lepszym" [Być jak Stanley Kubrick – recenzja]. Gazeta Wyborcza, wyd. zasadnicze, nr 94, 2006, s. 17.
Tomaszewska, Ewa. Tam i z powrotem. Rzecz o lalkarskich kontaktach polsko-czechosłowackich i polsko-czesko¬słowackich na Śląsku. Wydawnictwo Uniwersytetu Śląskiego, 2019.
Wielebska, Kamila. "Miłość szalona między obsesją a mitem". Dzieje grzechu. Surrealizm w kinie polskim, red. Kamila Wielebska i Kuba Mikurda, Korporacja Ha!art, 2010.
Wiśniewska, Monika. "Wieczne życie w czyjejś głowie" [Być jak John Malkovich – recenzja]. Przegląd Tygodniowy, nr 15, 2000, s. 20.
Zarębski, Konrad J. "Rozkosze surrealizmu" [Spiskowcy rozkoszy – recenzja]. Kino, nr 12, 2003, s. 35.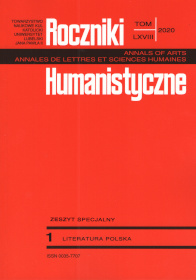 Copyright (c) 2020 Roczniki Humanistyczne
This work is licensed under a Creative Commons Attribution-NonCommercial-NoDerivatives 4.0 International License.