Capital Punishment Versus the Right to Life in the Opinion of Future Pedagogues
Teresa Zubrzycka-Maciąg

Maria Curie-Skłodowska University in Lublin

Justyna Rak

Maria Curie-Skłodowska University in Lublin
Keywords:
capital punishment; right to life; justice
Abstract
Person's attitudes, choices and the way in which he or she evaluates life events are determined by the system of values he or she adheres to. In the era of axiological chaos, the values that condition the perseverance of human existence and the continuity of the world order acquire particular significance. The article deals with the capital punishment in the context of the implementation of such universal values as justice and the right to life. The aim of the survey whose results are presented in the article was to learn the opinions of future resocialization pedagogues, students of the John Paul II Catholic University of Lublin and the Maria Curie-Skłodowska University on the subject of the capital punishment and the justification of its adjudication.
References
Bardach J., Prawo sądowe polskiego średniowiecza, w: J. Bardach, B. Leśnodorski, B. Bartusiak, Kara śmierci w świetle sporu o racjonalizację kary, Warszawa 2011.
Butowski K., Dopuszczalność kary śmierci w ujęciu Tadeusza Ślipki. Kara śmierci rekapitulacją uprawnionej obrony, "Studia Ecologiae et Bioethicae" 2010, nr 8, s. 77-89.
Czerniecki J., Kara (nie)ostateczna "Teologia Polityczna Co Tydzień" 2018, nr 37(129) (dostęp: 2.10.2019).
Goliszek P.T., Personalistyczny wymiar katechezy, Lublin 2016.
Grześkowiak A. (red.), Prawo karne w poglądach profesora Juliusza Makarewicza, Lublin 2005.
Grześkowiak A., Kara śmierci w polskim prawie karnym, Toruń 1982.
Grześkowiak A., Znieść karę śmierci!, "Palestra" 1982, nr 9-10, s. 59-67.
Lewowicki T., Aksjologia i cele edukacji "Toruńskie Studia Dydaktyczne" 1993, nr 2, s. 51-59.
Łobocki M., Wychowanie moralne w zarysie, Kraków 2002.
Marek A., Konarska-Wrzosek V., Prawo karne, Warszawa 2016.
Mielnik D., Kara śmierci w polskim prawie karnym. Refleksje historyczno-dogmatyczne, Łódź 2017.
Mitera M., Zubik M., Kara śmierci w świetle doświadczeń współczesnych systemów prawnych, Warszawa 1998.
Nowak M., Teorie i koncepcje wychowania, Warszawa 2008.
Salij J., Kościół wobec kary śmierci "Teologia Polityczna Co Tydzień" 2018, nr 37(129) (dostęp: 2.10.2019).
Śnieciński J., Encyklopedia pedagogiczna XXI wieku, t. II, Warszawa 2003.
Świtka J., Filozoficzne i socjologiczne ujęcie kary, w: M. Kuć, I. Niewiadomska (red.), Kara kryminalna. Analiza psychologiczno-prawna, Lublin 2004.
Świtka J., Kara kryminalna na tle osobowości przestępcy, Rzeszów 2013.
Warylewski J., Kara: podstawy filozoficzne i historyczne, Gdańsk 2007.
Zubrzycka-Maciąg T., Wychowanie moralne we współczesnej szkole, w: J. Górniewicz (red.), Edukacja – w stronę kluczowych wartości, Olsztyn–Białystok 2017.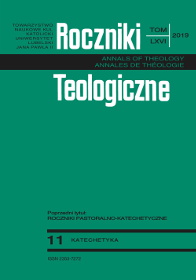 Copyright (c) 2019 Roczniki Teologiczne
This work is licensed under a Creative Commons Attribution-NonCommercial-NoDerivatives 4.0 International License.