Problematic Return to Sources: Immaculate Conception of the Blessed Virgin Mary in the Liturgy of the Ukrainian Greek Catholic Church
Bogdan Pańczak

The John Paul II Catholic University of Lublin, Faculty of Theology
Keywords:
Eastern Catholic Churches; Latinization; liturgical reform; Congregation for the Oriental Churches; liturgical year
Abstract
The article concerns one of the most important aspects of the Eastern Catholic Churches' life, which is their faithfulness to their own rite, that is, a liturgical, theological, spiritual, and disciplinary heritage (c. 28 §1 of The Code of Canons of the Eastern Churches). The Magisterium of the Church, from the documents of the Second Vatican Council to the edition in 1996 by the Congregation for the Oriental Churches of The Instruction for the Application of the Liturgical Prescriptions of the Code of Canons of the Eastern Churches, urges these communities to rediscover the richness of their traditions, and if necessary, to prudently remove foreign borrowings and return to the sources. The example of the holiday celebrated in the Christian East on December 9 shows how difficult this process is in the Ukrainian Greek Catholic Church. The Roman reform of liturgical books (1940s), which restored the name and liturgy of the Byzantine feast: The Conception of St. Anne, when she conceived The Holy Mother of God, changed in 1891, is still waiting for full reception and implementation.
References
Congregazione per Le Chiese Orientali, Istruzione per l'applicazione delle prescrizioni liturgiche del Codice dei Canoni delle Chiese Orientali, Libreria Editrice Vaticana, 1996.
De cultu mariano saeculis XVII-XVII, Romae: Academia Mariana Internationalis 1988.
Dictionnaire de théologie catholique, Dictionnaire de théologie catholique, red. Jean Michel Alfred Vacant, Eugène Mangenot, Émile Amann, t. VII, Paris: Letouzey et Ané 1927.
Dodatok do čynnostej y riszen` ruskoho provincijalnoho sobora v Halyčyni otbuvšoho sja vo L`vovi w r. 1891, L'vov 1897.
Galadza Peter, The Theology and Liturgical Work of Andrei Sheptytsky (1865-1944), (Orientalia Christiana Analecta 272), Roma: Pontificio Istituto Orientale 2004.
Jan Paweł II, Adhortacja apostolska Ecclesia in Europa. O Jezusie Chrystusie, który żyje w Kościele, jako źródło nadziei dla Europy, 2003.
Jan Paweł II, List Apostolski Orientale Lumen, 1995.
Kanony Partykuljarnoho Prava Ukraїns`koї Hreko-Katolyc`koї Cerkvy. Specvypusk "Blahovisnyka Verchovnoho Archyjepyskopa Kyjevo-Halyc'koho Ukraїnskoї Hreko-Katolyc'koї Cerkvy 2015 roku", Berezen' 2015, L'viv: Vydavnyctvo "Drukars`ki kunš'ty" 2015.
Katechyzm Ukraїns'koji Hreko-Katolyc'koji Cerkvy "Chrystos – naša Pascha", L'viv: Vydavnyctvo "Svičado" 2011.
Kodeks Kanonów Kościołów Wschodnich, Lublin: Wydział Prawa, Prawa Kanonicznego i Administracji Katolickiego Uniwersytetu Lubelskiego, Wydawnictwo Archidiecezji Lubelskiej "Gaudium" 2002.
Korolevskyj Kyrylo (Jean Charon), Rym i obrjadovo-liturhični dyskusiї u Patrijaršij Kyїvs`kij Vselens`kij Cerkvi miž dvoma Svitovymy vijnamy, red. Dmytro Blažejovs`kyj, L`viv 2002.
Molytvoslov, Rym–Toronto: Vydavnyctvo OO. Vasylijan 1990.
Przemówienie księdza kardynała Karola Wojtyły podczas wizytacji parafii greckokatolickiej w kościele św. Katarzyny w Krakowie, 1-5 listopada 1972 r., w: Włodzimierz Mokry, Papieskie posłania Jana Pawła II do Ukraińców, Wydawnictwo "Szwajpolt Fiol", Kraków 2001.
Raes Alfonse, Le liturgicon ruthène depuis l'Union de Brest, "Orientalia Christiana Periodica" 7 (1942), № 1-2.
Sacra Congregazione per la Chiesa Orientale, Oriente cattolico. Cenni storici e statistiche, Città del Vaticano 1962.
Taft Robert F., Liturgia. Wzór modlitwy, ikona życia, Warszawa: Wydawnictwo Księży Marianów PROMIC, 2013.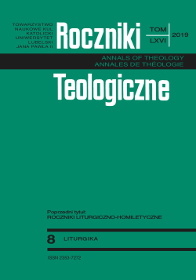 Copyright (c) 2019 Roczniki Teologiczne
This work is licensed under a Creative Commons Attribution-NonCommercial-NoDerivatives 4.0 International License.