Impositio Manuum in the Liturgy of the Sacrament of Confirmation: Historical-Liturgical Outline
Andrzej Megger

The John Paul II Catholic University of Lublin, Faculty of Theology
Keywords:
liturgy; Confirmation; imposition (laying on) of hands (impositio manuum)
Abstract
Already from the Apostolic times, the important postbaptismal rituals include, above all, the imposition of hands (impositio manuum). This is confirmed by the liturgical testimonies of the first centuries, combining this gesture with the tradition of the gift of the Holy Spirit. In the early Middle Ages, when Confirmation became a rite independent of baptism, the impositio manuum was less and less important, and oil anointing, which was accompanied by the appropriate formula, took over its important role. After the Council of Trent, Apostolic practice in this regard is recalled and restored to some extent, but the actual gesture itself is still anticipated by anointing with formula. The renewal of the Confirmation liturgy after Vatican II revaluated the laying on of hands (in the sense of extensio manuum), which is associated with prayer for the gift of the Holy Spirit.
References
Bradshaw Paul F., W poszukiwaniu początków kultu chrześcijańskiego, przeł. Piotr Kaznowski, Michał Koza, Kraków: Fundacja Dominikański Ośrodek Liturgiczny 2016
Czerwik Stanisław, Liturgia sakramentu bierzmowania, w: Sakramenty wtajemniczenia chrześcijańskiego, red. Józef Kudasiewicz Kudasiewicz, Warszawa: Wydawnictwo ATK 1981, s. 158.
Grabowski Tomasz, Sakrament bierzmowania, w: Znaki tajemnicy. Sakramenty w teorii i praktyce Kościoła, red. Krzysztof Porosło, Robert J. Woźniak, Kraków: Wydawnictwo WAM 2018, s. 305-346.
Guardini Romano, Znaki święte, przeł. Józef Birkenmajer, Wrocław: Wydawnictwo TUM 1994, s. 27.
Jilek August, Eintauchen – Handauflegen – Brotbrechen. Eine Einführung in die Feiern von Taufe, Firmung und Erstkommunion, Regensburg: Pustet 1996
Kleinheyer Bruno, Die Feiern der Eingliederung in die Kirche, (Sakramentaliche Feiern I.) Regensburg: Pustet 1989
Krakowiak Czesław, Sakrament bierzmowania w reformie liturgii II Soboru Watykańskiego, Lublin: Towarzystwo Naukowe KUL 2012
Nadolski Bogusław, Leksykon symboli liturgicznych, Kraków: Wydawnictwo Salwator 2010.
Obrzędy bierzmowania dostosowane do zwyczajów diecezji polskich, Katowice: Księgarnia św. Jacka 20072.
Paprocki Henryk, Hipolita Rzymskiego "Tradycja Apostolska". Wstęp, przekład, komentarz, "Studia Theologica Varsaviensia" 14 (1976), nr 1, s. 145-169.
Pastuszko Marian, Sakrament bierzmowania (kan. 879-896), Kielce: Wydawnictwo "Jedność" 2005.
Pontificia Commissio Decretis Vaticani II Interpretandis, Responsum ad propositum dubium, 09.06.1972, AAS 64 (1972). Tekst polski: Papieska Komisja Interpretacji Dekretów Soboru Watykańskiego II, Odpowiedź dotycząca materii w sakramencie bierzmowania, w: Prawo sakramentów. Wybór źródeł Kościoła łacińskiego, red. Elżbieta Szczot, Damian Kwiatkowski, Wojciech Lech, Lublin: Wydawnictwo KUL 2017.
Sakramenty wtajemniczenia chrześcijańskiego, red. Józef Kudasiewicz, Warszawa: Wydawnictwo ATK 1981.
Słownik teologii biblijnej, red. Xavier Léon-Dufour, przeł. Kazimierz Romaniuk, Poznań: Pallottinum 19903, s. 226-227.
Wysocki Marcin, Katechumenat i inicjacja chrześcijańska w Afryce rzymskiej w II i III wieku, w: Katechumenat i inicjacja chrześcijańska w Kościele starożytnym, red. Franciszek Drączkowski (i in.), Lublin: Wydawnictwo Polihymnia 2011, s. 75-96.
G. Zaccaria, Immitte Spiritum Paraclitum. Teologia liturgica della confermazione, Citta del Vaticano: Libreria Editrice Vaticana 2019.
Zachara Maciej, Bierzmowanie: drugi sakrament wtajemniczenia chrześcijańskiego, w: Żyć w Chrystusie według Ducha. Teologia sakramentów wtajemniczenia chrześcijańskiego, red. Krzysztof Porosło, Kraków-Tyniec: Wydawnictwo Benedyktynów 2014, s. 102-127
Zachara Maciej, Rozwój obrzędu bierzmowania i jego związek z liturgią chrzcielną w rycie rzymskim od VIII do X wieku na podstawie źródeł liturgicznych, "Roczniki Liturgiczno-Homiletyczne" 59 (2012), s. 157-171.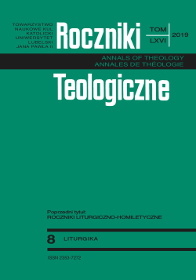 Copyright (c) 2019 Roczniki Teologiczne
This work is licensed under a Creative Commons Attribution-NonCommercial-NoDerivatives 4.0 International License.