Imposition of Hands in the Liturgy of Holy Orders in the First Millennium (Part One: Christian Antiquity)
Waldemar Bartocha

Cardinal Stefan Wyszyński University in Warsaw
Keywords:
imposition (laying on) of hands; ordination; Holy Spirit; bishop; presbyter, deacon
Abstract
Imposition of hands belongs to the essence of the ordination rites of bishops, presbyters and deacons, beside the ordination prayer itself. This gesture occurs in close correlation with the ordination prayer which follows it. The prayer of blessing and petition determines its meaning. The post-conciliar liturgical reform of the rites of ordination emphasized the rite of imposition of hands, thus restoring its original meaning. The aim of this article is to show the origin and theological meaning of the gesture of imposition of hands, as well as its place in the structure of ordination celebrations in the first millennium. The gesture of imposition of hands has biblical roots. In the New Testament, placing hands on a candidate meant imparting to him the charism appropriate to the office. In the ritual schema contained in the apostolic Tradition, the gesture of laying on of hands is used to entrust the office of bishop, presbyter and deacon.  It plays a central role in the dynamics of the celebration of Holy Orders.
References
Bartocha Waldemar, Kształtowanie się obrzędów święceń biskupa od Tradycji apostolskiej do Pontyfikału rzymsko-germańskiego (zarys historyczno-liturgiczny), "Seminare" 30 (2011), s. 17-27.
Bradshaw Paul F., Rites of Ordination. Their History and Theology, Collegeville: Order of Saint Benedict 2014.
Cavalli Giampaolo, L'imposizione delle mani della tradizione della Chiesa Latina. Un rito che qualifica il sacramento, Roma: Edizioni Antonianum 1999.
Coyle John Kevin, The Laying on of Hands as Conferral of the Spirit: Some Problems and a Possible Solution, w: Studia Patristica, t. XIII/2: Papers of the 1983 Oxford Patristics Conference Critica, Classica, Ascetica, Liturgica, red. Elizabeth A. Livingstone, Leuven: Peeters Publishers 1989, s. 339-353.
Galtier Paul, Imposition des mains, w: Dictionnaire de théologie catholique, red. Alfred Vacant, Eugène Mangenot, t. 7/2, Paris: Librairie Letouzey 1923, kol. 1302-1425.
Konecki Krzysztof, Nałożenie rąk w odnowionych obrzędach święceń, w: Ante Deum stantes, red. Stefan Koperek, Robert Tyrała, Kraków: Wydawnictwo UNUM 2002, s. 293-300.
Kwiatkowski Dariusz, Obrzędy święceń prezbiteratu do X wieku, w: Studia liturgiczne, t. 7: Prezbiterzy w Kościele do Soboru Trydenckiego. Liturgia święceń, teologia, ministerium, red. Czesław Krakowiak, Waldemar Pałęcki, Lublin: Towarzystwo Naukowe KUL 2011, s. 19-30.
Lameri Angelo, La Traditio Instrumentorum e delle insigne nei riti di ordinazione. Studio storico-liturgico, Roma: Edizioni Liturgiche 1998.
Paternoster Mauro, L'imposizione delle mani nella chiesa primitiva. Rassegna delle testimonianze bibliche, patristiche e liturgiche fino al secolo quinto, Roma: Edizioni Liturgiche 1983.
Santantoni Antonio, L'ordinazione episcopale. Storia e teologia dei riti dell'ordinazione nelle antiche liturgie dell'Occidente, Roma: Editrice Anselmiana 1976.
Santantoni Antonio, Parenti Stefano, Gli ordini sacri e i ministeri, w: Scientia liturgica. Manuale di liturgia, t. 4: Sacramenti e sacramentali, red. Anscar J. Chupungco, Casale Monferrato: Piemme 1998, s. 209-266.
Vogel Cyrille, L'imposition des mains dans les rites d'ordination en Orient et en Occident, "La Maison-Dieu" 1970, nr 102, s. 52-72.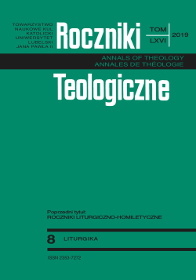 Copyright (c) 2019 Roczniki Teologiczne
This work is licensed under a Creative Commons Attribution-NonCommercial-NoDerivatives 4.0 International License.