What about the Interior Castle? Response to Ienca's and Andorno's New Human Rights in the Age of Neuroscience and Neurotechnology
Oktawian Nawrot

University of Gdansk
Keywords:
cognitive liberty; freedom of thought; freedom of conscientious; neuroscience; philosophy of human rights
Abstract
Ienca's and Andorno's propositions of three new human rights presented in the article "Towards new human rights in the age of neuroscience and neurotechnology" prima facie seems very attractive and adequate to nowadays dangerous for human freedom. But there are still a few very serious doubts. The first of them is very general and we can express it in the question: is there a possibility to reconcile the philosophy neuroscience/neurotechnology and the related with them way of thinking about the individual, with the philosophy of human rights? The second is more specific but strictly connected with the first one: how do we reconcile the technological infiltration into our interior castle − the brain and its associated mind − with the freedom of thought, conscience, and religion, not only as our individual essence but also as part of the foundation of a democratic state ruled by law?
In the article presented above I've tried to show the inadequacy of both systems, especially inherently associated with them visions of human being.
References
Ienca, Marcello, Andorno, Robero. Towards new human rights in the age of neuroscience and neurotechnology. Life Sciences, Society and Policy 2017, 5(13). doi: 10.1186/s40504-017-0050-1.
Roco, Mihail C., Bainbridge, William S. Converging Technologies for Improving Human Performance. Nanotechnology, Biotechnology, Information Technology and Cognitive Science. Dordrecht: Kluwer Academic Publishers, 2003.
Bainbridge, William S., Roco, Mihail C. Managing Nano-Bio-Info-Cogno Innovations: Converging Technologies in Society. Dordrecht: Springer, 2005.
Descartes, René. The Philosophical Writings of Descartes. Cambridge: Cambridge University Press, 1985.
Est, Rinie, Stemerding, Dirk, Rerimassie, Virgil, Schuijff, Mirjam, Timmer, Jelte, Brom Frans. From bio to NBIC − From medical practice to daily life Report written for the Council of Europe, Committee on Bioethics. Hague: Rathenau Instituut, 2014.
Janyga, Wojciech. Wolność sumienia i wyznania wobec wyzwań pluralizmu religijnego [Freedom of consientious and religion faceing the religious pluralism]. Państwo i Prawo [Law and State] 2004, 10.
Kokkinakis v. Greece, ECtHR 1993, Application no. 14307/88.
Making Perfect Life, European Governance Challenges in 21st Century Bio-engineering, Final Report, PE 471.574.
Nawrot, Oktawian. Conscientious objection versus human rights and their philosophy. Polish Law Review 2015, 1:11-34. doi: 10.5604/24509841. 1197117.
Nietzsche, Friedrich. The Gay Science. Cambridge: Cambridge University Press, 2007.
Pretty v. The United Kingdom, ECtHR 2002, Application no. 2346/02.
Zdybicka, Zofia J. Wolność religijna fundamentem ludzkiej wolności [Freedom of religion as a fundament of human liberty]. Człowiek w kulturze [Man in the culture] 1998, 11.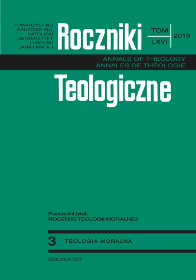 Copyright (c) 2019 Roczniki Teologiczne
This work is licensed under a Creative Commons Attribution-NonCommercial-NoDerivatives 4.0 International License.