Family Environment of Gamblers in Prison – Results of Qualitative Research
Bernadeta Lelonek-Kuleta

The John Paul II Catholic University of Lublin
Keywords:
gambling; prisoners; family environment; family dysfunction
Abstract
Research conducted around the world confirms the existence of a correlation between gambling and committing crimes, and therefore, we can expect to find gamblers and gambling addicts in the prison population. This regularity is also confirmed in Poland, where, according to research, as many as 29% of prisoners may be addicted to gambling. Despite our exploring the problem linking crime with gambling, there is not much in-depth research done about gamblers themselves committing crimes. The article presents the results of qualitative research conducted among imprisoned gamblers. The aim of the article is to characterize the functioning of families with gamblers and attempt to explain the role of the family in the development and involvement in gambling.
References
Abbott M.W., McKenna B.G., Giles L.C., Gambling and problem gambling among recently sentenced women in New Zealand prisons, "Journal of Gambling Studies" 2005, nr 21(4), s. 559-581.
Blaszczynski A., Nower L., A pathways model of problem and pathological gambling, "Addiction" 2002, nr 97(5), s. 487-499.
Allard D., Audet Ch., St-Laurent D., Chevalier S., Évaluation du programme expérimental sur le jeu pathologique Raport 6 – Monitorage évaluatif – Entrevues initiales auprès des décideurs et des coordonnateurs, Montréal: Institut national de santé publique du Quèbec 2003.
Brown R., Killian E., Evans W.P., Gambling attitudinal and behavioral patterns and criminality in a sample of Las Vegas area detained youth, "Journal of Gambling Issues" 2005, wydanie internetowe: http://www.camh.net/egambling/issue13/jgi_13_brown.html (dostęp: 20.03.2017).
Chevalier S., Allard D., Jeu pathologique et joueurs problématiques. Le jeu à Montréal, Montréal: Institut National de Santé Publique au Québec 2001.
Cichowicz J., Niedostosowanie społeczne dzieci i młodzieży, "Studia i Materiały" Wydawnictwa WSP w Olsztynie 1992, nr 35, s. 15-16.
Ferentzy P., Turner N., Gambling and organized crime – A review of the literature, "Journal of gambling Issues" 2009, nr 23, s. 111-155.
Fidelus A., Rodzinne uwarunkowania przestępczości wśród nieletnich, "Studia nad Rodziną UKSW" 2002, nr 6/1(10), s. 173-180.
Gaś Z., Rodzina a uzależnienia, Lublin: Wydawnictwo UMCS 1994.
Hołyst B., Kryminologia, Warszawa: Wydawnictwo Prawnicze LexisNexis 2001.
Jacob T., Krahn G.L., Leonard K., Parent-child interactions in families with alcoholic fathers, "Journal of Consulting and Clinical Psychology" 1991, nr 59(1), s. 176-181.
Johnson P., Dimensions of Functioning in Alcoholic and Nonalcoholic Families, "Journal of Mental Health Counseling" 2001, nr 23(2), s. 127-136.
Jones G., The prevalence and characteristics of prisoners with gambling related problems in Canning Vale Remand Centre, Perth, WA: Department of Corrective Services 1989.
Lelonek-Kuleta B., Turowska J., Bartczuk R., Hazard problemowy i patologiczny wśród osób odbywających karę pozbawienia wolności – diagnoza sytuacji oraz specyfika zjawiska. Raport z projektu badawczego. Lublin: Katolicki Uniwersytet Lubelski Jana Pawła II 2017.
Marshall M.R., Balfour R., Kerner A., Pathological gambling: Prevalence, type of offence, comorbid psychopathology and demographic characteristics in a prison population, Raport for Australian Productivity Commission, 1997, wydanie internetowe: https://www.pc.gov.au/research/ongoing (dostęp: 15.09.2016).
Papineau É., Le jeu pathologique, état des lieux et enjeux éthique, Montréal: Laboratoire d'éthique publique. Institut national de la recherche scientifique 2001.
Pospiszyl K., Żabczyńska E., Psychologia dziecka niedostosowanego społecznie, Warszawa: PWN 1980.
Potenza M.N., Steinberg M.A., McLaughlin S.D., Wu R., Rounsaville B.J., O'Malley S.S., Gender-related differences in the characteristics of problem gamblers using a gambling helpline, "American Journal of Psychiatry" 2001, nr 158, s. 1500-1505.
Pytka L., Zacharuk T., Zaburzenia przystosowania społecznego dzieci i młodzieży, Siedlce: Wydawnictwo Wyższej Szkoły Rolniczo-Pedagogicznej 1995.
Riley B., Oakes J., Problem gambling among a group of male prisoners: Lifetime prevalence and association with incarceration, "Australian & New Zealand Journal of Criminology" 2015, nr 48(1), s. 73-81.
Turner N.E., Preston D.L., Saunders C., McAvoy S., Jain U., The relationship of problem gambling to criminal behaviour in a sample of Canadian male federal offenders, "Journal of Gambling Studies" 2009, nr 25, s. 153-169.
Vec T., Praca z rodzicami dzieci z zaburzeniami emocjonalnymi i zaburzeniami zachowania, Dzieci ulicy, red. G. Olszewska-Baka, s. 114-116, Białystok: eRBe 2000.
Williams R.J., Royston J., Hagen B., Gambling and problem gambling within forensic populations: A review of the literature, "Criminal Justice and Behavior: An International Journal" 2005, nr 32, s. 665-689.
Widinghoff C., Berge J., Wallinius M., Billstedt E., Hofvander B., Håkansson A., Gambling Disorder in Male Violent Offenders in the Prison System: Psychiatric and Substance Related Comorbidity, "Journal of Gambling Studies" 2018, wydanie internetowe: https://doi.org/10.1007/s10899-018-9785-8 (dostęp: 20.04.2019).
Zurhold H., Verthein U., Kalke J., Prevalence of problem gambling among the prison population in Hamburg, Germany, "Journal of Gambling Studies" 2013, nr 30(2), wydanie internetowe: DOI 10.1007/s10899-013-9361-1 (dostęp: 17.02.2018).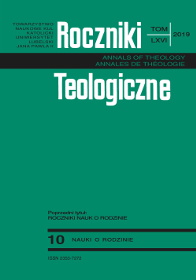 Copyright (c) 2019 Roczniki Teologiczne
This work is licensed under a Creative Commons Attribution-NonCommercial-NoDerivatives 4.0 International License.