Dysfunctional Mobile Phone Use among Adolescents and Parental Control
Ewa Krzyżak-Szymańska

The Jerzy Kukuczka Academy of Physical Education in Katowice
Keywords:
technological addictions; problematic mobile phone use; parental control
Abstract
The dynamic expansion of digital technologies and their more common using in a daily life cause that researchers are thinking of their influence on human development and social functioning. The mobile phone (smartphone) has a special place among these devices which is now used not only for communicational aims but also as a mobile command centre. That is why researchers are trying to explain when mobile phone use becoming dysfunctional and what are the reasons of this state. One of the enviromental factor which have an impact on a addiction development is a parental control made by a mother and a father in the range of mobile phone using by a child. The article presents the researches results of disfunctional mobile phone using by youth, in the context of parental control realised by attendants in the area of new media using. 2657 results of students in the age 12-19 from middle and upper-secondary schools from the silesian voivodeship were analysed. The people choice to the research sample was random- multi-layered. In studies used a Mobile Phone Problem Use Scale for Adolescents (MPPUSA) and a authorial questionnaire. Certified the statistically significiant connection (although weak) between dysfunctional mobile phone using level and realised parental control in the terms of a device use.
References
Bianchi A., Phillips J.G., Psychological predictors of problem mobile phone use, "Cyberpsychology & Behavior" 2005, nr 8, s. 39-51.
Billieux J., Maurage P., Lopez-Fernandez O., Kuss D.J., Griffiths M.D, Can disordered mobile phone use be considered a behavioral addiction? An update on current evidence and a comprehensive model for future research, "Current Addiction Reports" 2015, nr 2, s. 156-162.
Dębski M., Nałogowe korzystanie z telefonów komórkowych. Raport z badań, Gdańsk: Fundacja Dbam o swój zasięg 2016.
Grzegorzewska I., Cierpiałkowska L., Uzależnienia behawioralne, Warszawa: Wydawnictwo Naukowe PWN 2018.
Izdebski P., Kotyśko M., Problemowe korzystanie z nowych mediów, w: Zaburzenia uprawiania hazardu i inne tak zwane nałogi behawioralne, red. B. Habrat, Warszawa: Instytut Psychiatrii i Neurologii 2016, s. 219-304.
Johnson G.M., Internet Use and Child Development: The Techno-Microsystem, "Australian Journal of Educational & Developmental Psychology" 2010, nr 10, s. 32-43.
Johnson G.M., Puplampu K.P., Internet Use during Childhood and the Ecological Techno-Subsystem, "Canadian Journal of Learning and Technology" 2008, nr 34, s. 19-28.
Krzyżak-Szymańska E., Norma i patologia w użytkowaniu przez digital natives nowych technologii cyfrowych, w: Tváre ľudského života. Vybrané problémy, red. W. Kądziołka, Ružomberok: Verbum–vydavateľstvo KU 2015, s. 129-168.
Krzyżak-Szymańska E., Uzależnienia technologiczne wśród dzieci i młodzieży. Teoria, profilaktyka, terapia – wybrane zagadnienia, Kraków: Impuls 2018.
Lin T.T.C., Chiang Y.-H., Jiang Q., Sociable People Beware? Investigating Smartphone Versus Nonsmartphone Dependency Symptoms Among Young Singaporeans, "Social Behavior & Personality: an International Journal" 2015, nr 43, s. 1209-1216.
Lin Y.-H., Chang L.-R., Lee Y.-H., Tseng H.-W., Kuo T.B.J., Chen S.-H., Development and Validation of the Smartphone Addiction Inventory (SPAI), "PLoS ONE" 2014, nr 9(6), s. e98312.
Łobocki M., ABC wychowania, Lublin: Wydawnictwo UMCS 2003.
Lopez-Fernandez O., Honrubia-Serrano L., Freixa-Blanxart M., Prevalence of problematic mobile phone use in British adolescents, "CyberPsychology, Behavior and Social Networking" 2014, nr 17, s. 91-98.
Pawłowska B., Potembska E., Objawy zagrożenia i uzależnienia od telefonu komórkowego mie¬rzonego Kwestionariuszem do Badania Uzależnienia od Telefonu Komórkowego, autorstwa Potembskiej i Pawłowskiej u młodzieży w wieku od 13 do 24 lat, "Current Problems of Psychiatry" 2011, nr 12, s. 443-446.
Pourrazavi S., Allahverdipour H., Jafarabadi M.A., Matlabi H., A socio-cognitive inquiry of excessive mobile phone use, "Asian Journal of Psychiatry" 2010, nr 10, s. 84–89.
Sahin S., Ozdemir K., Unsal A., Temiz N., Evaluation of Mobile Phone Addiction Level and Sleep Quality in University Students, "Pakistan Journal of Medical Sciences" 2013, nr 29, s. 913-918.
Szlendak T., Socjologia rodziny. Ewolucja, historia, zróżnicowanie, Warszawa: Wydawnictwo Naukowe PWN 2010.
TNS Polska S.A., Rodzice i dzieci wobec zagrożeń dzieci w Internecie, Warszawa: Fundacja Orange 2016.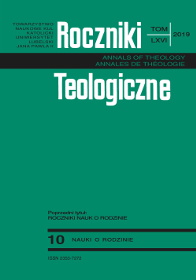 Copyright (c) 2019 Roczniki Teologiczne
This work is licensed under a Creative Commons Attribution-NonCommercial-NoDerivatives 4.0 International License.