Subjective and Family-Related Risk Factors for the Internet Addiction in the Group of Females and Males.Psycho-Pedagogical Approach
Karolina Komsta-Tokarzewska

The John Paul II Catholic University of Lublin
Keywords:
Internet addiction; risk factors; parental attitudes; emotional intelligence; social competences
Abstract
Obiectives. The purpose of this article was to answer the question which of the analysed subjective and family-related variables determine the risk of Internet addiction.
Material and methoods. This article makes use of the Internet Addiction Test by K. Young, Social Competences Questionnaire (A. Matczak), INTE Emotional Intelligence Questionnaire (Anna Cie­chanowicz, A. Jaworska, A. Matczak) and the Parents-Child Relationship Questionnaire by A. Roe and M. Siegelman in the Polish adaptation by W.S. Kowalski (1984). In the quantitative analysis of data obtained from these psychological tests, the statistical package SPSS + and STATISTICA were used. 322 people aged 19-31 have been examined with the use of the afore-mentioned methods.
Results and conclusions. The obtained results indicate the predictive importance of social competences determining the effectiveness of respondents' functioning in intimate situations (both in the group of females and males). The following have turned out to be determinants in the group of females: father's demanding attitude, emotional intelligence and social competences determining the effectiveness of functioning in intimate situations and those requiring assertiveness. In the group of males, five prediction factors have been revealed, including: mother's protecting and loving attitude, father's liberal attitude and social competences determining the effectiveness of functioning in situations of social exposure and intimacy.
References
Augustynek A., Psychologiczne aspekty korzystania z Internetu, w: Formowanie się społeczności informacyjnej, red. L. Haber, Kraków: Test Graf 2003, s. 73-94.
Augustynek A., Uzależnienia komputerowe. Diagnoza, rozpowszechnienie, terapia, Warszawa: Difin 2010, s. 18.
Beard K.W., Wolf E.M., Modification in The Proposed Diagnostic Criteria for Internet Addiction, ,,Cyberpsychology & Behavior" 4(2001), nr 3, s. 377-383.
Brzozowski P., CRPBI – Kwestionariusz do badania zachowania się rodziców w percepcji dzieci, w: Z badań nad postawami rodzicielskimi, red. K. Pospiszyl, Lublin: UMCS 1988, s. 9-20.
Davis R.A., A Cognitive-Behavioral Model of Pathological Internet Use, ,,Computers in Human Behavior" 17(2001), nr 2, s. 187-195.
Gaś Z., Rodzina a uzależnienia, Lublin: UMCS 1994.
Griffiths M.D., Barnes A., Internet Gambling: An Online Empirical Study among Student Gamblers, "International Journal of Mental Health and Addiction" 2008, nr 2, s. 194-204.
Helper M., Parental Evaluation of Children and Children's Self-evaluation, ,,Journal of Abnormal Social Psychology" 56(1958), nr 2, s. 190-194.
Jakubik A., Zespół uzależnienia od Internetu, ,,Studia Psychologica" 2002, nr 3, s. 135. s. 133-142.
Lei L., Wu Y., Adolescents paternal attachment and internet use, ,,Cyberpsychology & Behavior" 10(2007), nr 5, s. 633-639.
Matczak A., Kwestionariusz Kompetencji Społecznych. Podręcznik, Warszawa: Pracownia Testów Psychologicznych Polskiego Towarzystwa Psychologicznego 2001.
Mayer J.D., Salovey P., Caruso D., A Further Consideration of The Issues of Emotional Intelligence, ,,Psychological Inquiry" 2004, nr 15, s. 249-255.
Mayer J.D., Salovey P., Emotional intelligence, "Imagination, Cognition and Personality" 9(1990), nr 3, s. 185-211.
Ochmański M., Wybrane poznawcze i środowiskowe uwarunkowania osiągnięć szkolnych dzieci rozpoczynających naukę, Lublin: UMCS 1995.
Park S.K., Kim J.Y., Cho C.B., Prevalence of Internet addiction and correlations with family factors among South Korean adolescents, ,,Adolescence" 172(2008), nr 43, s. 895-909.
Parysiewicz B.M., Komsta-Tokarzewska K., Wyżlic M., Zachowania ryzykowne. Diagnoza, profilaktyka i terapia, Lublin: WNS KUL 2015.
Poprawa R., Problematyczne używanie internetu – symptomy i metoda diagnozy. Badania wśród dorastającej młodzieży, ,,Psychologia Jakości Życia" 11(2012), nr 1, s. 57-60.
Potenza M.N., Commentary on: Are we overpathologizing everyday life? A tenable blueprint for behavioral addiction research: defining and classifing non-substance or behavioral addictions, ,,Journal of Behavioral Addictions" 2015, nr 4, s. 139-141.
Shapira N.A., Lessig M.C., Goldsmith T.D., Szabo S.T., Lazoritz M., Gold M.S., Stein D.J., Problematic Internet Use: Proposed Classification and Diagnostic Criteria, ,,Depression and Anxiety" 17(2003), nr 4, s. 207-216.
Tichon J.G., Shapiro M., The process of sharing social support in cyberspace, ,,Cyberpsychology & Behavior" 6(2003), nr 2, s. 161-170.
Whang L.S., Lee S., Chang G., Internet Over-users' Psychological Profiles: A Behavior Sampling Analysis on Internet Addiction, ,,Cyberpsychology & Behavior" 6(2003), nr 2, s. 143-150.
Widyanto L., Griffiths M.D., Internet addiction: Does it really exist?, w: Psychology and the Internet: Intrapersonal, Interpersonal and Transpersonal Applications, red. J. Gackenbach, New York: Akademic Press 2007, s. 141-163.
Yen J.Y., Yen C.F., Chen C.C., Family factors of internet addiction and substance use experience in Taiwanese adolescents, ,,Cyberpsychology & Behavior" 10(2007), nr 3, p. 323-329.
Young K.S., Internet Addiction: The Emergence of a New Clinical Disorder, ,,Cyberpsychology & Behavior" 1(1998), nr 3, s. 237-244.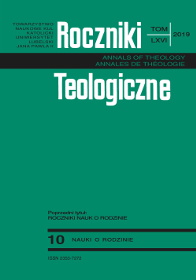 Copyright (c) 2019 Roczniki Teologiczne
This work is licensed under a Creative Commons Attribution-NonCommercial-NoDerivatives 4.0 International License.