Old Age is Entering the Last Stage of Maturing to Eschatology
Helena Słotwińska

The John Paul II Catholic University of Lublin, Faculty of Theology
Keywords:
God; life; old age; death; eschatology; last things
Abstract
The article addresses the problem of old age as the final stage of maturing to eschatology and discusses four issues: 1) definitions of old age, 2) the symptoms and framework of old age, 3) the positive and negative dimensions of old age, and 4) eschatology in a senior person's life.
The first issue precisely defines the concept of old age in various aspects: the biblical aspect (one's approach to old age changing with the advance of Revelation), the pastoral (granting the Church's pastoral care to senior citizens), social (an aging person may experience a sense of isolation, the escalation of eschatological problems and mental crises, caused, among others, by fear of the future, withdrawal from work and social roles, lower social status, fewer professional contacts), psychological (the rate and image of aging depend on genetics, life experiences and adaptation strategies), pedagogical (three areas of education: 1. preparing for old age addressed to younger generations, 2. during old age, concerning older people, 3. through old age, implemented, usually unintentionally, by elderly people in their environment).
In "Symptoms and frameworks of old age," the second issue, old age is usually described after reaching 60 years of age. The most common symptoms of old age are: weakening of the biological functions of the body and changes in mental abilities and social adaptation, especially in the implementation of social, cultural and spiritual tasks. In addition, this issue is based on Biblical texts, presented in the context of accepting Revelation and different ways of interpreting the length of human life on earth.
The "Positive and negative dimension of old age," the third issue, shows the positive aspects of old age (e.g. satisfaction from going into retirement after hard work, the opportunity to devote more time to one's spouse, raising grandchildren, and re-evaluating various activities) and the negative (e.g. awareness of the end of one's life, fear of death, loss of close relatives, loss of the feeling that you are needed and useful). It should also be emphasized that these mentioned old age experiences, characteristic of individual elderly people, are not equally experienced by all, because each specific case depends on the family context, the applied system of values, psychological maturity, etc.
"Eschatology in the life of a senior person," the fourth issue, introduces the concept of eschatology in non-Christian religions, in the Holy Bible, in theology, and above all emphasizes the process of shaping eschatology throughout the Church's history and teachings. The essence of eschatology is to turn completely to Christ, and not the temporal waiting for the end of the world and its transformation. There is now a departure from the name "last things" and it is being replaced by a Christological formula: the only "Last Thing" of all creation, present now in the Person of Jesus Christ, and finally fulfilled in eternity, is God.
References
Bartnik Cz., Teologiczna interpretacja wydarzenia śmierci, "Ateneum Kapłańskie" 95(1980), s. 16-30.
Chrostowski W., Alegoryczne przedstawienie starości i śmierci w Koh 12,1-7, w: Duch i Oblubienica mówią "Przyjdź", Warszawa 2001, s. 21-108.
Czerski J., Eschatologia w `Listach do Tesaloniczan', w: Chrystus i Kościół, Lublin 1979, s. 111-117.
Granat W., Eschatologia. Rzeczy ostateczne człowieka i świata, Towarzystwo Naukowe KUL, Lublin 1962.
Krąpiec M.A., Ja – człowiek. Zarys antropologii filozoficznej, Lublin 1991.
Kucza G., Jaka eschatologia dzisiaj? Główne przesunięcia akcentów w eschatologii posoborowej, "Communio". Międzynarodowy Przegląd Teologiczny [Poznań] 22(2002), z. 5, s. 130-146.
Kudasiewicz J., Sens starości w świetle Pisma Świętego, w: Ludzie chorzy, starsi w Kościele, Warszawa 1981, s. 91-102.
Müller-Goldkuhle P., Pobiblijne przesunięcie akcentów w historycznym procesie rozwojowym myślenia eschatologicznego, "Concilium" 5(1969), z. 1, s. 21-31.
Nossol A., Historiozbawcze znaczenie śmierci, "Ateneum Kapłańskie" 95(1980), s. 31-38.
Nossol A., Problem chrystologicznej reinterpretacji eschatologii, "Zeszyty Naukowe Katolickiego Uniwersytetu Lubelskiego" 21(1978), z. 3-4, s. 3-9.
Ostański P., Historiozbawcza wizja starości w Piśmie Świętym. Studium egzegetyczno-teologiczne, Poznań 2007.
Romaniuk K., Lata podeszłe i stare według Biblii, Warszawa 1993.
Witczyk H., "Moje oczy ujrzały Twoje zbawienie" (Łk 1,30). Biblijna wizja starości, w: Materiały Ogólnopolskiego Sympozjum Towarzystwa Gerontologicznego, Jarosław 2001, s. 120-129.
Zych A., Człowiek wobec śmierci, Katowice 1999.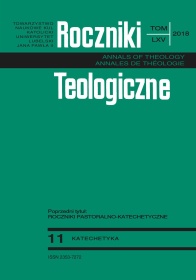 Copyright (c) 2018 Roczniki Teologiczne
This work is licensed under a Creative Commons Attribution-NonCommercial-NoDerivatives 4.0 International License.