Life Plans and Self-Esteem of Adolescents
Jacek Łukasiewicz

University of Economics and Innovation in Lublin (WSEI)

Anna Stachyra-Sokulska

Maria Curie-Skłodowska University in Lublin
Keywords:
self-esteem; plans for the future; hopes and fears; the youth
Abstract
The aim of the study is to determine the relationship between the level of self-esteem and life plans of junior high school students. The study involved 100 junior high school students aged from 14 to 17 years. The following research tools were used: the Multidimensional Self-Esteem Inventory (MSEI) by O'Brien and Epstein and the Youth Life Plans Questionnaire (Łukasiewicz, Stachyra-Świderska, Stefanek). The research results showed that many dimensions of self-esteem are related to professional plans. The feeling of being loved and the awareness of one's own competences is associated with hopes regarding future work as a place that gives the possibility of one's own development. Young people who have emotional and financial support of parents have the feeling of being loved, perceive themselves as competent, full of vigor and believe that they can be respected by others. Those who expect that work will raise their standard of living, believe in their abilities, and they also better evaluate their physical form and ability to influence others.
References
Bardziejewska, Mariola. "Okres dorastania – szanse rozwoju." Remedium 11(2004), 4.
Czerwińska-Jasiewicz, Maria. "Koncepcje młodzieży na temat własnego życia – propozycja nowego modelu badań." Psychologia Rozwojowa 10(2005), 4: 59-72.
Czerwińska-Jasiewicz, Maria. "Ocena własnych perspektyw życiowych przez młodzież w zmieniającej się sytuacji społecznej w Polsce." Forum Psychologiczne 1(1996), 1-2: 71-82.
Dąbrowska, Anna. Pedagogiczne aspekty percepcji siebie i przestrzeni życiowej przez dorastających z dysfunkcjonalnych środowisk rodzinnych. Kielce: Wydawnictwo Wyższej Szkoły Umiejętności, 2009.
Dziwańska, Kinga. "Specyfika formułowania planów krótkoterminowych w okresie dorastania – wyniki badań." Psychologia Rozwojowa 14(2009), 1: 61-70.
Jan Paweł II. List apostolski do młodych całego świata (Dilecti Amici) z okazji międzynarodowego roku młodzieży w dniu 31 marca 1985 roku.
Liberska, Hanna. "Zmiany orientacji życiowej młodzieży w kontekście uwarunkowań rodzinnych." Forum Psychologiczne 5(2000), 2: 172-185.
Mac-Czarnik, Lucyna. Procesy poznawcze w planowaniu własnego życia u młodzieży. Rzeszów: Wydawnictwo WSP, 2000.
Nurmi, Jari-Erik. "How do adolescents see their future? A review of the development of future orientation and planning." Developmental Review 11(1991), 1-59.
Nuttin, Joseph. Motivation et perspectives d'avenir. Louvain: Press Universitaires de Louvain, 1980.
Oleszkowicz, Anna, Senejko, Alicja. Psychologia dorastania. Zmiany rozwojowe w dobie globalizacji. Warszawa: Wydawnictwo Naukowe PWN, 2013.
Plopa, Mieczysław. Rodzice a młodzież. Teoria i metoda badania. Warszawa: Vizja Press&IT, 2012.
Ryś, Maria. "Kształtowanie się poczucia własnej wartości i relacji z innymi w różnych systemach rodzinnych." Kwartalnik Naukowy Towarzystwa Uniwersyteckiego Fides Et Ratio 2011, 2(6): 64-83.
Wieczorek, Gertruda. "Rodzice a wybór zawodu." Problemy Profesjologii 2(2009), 103-112.
Zaleski, Zbigniew. Psychologia zachowań celowych. Warszawa: Państwowe Wydawnictwo Naukowe, 1991.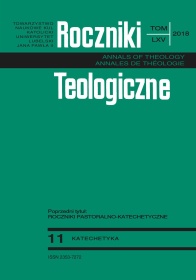 Copyright (c) 2018 Roczniki Teologiczne
This work is licensed under a Creative Commons Attribution-NonCommercial-NoDerivatives 4.0 International License.