Troped ordinarium missae in the Pauline Manuscript Gradual ms. R659/III-913
Piotr Wiśniewski

The John Paul II Catholic University of Lublin, Faculty of Theology
Keywords:
Gregorian chant; postgregorian chant; tropes; graduał; ordinarium missae
Abstract
Gregorian chant, formed in the 8th century, soon became inadequate for the needs of the liturgy of that time. When Gregorian chant was introduced into the Kingdom of the Franks, the local clergymen, accustomed to more sophisticated chants, considered it little useful. However, due to the administrative decisions which had been taken, the Roman ritual could not be abandoned. Roman chants, being too general, made the churchmen unwilling to adapt the new rites. Therefore, they were the first to add to the adopted chants the embellishments called tropes. They were very popular from the very beginning. They were used in the liturgy until the Council of Trent which ordered to remove them completely from the liturgy. Some of these additions were preserved in numerous manuscripts, for example, in the Pauline gradual from the end of the 16th century. The aim of this article is to extract these tropes, analyse their text and music and indicate their possible origins. It has been proved that they derive from the distribution of Gregorian melismas (Kyrie), from copying (Gloria) or from paraphrasing the melody of the main text (Sanctus). They neither introduce new musical elements nor depart from the style of Gregorian chants. They are adjusted to the context in which they appear. They were adopted from other earlier liturgical music codexes.
References
Apel W., Gregorian chant, Published by Indiana University Press, Bloomington 1958.
Blume C., Tropi graduales. Tropen des Missale im Mittelalter (Analecta Hymnica Medii Aevi, t. 47), red. G.M. Dreves, C. Blume, H. Bannister, Wydawnictwo O.R. Reisland, Leipzig 1905.
Hiley D., Chorał gregoriański i neogregoriański. Zmiany stylistyczne w śpiewach oficjów ku czci średniowiecznych świętych, "Muzyka" 48(2003), nr 2, s. 3-15.
Jończyk A., Ordinarium missae najstarszych diecezjalnych graduałów krakowskich i jego znaczenie dla kultury muzycznej w Polsce, Wydawnictwo Polihymnia, Lublin 2015.
Michałowska T., Średniowiecze, Wydawnictwo Naukowe PWN, Warszawa 2002.
Pawlak I., Chorał gregoriański – śpiew muzealny czy aktualny?, "Liturgia Sacra" 14(2008), nr 1, s. 83-105.
Pawlak I., Graduały piotrkowskie jako przekaz chorału gregoriańskiego w Polsce po Soborze Trydenckim, Redakcja Wydawnictw KUL, Lublin 1988.
Pikulik J., Franciszkańskie Ordinarium missae w średniowiecznej Polsce, "Studia Theologica Varsaviensia" 10(1971), nr 2, s. 111-130.
Pikulik J., Indeks śpiewów ordinarium missae w graduałach polskich do 1600 r., w: Muzyka religijna w Polsce. Materiały i studia, t. 2, red. J. Pikulik, Wydawnictwo Akademii Teologii Katolickiej, Warszawa 1978, s. 156.
Pikulik J., Śpiewy Alleluja o Najświętszej Maryi Pannie w polskich graduałach przedtrydenckich, Wydawnictwo Akademii Teologii Katolickiej, Warszawa 1984.
Popowska M., Liturgia paulińska w świetle rękopisu ms. R659/III-913, w: Liturgia w klasztorach paulińskich w Polsce. Źródła i początki (Musica Claromontana – Studia, 1), red. R. Pośpiech, Opole 2012, s. 219-294.
Popowska M., Rękopis muzyczny ms. 182 z biblioteki kapitulnej we Wrocławiu, "Saeculum Christianum" 9(2002), nr 2, s. 87-110.
Walczak B., Najstarsze pieśni pasyjne i wielkanocne w języku polskim, w: Wielkanoc w polskiej kulturze, red. M. Borejszo, Poznań 1997.
Wiśniewski P., Śpiewy późnośredniowieczne w antyfonarzach płockich z przełomu XV/XVI wieku na podstawie responsoriów Matutinum, Wydawnictwo Polihymnia, Lublin 2010.
Kouřimský graduál (Graduale civitatis Gurimensis), Národní knihovna České republiky, XIV. A.1, www.manuscriptorium.com/appa/main/index.php
Graduál mladoboleslavský ca 1509 (Janíčka Zmilelého z Písku), Knihovna: Okresní muzeum Mladá Boleslav; Sygn: inv. č. 21691, www.manuscriptorium.com/appa/main/index.php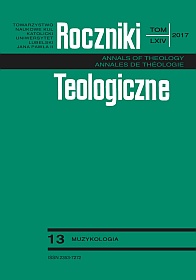 Copyright (c) 2017 Roczniki Teologiczne
This work is licensed under a Creative Commons Attribution-NonCommercial-NoDerivatives 4.0 International License.