Retrieving the Mystical Dimension in Ecumenism
John Anthony Berry

University of Malta, Faculty of Theology
Keywords:
ecumenism; mysticism; Church Fathers; prayer; trust; hospitality
Abstract
In our present times, a search for widespread certainty over a sound understanding of ecumenism must be acknowledged. While questions on the vision for communion among the Christian churches or on the commitment to witness and to social justice are more than justified, the appeal to "turn to God" reverberates strongly throughout the witness of (ecumenical) prophets today as it did in the past. Although a real process of entering into spiritual communion with one another takes time to happen until it becomes real and visible, ecumenism must continually start afresh from God. Ecumenism is above all God's will that "all may be one" (John 17:21). All human efforts in the ecumenical movement are to find their origin and inspiration from God alone. The aim of this paper is a modest one. It seeks to place all ecumenical discourse in the light of the mystery of God who is the source of communion. In this light, recent discourse on reception, recognition, and spirituality should be grounded in God's very nature and call to become one in him. This article features four main steps: 1. to contextualise the quest for Christian unity in postmodern times, 2. to emphasise the necessity of a relationship between ecumenism and Christian mysticism, 3. to learn from central concepts of the mysticism of the Church Fathers, and 4. to reconfigure ecumenism on prayer, trust and hospitality.
References
Augustine. Commentary on Psalm 121. PL 36,1623.
Augustine. Commentary on the First Epistle of St John. SC 75.
Augustine. Confessions. CCL 27,31; WSA I/1, 81.
Augustine. Sermon 346. PL 38,1522.
Augustine. Soliloquies. CSEL 89,5. Augustine of Hippo, Saint. Soliloquies: Augustine's Interior Dialogue, edited by John E. Rotelle, translated by Kim Paffenroth. Hyde Park, N.Y.: New City Press, 2000.
Agaesse, Paul, and Michel Sales. "Mystique." In Dictionnaire de Spiritualité. Paris: Beauchesne, 1980, III: 1889–1984.
Benedict XVI, Pope. Homily at Holy Mass in Lisbon's "Terreiro do Paço" (11 May 2010). Insegnamenti VI:1 (2010).
Benedict XVI, Pope. Apostolic Letter Porta Fidei. London: Catholic Truth Society, 2011.
Benedict of Nursia. The Rule of St. Benedict [Latin & English], edited by Luke Dysinger. Trabuco Canyon, California: Source Books, 1997.
Berry, John Anthony. "Communion and Co-responsibility in the Church." In 50th International Eucharistic Congress 2012. Proceedings of the International Symposium of Theology: The Ecclesiology of Communion Fifty Years after the Opening of Vatican II, 811–820. Dublin: Veritas, 2013.
Berry, John Anthony, "Communion Ecclesiology in Theological Ecumenism." Questions Liturgiques / Studies in Liturgy 90/2-3 (2009): 92–105.
Berry, John Anthony. "Yves Congar. Ecumenism and the Changing Face of Roman Catholicism". In Ökumenische Begegnungen / Ecumenical Encounters (Beihefte zur Ökumenischen Rundschau 100), edited by Claudia Hoffmann, Florian Tuder and Irena Zeltner Pavlović, 158–169. Leipzig: Evangelische Verlagsanstalt, 2015.
Bouyer, Louis. The Christian Mystery: From Pagan Myth to Christian Mysticism. London: T. & T. Clark, 1989, 2004.
Bria, Ion. "Mysticism." In Dictionary of the Ecumenical Movement, edited by Nicholas Lossky et al., 803–804. Geneva: WCC Publications, 2002.
Caruana, Salvino. Erġa idħol ġewwa fik. L-Ispiritwalità ta' Santu Wistin. Malta: Media Centre Publications, 1996.
Congar, Yves. Dialogue between Christians. Westminster, MD: Newman Press, 1966.
Congar, Yves. Ecumenism and the Future of the Church. Chicago: The Priory Press, 1967.
D'Arcy May, John. "Integral ecumenism". Journal of Ecumenical Studies 25 (1988): 573–591.
Dionysius the Areopagite. Divine Names. PG 3,701.
Dupré, Louis. "Mysticism." In The Encyclopaedia of Religion, edited by Mircea Eliade, X: 245–261. New York: Macmillan, 1987.
Ecumenical conversations on "Changing ecclesial and ecumenical context" at WCC Assembly in Porto Alegre, 2006. https://www.oikoumene.org/en/folder/documents-pdf/pb-11-ecclesialecumenicalcontext.pdf.
Flynn, Gabriel. "Vatican II and the World Council of Churches: A Vision for Receptive Ecumenism or a Clash of Paradigms?" Louvain Studies 33/1-2 (2008): 6–29.
Forte, Bruno. "I fondamenti del dialogo nell'ambito delle culture segnate dalla non credenza e dell'indifferenza religiosa." In Fede, culture e non credenza. Integrazione europea e nuove sfide per la Chiesa, edited by Gaspare Mura, 33–49. Vatican City: Urbaniana University Press, 2004.
Francis, Pope. General Audience at the Beginning of the Annual Week of Prayer for Christian Unity, 18 January 2017. See: https://w2.vatican.va/content/francesco/en/audiences/2017/documents/papa-francesco_20170118_udienza-generale.html.
Gire, Pierre. "Penser l'expérience mystique". Esprit et vie 244 (2012): 2–9.
Gregory Nazianzen. Dogmatic Poems. PG 37,507-8.
Gregory the Great. Commentary on the Book of Job. SC 32/2.
Harris, Rendel, and Alphonse Mingana. The Odes and Psalms of Solomon. Manchester: University Press; London: Longmans, 1916–1920.
Isaac of Nineveh. Ascetic Treatises, 73. Athens: Ch. Spanos, 1895, 288. Complete translation from Greek by Dana Miller: The Ascetical Homilies of St Isaac the Syrian. Boston: Holy Transfiguration Monastery, 1984 [Revised 2nd edition 2011].
John Cassian. Conferences. SC 54.
John Chrysostom. On the Incomprehensibility of God. PG 48.
John Climacus. The Ladder of Divine Ascent. Boston, Mass.: Holy Transfiguration Monastery, 2012.
Joint Commission between the Roman Catholic Church and World Methodist Council. Denver Report. Lake Junaluska: World Methodist Council, 1971.
Kärkkäinen, Veli-Matti. The Ecumenical Potential of the Eastern Doctrine of Theosis: Emerging Convergences in Lutheran and Free Church Soteriologies (2013); http://www.soundshoremedia.com/the-ecumenical-potential-of-the-eastern-doctrine-of-theosisemerging-convergences-in-lutheran-and-free-church-soteriologies-by-veli-matti-karkkainen-drtheol-habil/
Kasper, Walter. A Handbook of Spiritual Ecumenism. Hyde Park, NY: New City Press, 2007.
Kenney, John Peter. "Confession and the Contemplative Self in Augustine's early works." Augustinian Studies 38 (2007), 1: 133–146.
Lemieux, Raymond. "Crise, christianisme et société contemporaine." Recherches de science religieuse 99/3 (2011): 333–348.
Levinas, Emmanuel. Totality and Infinity. Translated by Alphonso Lingis. Pittsburgh: Duquesne University Press, 1969.
Maximus the Confessor. Centuries on Charity. PG 90,434.
Maximus the Confessor. On the Divine Names. PG 4,192.
Meyer, Harding, and Lukas Vischer. Growth in Agreement: Reports and Agreed Statements of Ecumenical Conversation on a World Level. London, Geneva: T&T Clark – WCC, 1984.
Morandini, Simone. "L'ecumenismo: vocazione e riconoscimento". Credere oggi 34 (2014), 6/204: 63–73.
Murray, Paul D. Receptive Ecumenism and the Call to Catholic Learning: Exploring a Way for Contemporary Ecumenism. Oxford: Oxford University Press, 2008.
Murray, Paul D. "Receptive Ecumenism and Ecclesial Learning: Receiving Gifts for Our Needs." Louvain Studies 33/1–2 (2008): 30–45.
Origen. Commentary on St Matthew's Gospel. PG 13,1453.
Raiser, Konrad. To be the Church. Challenges and Hopes for a New Millennium. Geneva: WCC Publications, 1997.
Renzo, Luigi. "La crisi dell'umano nelle crisi dell'oggi." Vivarium 23 (2015): 85–94.
Ryan, Noel J. Christian Spiritual Theology: An Ecumenical Reflection. Melbourne: Dove Communications, 1986.
Salmann, Elmar. Passi e passaggi nel Cristianesimo. Assisi: Cittadella Editrice, 2011.
Sartori, Luigi. Teologia ecumenica. Saggi. Padova: Libreria Gregoriana Editrice, 1987, 149–325.
Tavard, George. Editorial to Journal of Ecumenical Studies 1 (1964): 100.
Vercruysse, Jos E. "Prospects for Christian unity." One in Christ 26 (1990): 185-200.
Ware, Kallistos. "Receptive Ecumenism: An Orthodox Perspective." Louvain Studies 33/1–2 (2008): 46–53.
Whitson, Robley Edward. Mysticism and Ecumenism. New York: Sheed & Ward, 1966.
Williams, Rowan. The Wound of Knowledge. Christian Spirituality from the New Testament to St John of the Cross. London: Darton, Longman and Todd, 1990.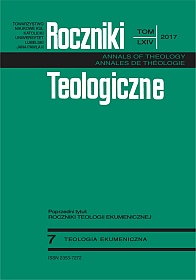 Copyright (c) 2017 Roczniki Teologiczne
This work is licensed under a Creative Commons Attribution-NonCommercial-NoDerivatives 4.0 International License.