Jan Hus from the Perspective of 16th Century Reformation
Piotr Jaskóła

University of Opole, Faculty of Theology
Keywords:
Jan Hus; Martin Luther; Church; Council of Constance; Reformation; ecumenical; Pope
Abstract
The article presents Jan Hus, Czech reformer burnt at a stake during the Council of Constance in 1415. 600th anniversary of his death as a martyr and the context of the 500th anniversary of Reformation causes interest of this distinctive figure. In the views and postulates of Jan Hus many historians of Christianity as well as theologians are likely to see the prediction of Reformation initiated by Martin Luther in 1517. In three points first there was shown the context, which enabled Luther to state "We are the Hussites – all of us" (1), then there was shown the image of Jan Hus as depicted in various post-reformation writs (2), of such authors as Matthias Flacius Illyricus, Ludwig Rabus and John Fox. The article sums up some final evaluations and conclusions.
References
Banaszak Marian: Historia Kościoła katolickiego, Warszawa: Wydawnictwo UKSW 2009.
Barth Hans-Martin: Die Theologie Martin Luthers. Eine kritische Würdigung, Gütersloh: Gütersloher Verlagshaus 2009.
Fox John: Acts and Monuments of matters happening in the Church, New York 1843.
Hintz Marcin: Jan Hus i Marcin Luter – kontynuacje i teologiczne uzupełnienia, w: Anna Paner, Marcin Hintz (red.), Jan Hus. Życie i dzieło. W 600. rocznicę śmierci, Gdańsk: Wydawnictwo UG 2016, s. 172-182.
Keatinge William: Liturgies and Occasional Forms of Prayer set forth in the Reign of Queen Elisabeth, Cambridge: Cambridge University Press 1847.
Kurze Dietrich: Quellen zur Ketzergeschichte Brandenburgs und Pommerns, Berlin: De Gruyter 1975.
Lukosz Ondrej: Nauczanie Jana Husa, jego dawna i współczesna ocena. Studium teologiczno-historyczne, Archiwum UKSW, Warszawa 2005.
Lukosz Ondrej: Współczesna ocena nauczania Jana Husa, "Studia Oecumenica" 6(2006), s. 49-86.
Martin Luthers Werke. Kritische Gesamtausgabe, Weimar: Hermann Böhlau 1883-2009.
Rothkegel Martin: Jan Hus in der Reformation und Protestantismus, "MD. Materialdienst des Konfessionskundlichen Instituts Bensheim" 2 (2015), s. 30-33.
Sojka Jerzy, "Wszyscy jesteśmy husytami...?" Perykopa Mt 16,13-19 a papiestwo w traktacie De ecclesia Jana Husa i pismach Marcina Lutra, w: Anna Paner, Marcin Hintz (red.), Jan Hus. Życie i dzieło. W 600. rocznicę śmierci, Gdańsk: Wydawnictwo UG 2016, s. 183-199.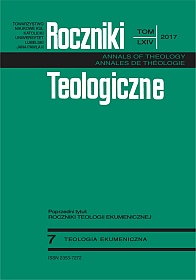 Copyright (c) 2017 Roczniki Teologiczne
This work is licensed under a Creative Commons Attribution-NonCommercial-NoDerivatives 4.0 International License.