Theological Post-Calvinism
Piotr Jaskóła

University of Opole, Faculty of Theology
Keywords:
Calvinism; predestination; Reformed orthodoxy; Puritanism; neo-orthodoxy; liberation theology
Abstract
The article first presents several theories illustrating John Calvin's influence on the contemporary theological legacy of his teaching. Four levels of visible influence are then enumerated. These in turn are linked to the development of Reformed orthodoxy, Puritanism, neo-orthodoxy, and liberation theology.
References
Barth, Karl. Kirchliche Dogmatik, vol. II/2. Zollikon–Zürich: Evangelischer Verlag, 1959.
Brovetto, Constanzo, Luigi Mezzadri, Fulvio Ferrario, and Paolo Ricca. Historia duchowości [A history of spirituality]. Vol. V, Duchowość chrześcijańska czasów nowożytnych [Christian spirituality of modern times]. Translated by Ewa Dobrzelecka OSsR. Cracow: Homo Dei, 2005.
Elwood, Christopher. Calvin für zwischendurch. Göttingen: Vandenhoeck & Ruprecht, 2001.
Hintz, Marcin. Etyka ewangelicka i jej wymiar eklezjalny [Evangelical ethics and its ecclesial dimension]. Warszawa: Chrześcijańska Akademia Teologiczna, 2007.
Jaskóła, Piotr. Panem jest Duch [The Spirit is the Lord]. Opole: Wydział Teologiczny UO, 2000.
Jaskóła, Piotr. Spiritus Effector. Nauka Jana Kalwina o roli Ducha Świętego w misterium zbawienia. Studium dogmatyczno-ekumeniczne [Spiritus Effector. John Calvin's teaching on the role of the Holy Spirit in the mystery of salvation. A dogmatic and ecumenical study]. Opole: Wydawnictwo Św. Krzyża, 1994.
McGrath, Alister E. Jan Kalwin [A Life of John Calvin]. Translated by Jerzy Wolak. Warszawa: Wydawnictwo Naukowe "Semper," 2009.
Milerski, Bogusław. Z problemów hermeneutyki protestanckiej [Selected issues of Protestant hermeneutics]. Łódź: Wydawnictwo Ewangelickie św. Mateusza, 1996.
Nossol, Alfons. Chrystologia Karola Bartha [Karl Barth's Christology]. Lublin: Redakcja Wydawnictw KUL, 1979.
Plasger, Georg. Johannes Calvins Theologie—Eine Einführung. Göttingen: Vandenhoeck & Ruprecht, 2008.
Weber, Max. The Protestant Ethic and the Spirit of Capitalism. Translated by Talcott Parsons and Anthony Giddens, https://www.marxists.org/reference/archive/weber/protestant-ethic/index.htm (accessed: 20.01.2018).
Zieliński, Tadeusz J. Iustificatio impii. Usprawiedliwienie "sola fide" jako główny artykuł wiary protestancko-konserwatywnego nurtu Kościoła Anglii na przykładzie teologii Alistera E. McGratha, Jamesa I. Packera oraz Johna R. W. Stotta [Iustificatio impii. Justification "sola fide" as the main article of faith in the conservative Protestant wing of the Church of England as exemplified in the theology of Alister E. McGrath, James I. Packer, and John R.W. Stott]. Warszawa: Chrześcijańska Akademia Teologiczna, 2002.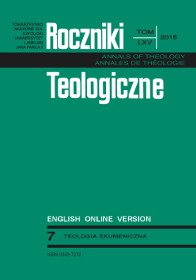 Copyright (c) 2018 Roczniki Teologiczne
This work is licensed under a Creative Commons Attribution-NonCommercial-NoDerivatives 4.0 International License.