Christ and the Perfection of Creation in Schleiermacher's Dogmatic Theology
Kevin M. Vander Schel

Gonzaga University, Department of Religious Studies
Keywords:
Schleiermacher; Christology; supernatural; grace; history; rationalism
Abstract
To many of his critics, Schleiermacher's Christology signals an explicit weakness in his theological system, as his emphasis on religious feeling and subjectivity seems to undermine any claims of the distinctive revelatory or supernatural character of Jesus Christ. This essay by contrast underscores both the originality Schleiermacher's understanding of Christ in history and its centrality to his overall thought by attending to the subtle theme of the "supernatural-becoming-natural" in his Glaubenslehre and Christliche Sittenlehre. Here the appearance of Christ yields a transformative influence that operates within natural and historical processes, inaugurating the reign of God that does not abolish the natural world but draws creation to its completed perfection.
References
BARTH, Karl. Protestant Theology in the Nineteenth Century: Its Background & History. Valley Forge, PA: Judson Press, 1973.
BRUNNER, Emil. Die Mystik und das Wort. Tübingen: J.C.B. Mohr, 1924.
FRANK, Gustaw. Geschichte der protestantischen Theologie: Geschichte des Rationalismus und seiner Gegensätze, Leipzig: Breitkopf & Härtel, 1875.
GERRISH, Brian. Tradition and the Modern World: Reformed Theology in the Nineteenth Century. Chicago: The University of Chicago Press, 1977.
HARMS, Claus. Claus Harms: Ein Kirchenvater des 19. Jahrhunderts. Auswahl aus seinen Schriften. Hg. Johann Schmidt. Gütersloh: Gütersloher, 1976.
HECTOR, Kevin W. "Actualism and Incarnation: The High Christology of Friedrich Schleiermacher." International Journal of Systematic Theology 8(2006), 3: 307-322.
HIRSCH, Emanuel. Geschichte der neuern evangelischen Theologie im Zusammenhang mit den allgemeinen Bewegungen des europäischen Denkens. Bd. 5. Darmstadt, Germany: C. Bertelsmann, 1964.
HORNIG, Gottfried. "Der Perfektabilitätsgedanke bei J.S. Semler." Zeitschrift für Theologie und Kirche 72(1975), 4: 381-397.
KANT, Immanuel. Religion within the Limits of Reason Alone. Trans. Theodore M. Greene and Hoyt H. Hudson. New York: Harper Torchbooks, 1960.
LINDBECK, George A. The Nature of Doctrine: Religion and Theology in a Postliberal Age. Philadelphia: Westminster Press, 1984.
LIVINGSTON, James C. Modern Christian Thought: The Enlightenment and the Nineteenth Century. Minneapolis, MN: Fortress Press, 2006.
MCCUTCHEON, R., "Introduction: The Autonomy of Religious Experience." In: The Insider/Outsider Problem in the Study of Religion. Ed. R. McCutcheon. New York: Continuum, 2005.
PROUDFOOT, Wayne. Religious Experience. Berkeley: University of California Press, 1985.
PROUDFOOT, Wayne. "Immediacy and Intentionality in the Feeling of Absolute Dependence." In: Schleiermacher, the Study of Religion, and the Future of Theology. Ed. Wilhelm Gräb and Brent Sockness, 27-38. Berlin: Walter de Gruyter, 2010.
RÖHR, Johann .F. Briefe über den Rationalismus. Wissen und Kritik. Bd. 8. Hg. Wolfgang Erich Müller. Waltrop: Hartmut Spenner, 1997.
SCHLEIERMACHER, Friedrich D.E. Brief Outline of Theology as a Field of Study: Translation of the 1811 and 1830 Editions. Trans. Terrence N. Tice. 3rd ed. Louisville: Westminster John Knox, 2011.
SCHLEIERMACHER, Friedrich D.E. Christliche Sittenlehre (Vorlesung im Wintersemester 1826/27): Nach größenteils unveröffentlichten Hörernachschriften und nach teilweise unveröffentlichten Manuskripten Schleiermachers. Bd. 1. Hg. Hermann Peiter. Berlin: LIT Verlag, 2010.
SCHLEIERMACHER, Friedrich D.E. Der christliche Glaube nach den Grundsätzen der evangelischen Kirche im Zusammenhange dargestellt, Zweite Auflage (1830/31). In: Kritische-Gesamtausgabe I.13.1-2. Hg. Rolf Schäfer. New York: Walter de Gruyter, 2003.
SCHLEIERMACHER, Friedrich D.E. On the Glaubenslehre: Two Letters to Dr. Lücke. Trans. by James Duke and Francis Fiorenza. Atlanta, GA: Scholars Press, 1981.
SCHLEIERMACHER, Friedrich D.E. Schleiermachers Sendschreiben über seine Glaubenslehre an Lücke. Hg. Hermann Mulert. Gießen: Töpelmann, 1908.
SCHWARZ, Carl. Zur Geschichte der neuesten Theologie. 4th ed. Leipzig: F.A. Brodhaus, 1869.
VANDER SCHEL, Kevin M. Embedded Grace: Christ, History, and the Reign of God in Schleiermacher's Dogmatics. Minneapolis, MN: Fortress Press, forthcoming November, 2013.
VAN DRIEL, Edwin. Incarnation Anyway: Arguments for Supralapsarian Christology. New York: Oxford University Press, 2008.
WILSON, John E. Introduction to Modern Theology: Trajectories in the German Tradition. Louisville: Westminster John Knox, 2007.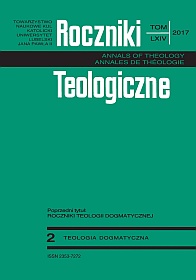 Copyright (c) 2017 Roczniki Teologiczne
This work is licensed under a Creative Commons Attribution-NonCommercial-NoDerivatives 4.0 International License.