Does the Question of "Intergenerational Forgiveness" Exist?
Marek Jagodziński

The John Paul II Catholic University of Lublin, Faculty of Theology
Keywords:
sin; sacrament of baptism; sacrament of penance; forgiveness of sins; inner healing; deliverance from sins; biblical context; hermeneutics
Abstract
"Intergenerational forgiveness" is actually a prayer for intergenerational forgiveness, and its purpose is "healing of the family tree" or to achieve "intergenerational healing". It appeared in connection with diseases and sufferings of the people and the need for pastoral care of them. Doubtful, however, is already the biblical context of this phenomenon and interpretation of related biblical texts requir mature biblical hermeneutics. Difficult to avoid are also dogmatic problems, mainly related to the efficacy of the sacraments of baptism and penance. All these circumstances suggest the need to completely abandon this concept in theory and practice.
References
Balter, Lucjan. Eschatologia współczesna dla duszpasterzy i katechetów. Kraków: Homo Dei, 2010.
Egger, Wilhelm. Methodenlehre zum Neuen Testament. Einführung in linguistische und historisch-kritische Methoden. Dritte, durchgesehene und aktualisierte Auflage. Freiburg–Basel–Wien: Herder, 1996.
Gryglewicz, Feliks. Ewangelia według św. Łukasza. Wstęp – przekład z oryginału – komentarz. Poznań: Pallottinum, 2007.
Homerski, Józef. Ewangelia według św. Mateusza. Wstęp – przekład z oryginału – komentarz. Poznań: Pallottinum, 2004.
Homerski, Józef. Księga Ezechiela. Wstęp – przekład z oryginału – komentarz – ekskursy. Poznań: Pallottinum, 2013.
The New Jerome Biblical Commentary, edited by Raymond Edward Brown; Joseph A. Fitzmyer; Roland E. Murphy Upper Saddle River: Prentice-Hall, 1990. Polish ed. Waldemar Chrostowski. Warszawa: Vocatio, 2001.
Jungmann, Josef A. Liturgia pierwotnego Kościoła do czasów Grzegorza Wielkiego. Translated by Teresa Lubowiecka. Kraków: Wydawnictwo Benedyktynów, 2013.
Kowal, Sebastian. Modlitwa o uwolnienie w misji Kościoła katolickiego. Studium krytyczno-teologiczn, mps. Szczecin 2013.
Langkammer, Hugolin. Ewangelia według św. Marka. Wstęp – przekład z oryginału – komentarz. Poznań–Warszawa: Pallottinum, 1977.
Łukaszuk, Tadeusz D. Ty jesteś Chrystus, Syn Boga żywego. Dogmat chrystologiczny w ujęciu integralnym. Kraków: Papieska Akademia Teologiczna, 2000.
Mcall, Kenneth. Healing the family tree. London: Sheldon, 1982.
Metodologia Nowego Testamentu. Edited by Hugolin Langkammer. Pelplin: Wydawnictwo Diecezjalne, 1994.
Moran, Michelle. "Foreword." In Doctrinal Commission of ICCRS, Baptism in the Holy Spirit. Locust Grove: NSC Chariscenter, 2012. Translated by Cezary Sękalski, 5-6. Kraków: Wydawnictwo Serafin 2014.
Nadolski, Bogusław. "Egzorcyzm." In Bogusław Nadolski. Leksykon liturgii, 369-374. Poznań: Pallottinum, 2006.
Pontifical Biblical Commission, The Interpretation of the Bible in the Church. Translated by Kazimierz Romaniuk. Poznań: Pallottinum, 1994.
Piotrowski, Mieczysław. "Uzdrowienie międzypokoleniowe. Terapia według dr. Kennetha McAlla." Miłujcie się 1 (2004), 9-11.
Płusa, Sławomir. "Przebaczenie międzypokoleniowe. Spojrzenie teologiczno-praktyczne." Duchowość w Polsce 16 (2014), 101-112.
Thomas Aquinas. Summa theologica I-II.
Wydział Teologii KUL. Opinia komisji teologicznej w sprawie tzw. spowiedzi furtkowej. http://episkopat.pl/dokumenty/6537.1,Decyzja_KEP_w_sprawie_tzw_spowiedzi _furtkowej.html [21.07.2015].
Zimmermann, Beate. Heilung der Familienstammbaums. Frankfurt: Peter Lang GmbH, 2012.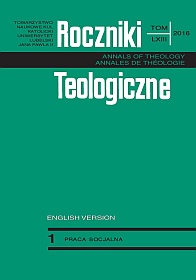 Copyright (c) 2016 Roczniki Teologiczne
This work is licensed under a Creative Commons Attribution-NonCommercial-NoDerivatives 4.0 International License.