Polemics of Arsenii Matseevich
Adam Drozdek

Duquesne University in Pittsburgh
Keywords:
Arsenii Matseevich; schismatics; Lutherans; Catherine II
Abstract
Arsenii Matseevich, an important ecclesiastical figure, defended the doctrine of Orthodox Church from schismatics, in particular, from attacks of Ioasif, who, among others, wanted to abolish the Orthodox priesthood. Matseevich was also involved in polemics with Lutherans who criticized Iavorskii's monumental The Rock of faith. The article discusses arguments Matseevich used against schismatics and Lutherans.
Matseevich was an isolated vocal voice that opposed the idea of secularization of the Church. The article describes arguments he used to retain the dignity of the Church and even to restore it to the former glory. For all his efforts Catherine II put him in prison where he died.
References
Brückner, Alexander. Katharina die Zweite. Berlin: Grote'sche Verlagsbuchhandlung, 1883.
Григорьев, Антон Борисович. "Загадки сочинения 'Молоток на книгу «Камень веры»'." Филаретовский альманах 8 (2012).
(Дзюбан) Диомид. Митрополит Арсений (Мацеевич): Историко-религиозный очерк. Москва: Зеркало, 2001.
Добротворский, Иван Михайлович. "Об Арсении Мациевиче как обличителе раскола." "Православный собеседник" 3 (1861), 349–93.
Иконников, Владимир Степанович. "Арсений Мацеевич, историко-биографический очерк." Русская Старина 26 (1879).
Карташев, Антон Владимирович. Очерки по истории Русской Церкви. Paris: YMCA-Press, 1959.
Корсак, Іван Феодосійович Таємниця святого Арсенія: Роман-есей. Луцьк: ПВД Твердиня, 2008.
Мацеевич, Арсений. Возражение на пашквиль лютеранский называемый молоток на книгу Камень веры, manuscript, Москва: Русская Госсударственная Библиотека, фонд 173.I.
[Мацеевич], Арсений. Дополненное обличение неправых и лжесловесных ответов раскольнических. Описание документов и дел хранящихся в архиве Святейшего правительствующего синода, vol. 1, cols. ccccxviii-ccccxxxvi. Санкт-Петербург: Синодальная типография, 1868–1914.
Madariaga, Isabel de: Russia in the Age of Catherine the Great. New Haven: Yale University Press 1981.
Massie, Robert K. Catherine the Great: portrait of a woman. New York: Random House, 2011.
Полное собрание законов Российской Империи, vols. 1–45. Санкт-Петербург: Типография II Отделения Собственной Его Императорского Величества Канцелярии, 1830.
Попов, Михаил Степанович. Арсений Мацеевич, митрополит Ростовский и Ярославский. Санкт-Петербург, 1905 (republished as Изгнанный правды ради: жизнь святителя Арсения (Мацеевича). Москва: Московское Подворье Свято-Троицкой Сергиевой Лавры, 2001).
Снегирев, Иван Михайлович. Арсений Мациевич, митрополит ростовский и ярославский. Москва: типография Бахметева, 1862.
Troyat, Henri. Catherine the Great. Nuffield: Aidan Ellis, 1978.
"«Увещание к раскольнику» Арсения Мациевича, бывшего митрополита Ростовского: Увещание бывшему Мошемского монастыря игумену Иоасафу [1734]." Православный собеседник 3 (1861): 182–205, 295–334, 413–450.
Чистович, Иларион Алексеевич. Феофан Прокопович и его время. Санкт-Петербургъ: Императорская Академия Наук, 1868.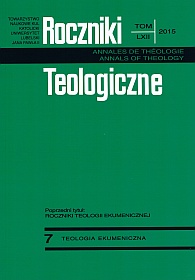 Copyright (c) 2015 Roczniki Teologiczne
This work is licensed under a Creative Commons Attribution-NonCommercial-NoDerivatives 4.0 International License.