The Principle of Subsidiarity in Promoting Social Hospices in Poland Based on Own Research
Mirosław Kalinowski

The John Paul II Catholic University of Lublin
Keywords:
subsidiarity principle; hospices in Poland
Abstract
Over the last few decades, the work of palliative and hospice centers in Poland and in the majority of highly developed countries has been evolving in the direction of specialized institutions providing assistance to persons in the terminal stage of cancer. They are part of the country's healthcare system and meet all the criteria of health care institutions. The principle of subsidiarity is the basis for promoting social hospices, and to a large extent, they use the natural capital of civic initiatives and pro-social attitudes. It also influences removing barriers between healthy and sick people, especially those who are dying. The article presents the results of own research among people who are closest to the hospice's charges. Respondents point to existing ways of their influencing the social environment that can contribute to mature attitudes towards suffering and death, such as cooperation among various institutions, scientific and publishing activities, education through mass media, educating school youth, as well as the promotion of palliative care.
References
Bartoszek A., Człowiek w obliczu cierpienia i umierania. Moralne aspekty opieki paliatywnej, Katowice 2000.
Borutka T., Mazur J., Zwoliński A., Katolicka nauka społeczna, Częstochowa 2004.
Ból i cierpienie. Ognisko światła i ciemności, Medycyna-Filozofia-Teologia, red. D. Pater, Warszawa 2015.
Brzeziński M., Służba terminalnie chorym w Nowej Karcie Pracowników Służby Zdrowia, "Zeszyty Naukowe Caritas" 2018, nr 6, s. 45-58.
Dyczyńska-Herman A., Aktualne potrzeby i możliwości niesienia ulgi w cierpieniu, "Terminalnie chory – hospicjum" 1996, nr 7.
Górecki M., Hospicjum w służbie umierającym, Warszawa 2000.
Hospicjum Dobrego Samarytanina w Lublinie. Kurs dla wolontariuszy, 30 listopada 2016 – 26 marca 2017. Kronika Hospicyjna, mps.
Höffner J., Chrześcijańska nauka społeczna, Warszawa 1999.
Kalinowski M., Wspólnoty nadziei. Realizacja zasad życia społecznego w ruchu hospicyjnym, Lublin 2007.
Kalith R., Rodzina wobec śmierci, w: Śmierć i umieranie, red. L. Pearson, Warszawa 1973.
Kamińscy E. i T. Gdy rodzi się dobro – rodzi się Bóg, "Głos św. Antoniego". Miesięcznik parafii św. Antoniego Padewskiego w Lublinie, 2018, nr 2, s. 17.
Koperek J., Zasady życia społecznego, w: Słownik społeczny, red. B. Szlachta, Kraków 2004.
Majka J., Etyka społeczna i polityczna, Warszawa 1993.
Majka J., Katolicka nauka społeczna. Studium historyczno-doktrynalne, Rzym 1986.
Mazurek F., Społeczne prawa człowieka, "Roczniki Nauk Społecznych" 10(1982).
Nagórny J., Posłannictwo chrześcijan w świecie współczesnym, Świat i wspólnota, t. 1, Lublin 1998.
Noszczyk G., Państwo, w: Jan Paweł II. Encyklopedia nauczania społecznego, red. A. Zwoliński, Radom 2005.
Papieska Rada ds. Służby Zdrowia, Nowa Karta Pracowników Służby Zdrowia, Katowice 2017.
Pater H.D., Holistyczna koncepcja człowieka chorego, Teologia-Medycyna-Praktyka, Warszawa 2017.
Piwowarski W., Zasada pomocniczości w Kościele, w: Kościół – świat – świeccy, Warszawa 1988.
Piwowarski W., Interpretacja zasady pomocniczości w literaturze współczesnej, "Roczniki Filizoficzne" 12(1964), z. 2.
Piwowarski W., Pomoc dla samopomocy w świetle katolickiej nauki społecznej, "Roczniki Nauk Społecznych" 14(1986), z. 1.
Piwowarski W., Zasada pomocniczości w demokratyzacji życia kościelnego, "Roczniki Teologiczno-Kanoniczne" 35(1988), z. 6.
Piwowarski W., Zasada pomocniczości, w: Słownik katolickiej nauki społecznej, red. W. Piwowarski, Instytut Wydawniczy PAX, Warszawa 1993.
Strzeszewski Cz., Katolicka nauka społeczna, Lublin 1994.
Szot L., Obecni do końca, Warszawa 2010.
Wojtyła K., Katolicka etyka społeczna, Lublin 2018.
Zwoliński A., Zbiorowy obowiązek, Zarys katolickiej nauki społecznej, Kraków 2000.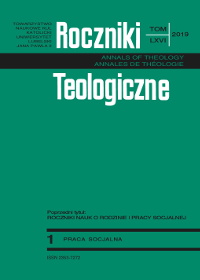 Copyright (c) 2019 Roczniki Teologiczne
This work is licensed under a Creative Commons Attribution-NonCommercial-NoDerivatives 4.0 International License.