Number of Children in the Family as the Moderator of Changes in Families' Presentation in the Contest of Family and Social Coordinats
Halyna Bevz

State University "Management of Education University" of National Academy of Pedagogical Sciences of Ukraine
Keywords:
married couple; alternative care family; children; family welfare; cyclical processes; women; men; role of married
Abstract
The following article reveals the results of the study of dynamics of families' presentation regarding the number of children in the family. The study was conducted in Ukraine in the context of the study of peculiarities of functioning of alternative care families for placing children in need into state care. The results of the study show that children in the family is a desirable situation that activates in married couples the qualities of responsibility, desire for independence and family well-being. It has been proved that the increase of the number of children in the family initiates different dynamics of conditions in men and women. Two groups of parameters serve to balance them. The first group fixes a social level (needs recognition in acceptance and social support of family welfare ) and the second – family and marriage (improvement of parental competence, quality of marital relationships, sense of solidarity and perception of one's partner as sympathetic). The change of role positions within a married couple, distinguished in the following study regarding the family and the society can be explained by the theory of value exchange and group socialization. It is proved that breaks of cyclical processes of interchange is a risk for the development of the family institute, which thus reduces rehabilitation and supportive role of alternative care families.
References
Bevz H., Uwarunkowania uprzedzeń wobec dzieci u dorosłych, w: J. Gorbaniuk (red.), Sytuacja rodziny we współczesnym społeczeństwie – doświadczenia Europy Środkowo-Wschodniej, Lublin: Wydawnictwo EL-Press 2007, s.90-97.
Бевз Г., Прийомна сім'я: соціально-психологічні виміри: монографія, Кiev: Вид. Дім "Слово" 2010.
Берг-Кросс Л., Терапия супружеских пар, Мoskva: Инст-т психотерапии 2004.
Котли П., Новые приемные родители. Первый опыт, Новосибирск: ООО «Дата» 2000.
Кричевский Р., Социальная психология малой группы, Мoskva: Аспект Пресс 2001.
Ослон В., Ребенок в приемной семье: проблемы воспитания, Пермь: ПОИПКРО 2004.
Райгородский Д.,Практическая психодиагностика: методики итесты: уч. пос. Самарa: Из –ий Дом «БАХРАХ-М» 2000.
Шапарь В., Практическая психология. Психодиагностика отношений между родителями и детьми, Ростов н / Д: Феникс 2006.
Шнейдер Л., Семейная психология: учебник пособие для вузов, Moskva–Екатеренбург: Академический Проект, Деловая книга 2007.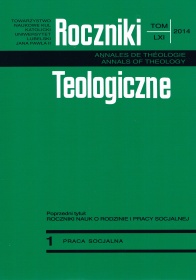 Copyright (c) 2014 Roczniki Teologiczne
This work is licensed under a Creative Commons Attribution-NonCommercial-NoDerivatives 4.0 International License.