Liturgical Discourse. The Objectification of the Phenomenon
Keywords:
discourse, liturgy, semiotics, community, textology
Abstract
The functioning of a group of people which can correctly identify a system of signs and its accompany rules determines semiotic coherence. It gives rise to a discursive community wherein utterances are addressed to a particular listener in accordance with the principles of semiology and textology. This text addresses the criterion for the functioning in such a community of "thought exchange"—ie. a "discursive community" within the context of the celebration of liturgy. Determining its features and accompanying principles permits a definition of the term "liturgical discourse" which is then accomplished in the following steps:—systematized, a typology of texts appearing in the liturgy;—the concept of discursive community, allowing for the clarification of the concept of "liturgical discourse";—"textological norms" for selected texts used in the celebration of the liturgy.
References
Augé, Matias. "W poszukiwaniu metody hermeneutycznej w liturgii". Studia Theologica Varsaviensia 49(2011), 1: 57-73.
Durak, Adam. "Hermenutyka liturgii". Roczniki Teologiczne 46(1999), 8: 131-137.
Dyk, Stanisław. Klementowicz, Michał. Wyrostkiewicz, Michał. Słowo aktualne: Przepowiadanie a kwestie społeczne. Gorzów Wielkopolski: Wydawnictwo Naukowe Akademii im. Jakuba z Paradyża, 2019.
Franciszek. "Liturgia ma prowadzić do jedności kościelnej. Dostęp 08.05.2022. https://www.liturgia.pl/papiez-franciszek-liturgia-ma-prowadzic-do-jednoscikoscielnej/?fbclid=IwAR3_ngJmns6NZKoLIZbWSO9HlmkWiulduzb7PPneVzeEnm-2EhJETfnMCng.
Klementowicz, Michał. "Argumentacja ex auctoritate w uzasadnianiu twierdzeń w tekstach homilii". Poznańskie Studia Polonistyczne. Seria Językoznawcza 28/48(2021), 1: 219-229.
Klementowicz, Michał. "Delimitacja w posłudze słowa Bożego". Roczniki Teologiczne 65(2018), 12: 89-99.
Klementowicz, Michał. "Intertekstowość w homilii". Roczniki Teologiczne 66(2019), 12: 53-64.
Klementowicz, Michał. "Spójność tekstu jako warunek poprawnej homilii". Roczniki Teologiczne 64(2017), 12: 63-77.
Klementowicz, Michał. "Teoriotekstowa koncepcja homilii wobec teologii stworzenia". Forum Teologiczne 21(2020): 139-148.
Kongregacja ds. Kultu Bożego i Dyscypliny Sakramentów, Ogólne Wprowadzenie do Mszału Rzymskiego. Poznań: Pallottinum, 2004.
Kongregacja Kultu Bożego. "Trzecia Instrukcja Wykonawcza do Konstytucji o Liturgii Liturgicae Instaurationes". W To czyńcie na moją pamiątkę. Eucharystia w dokumentach Kościoła, opr. Jan Miazek, 191-203. Warszawa: Wydawnictwo Archidiecezji Warszawskiej, 1987.
Królikowski, Janusz. "Wolność, władza i wspólnota w świetle nauczania II Soboru Watykańskiego". Studia Socialia Cracoviensia 6(2014), 2 (11): 149-161.
Mieszczak, Stanisław. "Liturgia jako miejsce budowania wspólnoty". Sympozjum 19(2015), 2(29): 51-64.
Migut, Bogusław. "Hermeneutyka w służbie teologii liturgicznej Achillesa Marii Triakki SDB (1935-2002)". Studia Theologica Varsaviensia 49(2011), 1: 99-129.
Sieradzka-Mruk, Agnieszka. Odbiorca jako czynnik kształtujący wypowiedź: na przykładzie kazań dla dzieci. Kraków: Towarzystwo Wydawnicze "Historia Iagellonica", 2003.
Święte Triduum Paschalne. Na podstawie Mszału Rzymskiego dla diecezji polskich. Poznań: Pallottinum, 2017.
Wilkoń, Aleksander. Spójność i struktura tekstu: Wstęp do lingwistyki tekstu. Kraków: Universitas, 2002.
Żądło, Andrzej. "Hermeneutyka tekstów euchologijnych w służbie przepowiadania liturgicznego". Roczniki Teologiczne 62(2015), 12: 93-114.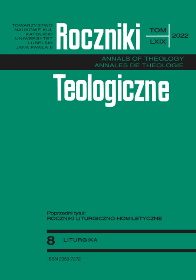 Copyright (c) 2022 Roczniki Teologiczne
This work is licensed under a Creative Commons Attribution-NonCommercial-NoDerivatives 4.0 International License.