Anthropology of the Apostolic Exhortation Familiaris Consortio
Keywords:
person, love, marriage, family
Abstract
The author starts from the statement, that contrary to the ancient and medieval thought, the modern thought considered conflict as the original and natural state of human coexistence (Hobbes, Marx, Sartre). In the biblical anthropology, which constitutes a point of reference for John Paul II in his exhortation Familiaris Consortio, the original truth of man is not expressed in the model of conflict, but on the contrary, conflict arises as a result of the betrayal of the original truth, which is the unity of man and woman. In the biblical vision of human relationships, therefore, the starting situation, the experience in which the primordial truth of man is expressed, is not a relationship of conflict, but a man-woman relationship in which two persons affirm their humanity not by submitting the other to their own will, but by the gift of themselves that they make to one another. In the anthropology of the exhortation Familiaris Consortio, marriage and family are the privileged place where human beings experience belonging and gift.
References
Arystoteles. Polityka. Tłum. Leon Piotrowicz. W: Arystoteles. Dzieła zebrane, t. 1. Warszawa: Wydawnictwo Naukowe PWN, 2003.
Bauman, Zygmunt. Liquid Love: On Frailty of Human Bonds. Oxford: Blackwell Publishers, 2003.
Beck, Ulrich, Das ganz normale Chaos der Liebe. Frankfurt am Main: Suhrkamp, 1990.
Donati, Pierpaolo. Perché "la" famiglia? Le risposte della sociologia relazionale. Siena: Cantagalli, 2008.
Giddens, Anthony. Przemiany intymności. Seksualność, miłość i erotyzm we współczesnych społeczeństwach. Tłum. Alina Sulżycka, Warszawa: Wydawnictwo Naukowe PWN, 2007.
Höffe, Otfried. Sprawiedliwość polityczna. Podstawy krytycznej filozofii prawa i państwa. Tłum. Jarosław Merecki. Kraków: Znak, 1999.
Jan Paweł II. Adhortacja apostolska Familiaris consortio (1981). Stolica Święta. Dostęp 17 lutego 2022 r. https://www.vatican.va/content/john-paul-ii/pl/apost_exhortations/documents/hf_jp-ii_exh_19811122_familiaris-consortio.html.
Jan Paweł II. Encyklika Redemptor hominis (1979). Stolica Święta. Dostęp 17 lutego 2022 r. https://www.vatican.va/content/john-paul-ii/pl/encyclicals/documents/hf_jp-ii_enc_0403_1979_redemptor-hominis.html.
Jan Paweł II. List do rodzin Gratissimam sane (1994). JP2. Dostęp 17 lutego 2022 r. http://www.wikijp2.pl/index.php?Title=Gratissimam_sane.
Jan Paweł II. Mężczyzną i niewiastą stworzył ich. Lublin: Wydawnictwo KUL, 2008.
Platon. Uczta. W: Platon. Obrona Sokratesa, Kriton, Uczta. Warszawa: Hachette, 2008.
Scola, Angelo. Doświadczenie człowieka. U źródeł nauczania Jana Pawła II. Tłum. Patrycja Mikulska. Lublin: Instytut Jana Pawła II KUL, 2010.
Sobór Watykański II. Konstytucja duszpasterska o Kościele w świecie współczesnym Gaudium et spes (1965). Polskie Towarzystwo Mariologiczne. Dostęp 17 lutego 2022 r. http://ptm.rel.pl/czytelnia/dokumenty/dokumenty-soborowe/soborwatykanski-ii/141-konstytucja-duszpasterska-o-kosciele-w-swiecie-wspolczesnym-gaudium-et-spes.html.
Wojtyła, Karol. Poezje i dramaty. Kraków: Znak, 1987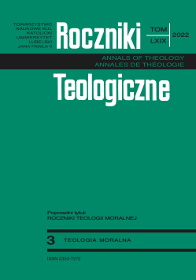 Copyright (c) 2022 Roczniki Teologiczne
This work is licensed under a Creative Commons Attribution-NonCommercial-NoDerivatives 4.0 International License.