Mobilisation of Secondary School Students in Religion Teaching – between Tradition and Modernity
Keywords:
youth, religion teaching, secondary school, mobilizations, learning methods, activity, correlation
Abstract
The analyses presented in this study focus on the quality of secondary school student mobilisation, which is recommended in the valid Core curriculum of the Catholic Church catechesis in Poland (2018). Attention was drawn to the obligatory set of catechetic objectives – general requirements, the contents of religion teaching – specific requirements, attitudes that should be developed in young people, correlation of religion teaching with school education, recommended conditions and methods of implementation of syllabus and cooperation of the educational environment (family, parish, etc.). The analysis of these issues attempted to prove that all elements of essence and methodology in the religion core syllabus can play an important role in the mobilisation of young people. It was pointed out that transmission of the theological and catechetical message and the theological language dominates. These solutions are enriched by correlation with school education, which can contribute to the mobilisation of youth. Unfortunately, little attention is often devoted to human experience and students' personal knowledge, which does not favour mobilisation. The new information and communication technologies are also undervalued, as they are mentioned in very general terms. Meanwhile, dominant are proposals of applying traditional methods of mobilising young people, such as problem methods, seeking and exploring. Proposals of forms and methods of young people's evangelisation are lacking. Such an approach to youth mobilisation oscillates between tradition and modernity. There are more traditional accents. Hence, the analysed proposals for mobilising secondary school students require supplementing at the level of developing syllabuses and textbooks for religion teaching..
References
Bałoniak, Aleksandra (red.). Wokół nowej podstawy programowej i programu nauczania religii. Częstochowa: Święty Paweł, 2020.
Bereźnicki, Franciszek. Dydaktyka szkolna dla kandydatów na nauczycieli. Kraków: Impuls, 2018.
Chałupniak, Radosław, Jerzy Kostorz, Waldemar Spyra (red.). Aktywizacja w katechezie. Szansa czy zagrożenie? Opole: Redakcja Wydawnictw WT UO, 2002.
Czekalski, Ryszard, Roman Murawski (oprac.). Bibliografia katechetyczna 1996-2000. Warszawa: Wydawnictwo UKSW, 2002.
Czekalski, Ryszard. Bibliografia katechetyczna 2001-2010. Warszawa: Wydawnictwo UKSW, 2012.
Konferencja Episkopatu Polski. Podstawa programowa katechezy Kościoła katolickiego w Polsce. Częstochowa: Edycja Świętego Pawła, 2018.
Korgul, Marek. Dydaktyka dla katechetów. Świdnica: [s.n.], 2014.
Kulpaczyński, Stanisław (red.). Aktywizowanie katechizowanych. Lublin [s.n.], 1997.
Kulpaczyński, Stanisław. "25 opinii katechetów o 25 latach katechezy w szkole". W XXV lat nauczania religii w polskiej szkole. Między nadzieją a rzeczywistością, red. Marian Zając, 205- 227. Lublin: Natan, 2015.
Kupisiewicz, Czesław. Dydaktyka ogólna. Warszawa: Wyższa Szkoła Umiejętności Pedagogicznych i Zarządzania, 2000.
Łabendowicz, Stanisław. Dydaktyka katechezy. Radom: "Spatium", 2019.
Łabendowicz, Stanisław. Metodyka katechezy. Radom: "Spatium", 2019.
Łabendowicz, Stanisław. "Realizacja zasady aktywności w strukturze procesu dydaktycznego". Zeszyty Formacji Katechetów 2 (2018): 63-76.
Mastalski, Janusz. Zasady edukacyjne w katechezie: na podstawie badań przeprowadzonych w krakowskich gimnazjach. Kraków: Wydawnictwo Naukowe PAT, 2002.
Okoń, Wincenty. Wprowadzenie do dydaktyki ogólnej, wyd. 4. Warszawa: Żak, 1998.
Papieska Rada ds. Krzewienia Nowej Ewangelizacji. Dyrektorium o katechizacji. Kielce: Jedność, 2020.
Półturzycki, Józef. Dydaktyka dla nauczycieli. Toruń: Wydawnictwo Adam Marszałek, 1999.
Szpet, Jan. Dydaktyka katechezy. Poznań: UAM, 1999.
Śnieżyński, Marian. Dialog edukacyjny. Kraków: Wydawnictwo Naukowe PAT, 2001.
Śnieżyński, Marian. Zarys dydaktyki dialogu, wyd. 2. Kraków: Wydawnictwo Naukowe PAT, 1998.
Twardzicki, Bronisław. Katechetyka formalna w służbie wiary. Przemyśl: Wydawnictwo Archidiecezji Przemyskiej, 2003.
Zellma, Anna. Wielostronne aktywizowanie młodzieży w szkolnym nauczaniu religii. Studium w świetle "Programu nauczania religii katolickiej z 2001 roku". Olsztyn: Wydawnictwo UWM, 2006.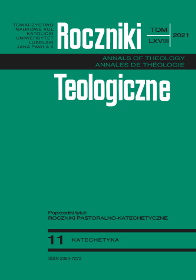 Copyright (c) 2021 Roczniki Teologiczne
This work is licensed under a Creative Commons Attribution-NonCommercial-NoDerivatives 4.0 International License.