The Itinerary Preaching of George Whitefield
Keywords:
evangelism, George Whitefield, an itinerary preaching, a new media, a new birth
Abstract
The itinerary preaching may seem like an outdated form of preaching the Gospel. For many, it is associated primarily with orators living in the nineteenth century. Nothing could be more wrong. The itinerary preaching is still a valid proposition. Just a new "area" must be found. A space where the orator meets listeners for his contemporary times. They would stop, even for a moment, to receive the message about Jesus – the Saviour. The article presents an interesting, and still valid, method of preaching developed by 18th-century preacher George Whitefield. Referring to his texts may to reveal the main features of his preaching workshop. He focuses on the specific structure of a sermon and a relevant content, as well as the dramatic style of preaching. The path he proposes is a current suggestion for today's preachers of the Word of God.
References
Belden, Albert D. "George Whitefield: His Influence on His Time". Evangelical Christian 3(1961): 2–8.
Mahaffey, Jerome D. "George Whitefield's Homiletic Art: Neo-sophism in the Great Awakening". Homiletic 31(2006), 1: 12.
Bumstead, Jack M. The Great Awakening: The Beginnings of Pietism in America. London: Blaisdell Publishing Company, 1970.
Chekhov, Michael. To the Actor: On the technique of Acting. New York: Harper, 1953.
Edwards, Kurt A. An Actor/ Preacher Prepares. Illinois: Common Ground, 2011.
Euzebiusz z Cezarei. Historia kościelna. Kraków: WAM, 2013.
Green, Michael. Evangelism in the Early Church. Eastbourne: Kingsway Publications, 2005.
Kenney, William H. "George Whitefield, Dissenter Priest of the Great Awakening, 1739–1741". The William and Mary Quarterly 26(1969), 1: 75–93.
Kidd, Thomas S. The Great Awakening. The Roots of Evangelical Christianity in Colonial America. New Heaven–London: Yale University Press, 2007.
Kirkland, Geoffrey. The (Lost) Art of Street Preaching — Must It Be Resurrected? Dostęp 20.08. 2021; http://thecripplegate.com/the-lost-art-of-street-preaching-must-it-be-resurrected/.
Krauze, Łukasz. Założenia teologiczne neoewangelikalizmu w przepowiadaniu Billego Grahama. Studium homiletyczne. Kraków: Tyniec Wydawnictwo Benedyktynów, 2020.
Labaree Leonard W., Ralph L. Ketchman, Helen C. Boatfield, Helene H. Fineman (ed.). The Autobiography of Benjamin Franklin. New Heaven: Yale University Press, 1964.
Lambert, Frank. "The Great Awakening as Artifact: George Whitefield and Construction of Intercolonial Revival, 1739–1745". Church History 60(1991), 2: 223–247.
Lambert, Frank. Pedlar in Divinity: George Whitefield and the Transatlantic Revivals, 1737–1770. Princeton: Princeton University Press, 1994.
Lamm, Norman. "Notes of An Unrepentant Darshan". W Sermon anthology of the Rabbinical Council of America, vol. 44, ed. Baruch A. Poupko, 1–12. New York: Rabbinical Council Press, 1986.
Levinthal, Israel. Problems of Jewish Ministry. New York: New York Board of Jewish Ministers, 1927.
Marmur, Michael. "Contemporary Jewish Homiletics: Some Key Components". International Journal of Homiletics 1(2016), 1: 52–70.
Noll, Mark A., David W. Bebbington, George A. Rawlyk (ed.). Evangelicalism. New York: Oxford University Press, 1994.
Peterson, John. Missionary Methods of Judaism in the Early Roman Empire. Chicago: University of Chicago, 1942.
Philip, Robert. The Life and Times of the Reverend George Whitefield, M.A. London: Joseph Rickerby, 1842.
Sosland, Henry A. "A Rabbi-Physician's Prescription for Effective Sermons: The Earliest Hebrew Preaching Manual". Judaism. A Journal of Jewish Life & Thought 28(1979), 1: 109–113.
Stout, Harry S. The Divine Dramatist. George Whitefield and the Rise of Modern Evangelicalism. Grand Rapids: William B. Eerdmans Publishing Company, 1991.
Taylor, Mendell. Exploring Evangelism. History, Methods, Theology. Kansas City: Nazarene Publishing House, 1964.
Whitefield, George. George Whitefield's Journal. London: The Banner of Truth Trust, 1960.
Whitefield, George. Sermons on Various Subjects, vol. II. Philadelphia: Printed and sold by B. Franklin, in Market-Street, 1740.
Whitefield, George. The Nature and Necessity of Our New Birth in Christ Jesus, in Order to Salvation. A sermon Preached in the Church of St. Mary Radcliffe, in Bristol. London: C. Rivington in St. Paul's Churchyard, 1737.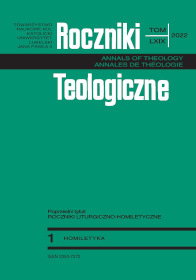 Copyright (c) 2022 Roczniki Teologiczne
This work is licensed under a Creative Commons Attribution-NonCommercial-NoDerivatives 4.0 International License.