The Picture of the Final Judgment in Iconosphere of the Judiciary
Keywords:
the Last Judgment, Christ the Judge, iconosphere of the judiciary, judicial symbolism
Abstract
The main function of judicial themes in art is the representation of justice. This article examines the problem of the dialogue of law, religion and art on the example of the image of the Last Judgment, which represents the idea of higher justice, sanctioned by God as the Supreme Judge. On the basis of comparative-historical, semiotic and hermeneutic methods, the question of the genesis and essence of the Christian idea of the Last Judgment was singled out on the basis of narratives of Egyptian and ancient Greek myths and texts of the Holy Scriptures. The main images and symbols of this plot are studied, namely: Christ the Judge, St. Michael, libra and psychostasis. Examples of the Last Judgment in church iconography and art are given.
References
Адамчик, Владимир, авт-сост.. Словарь символов и знаков. Москва: АСТ; Минск: Харвест [Adamchik, Vladimir V., avt.-sost., Slovar' simvolov i znakov. Moskva: AST; Minsk: Kharvest], 2006.
Бальтазар, Ганс Урс фон. "Суды Божии в Откровении Иоанна Богослова". W: Символ, [Balthasar, Hans Urs von. "Sudy Bozhii v Otkrovenii Ioanna Bogoslova". V: Simvol], Paris 16(1986): 9–17.
Bardski, Krzysztof ks. "Bóg jako sprawiedliwy sędzia w symbolicznej ikonosferze biblijnej starożytności chrześcijańskiej i średniowiecza". Verbum Vitae 26(2014):143-157. Dostęp 10.07. 2021. http://cejsh.icm.edu.pl/cejsh/element/bwmeta1.element.desklight-45d01e1e-1d01-4425-90d4-49b0d4bf0949/c/143_pdfsam_Verbum_26.pdf.
Chomyn, Igor. 150 arcydzieł malarstwa polskiego ze zbiorów Lwowskiej Galerii Sztuki. Pelplin: Bernardinum, 2006.
Codex Iuris Canonici. Poznań: Pallotinum, 1984.
Dobrzeniecki, Karol. "Harmonia teologii, prawa i kosmologii na przykładach zastosowania motywu wagi w sztuce czasów przednowożytnych". Teologia i człowiek. Kwartalnik Wydziału Teologicznego UMK 30(2015), 2: 79–93.
Егоров, Алексей. "Кризисы в истории Рима (события и проблемы)". W: Мнемон. Исследования и публикации по истории античного мира. Сборник статей к 80-летию со дня рождения проф. Э.Д. Фролова. СПб. [Yegorov, Aleksey B. "Krizisy v istorii Rima (sobytiia i problemy)". V: Mnemon. Issledovania i publikatsyi po istorii antichnogo mira. Sbornik statei k 80-letiu so dnia rozhdenia prof. E.D.Frolova. SPb.], 12(2013): 346–365.
Еко, Умберто, ред., Історія європейської цивілізації. Середньовіччя. Варвари. Християни. Мусульмани; пер. з італ. Харків: Фоліо [Eco, Umberto, red., Istoria evropeiskoi tsyvilizatsii. Seredniovichia. Varvary. Khrystyiany. Musul'many; per. z ital. Kharkiv: Folio], 2018.
Еко, Умберто, ред., Історія європейської цивілізації. Середньовіччя. Собори. Лицарі. Міста; пер. з італ. Харків: Фоліо [Eco, Umberto, red., Istoria evropeiskoi tsyvilizatsii. Seredniovichia. Sobory. Lytsari. Mista; per. z ital. Kharkiv: Folio], 2018.
Forstner, Dorothea OSB. Świat symboliki chrześcijańskiej. Leksykon. Warszawa: PAX, 2001.
Георгиевский, Эдуард. "Символизм древнерусского уголовного права". Право и политика [Georgievskiy, Eduard V. "Simvolizm drevnerusskogo ugolovnogo prava". Pravo i politika] 2(2013): 238–248.
Gotik. Architektur. Sculptur. Malerei. H.F. Ullmann, 2009.
Greek-English New Testament. Deutsche Bibelgesellschaft, 1998.
Губаева, Тамара. Язык и право. Искусство владения словом в профессиональной юридической деятельности. 2-е изд., пересмотр. Москва: Норма: Инфра-М [Gubaeva, Tamara. Iazyk i pravo. Iskusstvo vladeniia slovom v professional'noi iuridicheskoi deiatel'nosti. 2-e izd., peresmotr. Moskva: Norma: Infra-M], 2010.
Гуревич, Арон. Избранные труды. Культура средневековой Европы. Санкт-Петербург: Изд-во С.-Петербургского у-та [Gurevich, Aron Y. Izbrannye trudy. Kul'tura srednevekovoi Evropy. Sankt-Peterburg: Izd-vo S.-Peterburgskogo u-ta], 2006.
Howes, Llewellyn. "Who Will Put My Soul on the Scale?: Psychostasia in Second Temple Judaism". Old Testament Essays 27(2014), 1: 100–122.
Григорак, Анастасія. Світоглядні орієнтири українського соціуму у світлі іконографії Страшного суду XV–XVIII ст. Автореф. дисерт. … к. іст. н. Київ [Hryhorak, Anastasia K. Svitohladni orientyry ukrains'koho sotsiumu u svitli ikonografii Strashnoho sudu XV-XVIII st. Autoref. dysert. … k. ist. n. Kyiv], 2020.
Juan de la Abadía (the Elder). "Saint Michael Weighing Souls". Dostęp 15.06.2021. https://www.museunacional.cat/en/colleccio/saint-michael-weighing-souls/juan-de-la-abadia-el-vell/005082-000.
Judica Sunday. Dostęp 15.06.2021. https://www.newadvent.org/cathen/08553a.htm.
Катехизм Католицької Церкви. Синод Української Греко-Католицької Церкви [Katekhyzm Katolyts'koi Tserkvy. Synod Ukrains'koi Hreko-katolyts'koi Tserkvy], 2002.
La Cappella degli Scrovegni. Dostęp 15.06.2021. http://www.cappelladegliscrovegni.it/index.php/it/.
Mazur, Jan OSPPE. "Skałka na przełomie tysiącleci". Peregrinus Cracoviensis 14(2003): 13-35.
Мелетинский, Елеазар, гл. ред., Мифологический словарь. Москва: Сов. Энциклопедия [Meletinskii, Eleazar M., gl. red., Mifologicheskii slovar'. Moskva: Sov. Entsyklopedia], 1990.
Мень, Олександр. Проповіді на церковний рік; пер. з рос. М. Лемик. Львів: Свічадо, [Men, Oleksandr. Propovidi na tserkovnyi rik; per. z ros. M. Lemyk. L'viv: Svichado] 2014.
Novum Testamentum Latine. Deutsche Bibelgesellschaft, 2002.
O'Грейді, Джон Ф. "Современное состояние христологии". W: Современное католическое богословие. Хрестоматия, пер. с англ., 201–231. Москва: ББИ св. апостола Андрея [O'Grady, John F. "Sovremennoe sostoianie khristologii". V: Sovremennoe katolicheskoe bogoslovie. Khrestomatia, per. s angl., 201–231. Moskva: BBI sv. apostola Andreia], 2007.
Пальцева, Лариса. "Судебные институты архаической Греции". W: Мнемон. Исследования и публикации по истории античного мира. Санкт-Петербург [Pal'tseva, Larisa A. "Sudebnye instituty arkhaicheskoi Gretsii". V: Mnemon. Issledovania i publikastyi po istorii antichnogo mira. Sankt-Peterburg], 7(2008): 85–96.
Райкен, Лиланд, и др., ред. Словарь библейских образов; пер. с англ. Санкт-Петербург: Библия для всех [Ryken, Leland, i dr., red. Slovar' bibleiskikh obrazov, per. s angl. Sankt- Peterburg: Biblia dla vsekh], 2008.
Телицын, Вадим, ред. Символы, знаки, эмблемы: Энциклопедия. Москва: ЛОКИД-ПРЕСС: РИПОЛ Классик [Telitsyn, Vadim L., red. Simvoly, znaki, emblemy: Entsyklopedia. Moskva: LOKID-PRESS: RIPOL Klassik], 2005.
Власова, Галина. Легитимация институтов публичной власти в политико-правовом и социокультурном измерениях (на примере эволюции правосудия). Автореф. дисс. … д. ю.н. Ростов-на-Дону [Vlasova, Galina B. Legitimatsyia institutov publichnoi vlasti v politico-pravovom i sotsyokul'turnom izmereniiakh (na primere evolutsii pravosudia). Avtoref. diss. … d. iur. n. Rostov-na-Donu], 2009.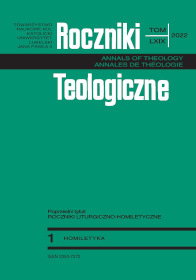 Copyright (c) 2022 Roczniki Teologiczne
This work is licensed under a Creative Commons Attribution-NonCommercial-NoDerivatives 4.0 International License.