Philosophical and Theological Image of Death Seen Through the Eyes of Young People
-
Keywords:
death, eschatology, theology, survey
Abstract
The article presents the cultural image of death from the theological and philosophical point of view. I used the ethnolinguistic method to investigate this phenomenon. The text particularly takes into account changes in attitudes and emotions towards death throughout the various periods of history, ranging from antiquity to modernity. Next, the method of presenting death in the Bible, as well as the teachings preached by the Church Fathers was presented to finally verify the current views with what young people attending primary school think about it — how they define death or are afraid of death. The students' task was to answer questions about death in a broad sense. The next questions concerned the physical symptoms of death, the accompanying emotions, and the causes of death. Respondents also had to answer the questions whether people are afraid of it and the question concerning the feelings it evokes.
References
Aries, Philippe. Rozważania o historii śmierci. Warszawa: Oficyna Naukowa, 2007.
Bokwa, Ignacy. "Eschatologiczne perspektywy ludzkiej egzystencji jako paradygmat sensu". Studia Gnesnensia 26(2012): 69-87.
Bokwa, Ignacy. "Zmartwychwstanie w śmierci. Dyskusja Josepha Ratzingera z Gisbertem Greshake". Kieleckie Studia Teologiczne 16(2017): 91-106.
Bukalski, Sławomir. "Śmierć i umieranie. Aspekty psychologiczno-pastoralne". Studia Paradyskie 24(2014): 101-112.
Boros, Ladislaus. Mysterium mortis. Człowiek w obliczu ostatecznej decyzji, tłum. B. Białecki. Warszawa: PAX, 1974.
Dąmbska, Izydora. Zagadnienie śmierci w greckiej filozofii starożytnej. Lublin: KUL, 1993.
Drogoś, Sławomir. Człowiek w obliczu śmierci. Toruń: Adam Marszałek, 2001.
Legowicz, Jan (red.). Filozofia starożytna Grecji i Rzymu. Warszawa: PWN, 1970.
Góralczyk, Paweł. Sens życia sens śmierci. Ząbki: Apostolicum, 2003.
Góźdź, Krzysztof. Teologia historii zbawienia według Oscara Cullmanna. Lublin: KUL, 1996.
Granat, Wincenty. Eschatologia. Rzeczy ostateczne człowieka i świata. Lublin: KUL, 1962.
Jankowski, Augustyn. Eschatologia Nowego Testamentu. Kraków: WAM, 2007.
Jan Paweł II. "Katecheza z dnia 01.10.1986".
Katechizm Kościoła Katolickiego. Poznań: Pallottinum, 1994.
Krakowiak, Czesław. "Posługa Kościoła wobec umierającego człowieka". Ateneum Kapłańskie 164(1980): 171-182.
Łabuda, Piotr. Śmierć i życie po śmierci według Ewangelii św. Łukasza. Tarnów: Biblos, 2007.
Łukaszuk, Tadeusz. Dionizy. Ostateczny los człowieka i świata. Kraków: PAT, 2006.
Orbik, Zbigniew. "Problematyka śmierci w filozofii starożytnej". Zeszyty Naukowe Politechniki Śląskiej 65(2013): 267-280.
Nowak, Joachim. "Śmierć w wymiarze chrystologicznym w świetle współczesnej literatury teologicznej". Studia Teologiczno-Historyczne Śląska Opolskiego 34(2014): 83-98.
Tomasz z Akwinu. Suma teologiczna I. Londyn: Veritas, 1962.
Perszon, Jan. "Śmierć jako wydarzenie i wyobrażenie na Kaszubach Północnych − studium etnograficzne". Studia Gdańskie 10(1995): 145-165.
Ratzinger, Joseph. Eschatologia − śmierć i życie wieczne. Warszawa: PAX, 1986.
Wensing, Michael. Śmierć i przeznaczenie człowieka według Biblii. Warszawa: PROMIC, 1997.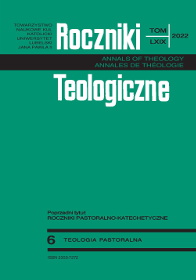 Copyright (c) 2022 Roczniki Teologiczne
This work is licensed under a Creative Commons Attribution-NonCommercial-NoDerivatives 4.0 International License.