Religiosity of the Slovakian Roma
Keywords:
Roma religiosity, beliefs, religious practices, moral behaviour
Abstract
Religiosity of the Romani has been shaped by their history, which occupies an important role in their social identity. It manifests itself in the dominant religion of the country they live in, whether Lutheran, Catholic, Orthodox, Muslim, or other. The aim of this article is to analyse and present religiosity of the Romani in Slovakia in terms of its basic parameters (faith and beliefs, religious knowledge, religious practice, opinions and moral behaviour). The article is based on the results of the social studies performed in 2018 by Reverend Martin Majda, a professor at the Institute of Theology at Catholic University in Ružomberok. The majority of the Romani in Slovakia belong to the Roman Catholic Church. Their religiosity can be characterised by a specific interpretation of the truths of the faith, e.g. a greater belief in God rather than in the last things. What is more, it bears the traits of folk religiosity, incorporating elements of individual beliefs and rituals, reflecting the Romanis' ethnic origin. Although knowledge is not a sine qua non of identifying oneself with a particular faith, it correlates with religiosity and is worth studying. A great role is attributed to obligatory religious practices, realised on Sundays and during Holy Days, as they affect religiosity of the Romani. There is a diversity of opinions concerning religious morality. What is challenged are the norms of morality adhered to by married couples and families, especially the norms related to human sexuality.
References
Antol, Pavol. "Rodinné obyčaje Rómov v obci Soľ." In Neznámi Rómovia. Bratislava: Ister Science Press, 1992.
Bešenyei, Peter. "Dedičstvo dona Bosca a jeho využitie v rómskej misii." In Preventívny systém v rómskom svete. Bratislava: Don Bosco, 2010.
Bešenyei, Peter. Rómske ticho. Bratislava: Don Bosco, 2009.
Hanobík, František. Rómovia, zvyky, tradície, rodina, cirkev. Košice: Arcidiecézne katechetické stredisko, 2003.
Filipiak, Marian. Problematyka społeczna w Biblii. Warszawa: Instytut Wydawniczy PAX, 1985.
Jarmoch, Edward. Religijność żołnierzy zasadniczej i zawodowej służby wojskowej w warunkach przemian systemowych. Warszawa: Referat Duszpasterstwa Rodzin, 1998.
Jarmoch, Edward. "Wiedza religijna jako intelektualno-poznawczy wymiar religijności." W Postawy społeczno-religijne mieszkańców Archidiecezji Szczecińsko-Kamieńskiej, red. Witold Zdaniewicz, Sławomir Zaręba, 19-45. Szczecin: Szczecińskie Wydawnictwo Archidiecezjalne "Ottonianum", 2006.
Jarmoch, Edward. "Dekalog jako uniwersalna droga postępowania człowieka." W Dzieje– filozofia–życie, red. Edward Jarmoch, 369-378. Siedlce: Uniwersytet Przyrodniczo-Humanistyczny, 2011.
Jarmoch, Edward. "Praktyki religijne i zwyczaje w rodzinie." W Postawy religijno-społeczne mieszkańców archidiecezji białostockiej, red. Rafał Lange, Wojciech Sadłoń, 37-59. Białystok: Wyd. św. Jerzego, Instytut Statystyki Kościoła Katolickiego SAC, 2013.
Katechizm Kościoła Katolickiego. Poznań: Wydawnictwo Pallottinum, 2020.
Krawczyk, Roman. Dekalog. Kodeks etyki społecznej Starego Testamentu. Siedlce: Wydawnictwo Diecezjalne, 1994.
Majda, Martin. Špecifiká morálky Rómov. Spišská Kapitula: Nadácia Kňazského seminára biskupa Jána Vojtaššáka. 2019.
Majda, Martin. Špecifiká religiozity Rómov. Spišská Kapitula: Nadácia Kňazského seminára biskupa Jána Vojtaššáka, 2018.
Mann, Arne. Rómsky dejepis. Bratislava: Kalligram, 2000.
Mann, Arne. Vzťah Rómov k viere. In Pastorácia Rómov. Prešov: Petra, 2009.
Mariański, Janusz. Kościół w społeczeństwie przemysłowym. Warszawa: Instytut Wydawniczy PAX,1983.
Muszyński, Henryk Józef. Dziesięć słów. Pytania współczesnego człowieka o Dekalog. Gniezno: Wydawnictwo Prymasowskie GAUDENTINUM, 1995.
Nemcová, Anna. Sociálna starostlivosť o Rómov v Roškovciach zo strany Cirkvi a štátu: dizertačná práca. Ružomberok: KU, 2015.
Pápežská rada pre pastoráciu migrantov a cestujúcich. "Smernice pre pastoráciu Rómov". Accessem January 12 2021, https://kbs.sk/obsah/sekcia/h/dokumenty-a-yhlasenia/p/dokumenty-vatikanskych-uradov/c/smernice-pastoracia-rom.
Piwowarski, Władysław. Socjologia religii. Lublin: Redakcja Wydawnictw KUL, 1996.
Podolinska, Tatiana. Koho Boh? O kultúrnej aproximácii kresťanstva medzi Rómami na Slovensku. In Pastorácia Rómov. Prešov: Petra, 2009.
Porubec, Ondrej. Právne zásady a organizácia dušpastierstva Cigánov na Slovensku: rigorózna práca. Lublin: Katolicki Universytet Lubelski, 1998.
Ružbarský, Peter. Čureja, František. Duchovný svet Rómov. Prešov: Vydavateľstvo Michala Vaška, 2004.
Ružbarský, Peter. Situácia a perspektíva sviatostnej katechizácie Rómov. Košice: Vienela, 2009.
Šarník, František. Výchova a vzdelávanie Rómskych žiakov ako pedagogický systém: dizertačná práca. Prešov: PU, 2006.
Šlosár, Dušan. "Rómovia." In Zmena a budúcnosť, či stagnácia a minulosť Rómov na Slovensku. Košice: Technická univerzita, 2009.
Skokanová, Anna. Interferenčné vplyvy pôsobiace na komunikačné kompetencie rómskych žiakov so špeciálnymi edukačnými potrebam. Bratislava: Sapientia, 2012.
Štefaňak, Ondrej. "Religijność młodzieży słowackiej w procesie przemian". Przegląd Religioznawczy – The Religious Studies Review 2(2018): 113-127.
Štrbová, Monika, Selická, Denisa. Rodinné a medzigeneračné väzby v súčasnej rómskej rodine. Katowice: Studio Noa, 2014.
Wysocki, Józef. Rytuał rodzinny. Olsztyn: Warmińskie Wydawnictwo Diecezjalne, 1981.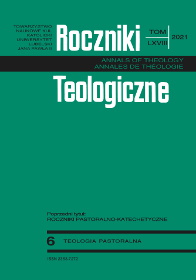 Copyright (c) 2021 Roczniki Teologiczne
This work is licensed under a Creative Commons Attribution-NonCommercial-NoDerivatives 4.0 International License.