The Manggarai Region on the Flores, Island Indonesia. Historical and Cultural Circumstances
Vinsensius Adi Gunawan

Anthropos Institut, Germany
Keywords:
Manggarai, culture, adat, custom, ritual
Abstract
Manggarai, as a region with its own cultural system, appears, likely thousands other regions in the archipelago, not just as a separate field of scientific research, but as a set of value systems that over time formed (and is still forming) the character of individuals to be able to live in a such diverse country, Indonesia. This "being Manggarai/Manggaraian", which expresses the whole (person, character, customs, beliefs), can be considered as one of the factors of the development of the region (at the micro scale) and the country (at the macro scale) and as a strategy in the dealing with crises in both levels (micro and macro) as well. This article describes the background and cultural characteristics of a region which, in such a diverse and rapidly developing country, continues to keep the cultural remains of its ancestors in a reasonable way.
References
Allerton, Catherine. "Authentic Housing, Authentic Culture." Indonesian and the Malay
World 3, no. 89 (2003): 119-128.
Allerton, Catherine. "The Secret Life of Sarongs." Journal of Material Culture 12, no. 1 (2007): 22-46.
Allerton, Catherine. "The path of marriage. Journeys and transformations in Manggarai, eastern Indonesia." BTLV 160, no. 2/3 (2004): 339-362.
Aron, Hieronimus, "Ritus Penti Suku Bajo di Manggarai." (B.A. thesis), STFK Ledalero, 1995.
Beribe, Willem. "Manggarai Noun and Verb Formation. A Descriptive Analysis of the Morphology of the Manggarai Tengah Dialect. A Comparative Study." PhD diss., Undana Kupang, 1982.
Doo Koo, Fransiskus X. "Jiwa Sesuai Paham Asli Manggarai." (B.A. thesis), Ledalero, 1984.
Erb, Maribeth. The Manggaraians: A Guide to Traditional Lifestyles. Singapore: Time Editions, 1999.
Erb, Maribeth. "Contested Time and Place. Constructions of History in Todo, Manggarai (Western Flores, Indonesia)." Journal of Southeast Asian Studies 23, no. 1 (1997): 47-77.
Erb, Maribeth. "Uniting the Bodies, Cleansing the Village." Indonesia and the Malay World 31, no. 89 (2003): 129-139.
Errington, Shelly. Meaning and Power in a Southeast Asian Realm. Princeton: Princeton University Press, 1989.
Fox, James J. Inside Austronesian Houses: Perspectives on Domestic Designs for Living. Canberra: ANU Press, 1993.
Glinka, Jozef. Gestalt und Herkunft. Beitrag zur anthropologischen Gliederung Indonesiens. Sankt Augustin: Anthropos Institut, 1978.
Gordon, John L. "The Manggarai: Social and Economic Transformation in an Eastern Indonesian Society." PhD diss., Harvard University, 1975.
Gordon, John L. "The Marriage Nexus among the Manggarai of West Flores." In The Flow of Life: Essays on Eastern Indonesia, ed. James J. Fox. 48-67. Cambridge: Harvard University Press, 1980.
Jangur, Petrus. Butir-butir Adat Manggarai. Ruteng: Penerbit Yayasan Siri Bongkok, 2010.
Jebabun, Bernardus. "Makna Upacara Kematian Manggarai Bagi Liturgi." (B.A. thesis), Ledalero, 1974.
Koentjaraningrat. Manusia dan Kebudayaan Indonesia. Jakarta: Balai Pustaka, 2002.
Kupisiński, Zdzisław. Śmierć jako wydarzenia eschatyczne. Zwyczaje, obrzędy i wierzenia pogrzebowe oraz zaduszkowe mieszkańców regionu opoczyńskiego i radomskiego. Lublin: Wydawnictwo KUL, 2007.
Lawang, Robert. "Stratifikasi Sosial Di Cancar-Manggarai Flores Barat." PhD diss., Universitas Indonesia, 1989.
Leteng, Hubertus. "Percik-percik Kristiani Dalam doa Asli Masyarakat Manggarai." (B.A. thesis), STFK Ledalero, 1986.
Lévi-Strauss, Claude. Anthropology and Myth: Lectures 1951-1982. Oxford: Blackwell, 1987.
Moeliono, Moira. "The Drums of Rura: Land Tenure and the Making of Place in Manggarai, West Flores, Indonesia." PhD diss., University of Hawaii, 2000.
Nahas, Marsel. "Pesta Penti dan perayaan Ekaristi." (B.A. thesis), STFK Ledalero, 1972.
Narto, Robilius. "Kelahiran, Perkawinan dan Kematian dalam Siklus Kehidupan Orang Manggarai." (B.A. thesis), STFK Ledalero, 2003.
Nggoro, Adi M. Budaya Manggarai Selayang Pandang. Ende: Nusa Indah, 2006.
Nowicka, Ewa. Świat człowieka, świat kultury. Warszawa: PWN, 2006.
Orinbao, P. Sareng. Nusa Nipa: Nama Pribumi Nusa Flores. Warisan Purba. Ende: Nusa Indah, 1969.
Quaaden, Leo, ed. Go'et Nggejang. Songs and Dance Texts from Northeast Manggarai (Flores, Indonesia). Nijmegen: Centre for Pacific and Asian Studies, 2008.
Regus, Max, and Kanisius T. Deki, eds. Gereja Menyapa Manggarai. Jakarta: Grafika Desa Putra, 2011.
Shadily, Hasan. Ensiklopedi Indonesia. Vol. 1. Jakarta, 1992.
Steenbrink, Karel. Orang-orang Katolik di Indonesia. Maumere: Penerbit Ledalero, 2006.
Toda, Dami N. Manggarai Mencari Pencerahan Historiografi. Ende: Nusa Indah, 1999.
Verheijen, Jilis. Kamus Manggarai: Manggarai-Indonesia. Den Haag: Nijhoff, 1967.
Van Bekkum, Wilhelm. "Warloka − Todo-Pongkor: Een Brok Geshiedenis van Manggarai (West Flores)." Cultureel India, VI (1944): 144-152.
Verheijen, Jilis. Manggarai dan Wujud Tertinggi. Jakarta: LIPI, 1991.
Van Bekkum, Wilhelm. "Het Gendanghuis en de Megalith in het Roetengshce." Manuscript, Ruteng, 1940.
Waterson, Roxana. The Living House: An Anthropology of Architecture in Southeast Asia. Kuala Lumpur: Oxford University Press, 1990.
Żerańska-Kominek, Sławomira. Muzyka w kulturze. Wprowadzenie do etnomuzykologii. Warszawa: Wydawnictwo Uniwersytetu Warszawskiego, 1995.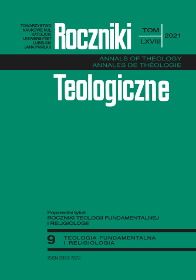 Copyright (c) 2021 Roczniki Teologiczne
This work is licensed under a Creative Commons Attribution-NonCommercial-NoDerivatives 4.0 International License.