Laying on Hands in the Liturgy of Ordination in the First Millennium (Part Two: Middle Ages)
Keywords:
laying on hands, ordination, Holy Spirit, bishop, presbyter, deacon
Abstract
The aim of this article is to show the origin and theological meaning of the gesture of laying on hands, as well as its place in the structure of ordination celebrations in the first millennium. Referring to the history of the liturgy of ordination allows us to answer the question of how, in the Middle Ages, the gesture of placing hands was marginalized and obscured with new elements coming from different Western liturgies, such as anointing, handing over of robes or the ceremonial handing in of the insignia. The author uses liturgical sources (sacramentaries and Ordines Romani) and on their basis he follows the transformations in the structure of the liturgy of ordination. In the Roman liturgy until the 10th century, i.e. until the acceptance by Rome of the "Roman-Germanic Pontificate," created in Mainz in 950, the gesture of laying on hands and the prayer of ordination constituted a specific core of the whole celebration of ordination. The analysis of the Ordines Romani also confirms the practice of using this liturgical gesture. However, here it is rarely mentioned explicitly. The absence of reference to this is indicative of the weakening of the ecclesiological meaning of the gesture of laying on of hands.
References
Bartocha W., Kształtowanie się obrzędów święceń biskupa od Tradycji Apostolskiej do Pontyfikału rzymsko-germańskiego (zarys historyczno-liturgiczny), "Seminare" 30(2011), s. 17-27.
Bradshaw P.F., Rites of Ordination. Their History and Theology, Collegeville: Order of Saint Benedict 2014.
Brovelli F., Ordine e ministeri, w: Anàmnesis, t. 3/1: La liturgia, i sacramenti: teologia e storia della celebrazione, red. A.J. Chupungco, Genova-Milano: Casa Editrice Marietti S.p.A. 2005, s. 241-300.
Carpin A., Il Sacramento dell'Ordine. Dalla Teologia Isidoriana alla Teologia Tomista, Bologna: Edizioni Studio Domenicano 1988.
Cavalli G., L'imposizione delle mani della tradizione della Chiesa Latina. Un rito che qualifica il sacramento, Roma: Edizioni Antonianum 1999.
Gibaut J., Amalarius of Metz and the Laying on of Hands in the Ordination of a Deacon, "Harvard Theological Review" 82(2) 1989, s. 233-240.
Konecki K., Nałożenie rąk w odnowionych obrzędach święceń, w: Ante Deum stantes, red. S. Koperek, R. Tyrała, Kraków: Wydawnictwo UNUM 2002, s. 293-300.
Kwiatkowski D., Obrzędy święceń prezbiteratu do X wieku, "Studia Liturgiczne" 7(2011), s. 19-30.
Kwiatkowski D., Struktura i teologia obrzędu święceń prezbiteratu w posoborowych pontyfikałach, "Poznańskie Studia Teologiczne" 11(2001), s. 163-205.
Lameri A., La Traditio Instrumentorum e delle insigne nei riti di ordinazione. Studio storico-liturgico, Roma: Edizioni Liturgiche 1998.
Lijka K., Ordinatio presbyterorum od X do XVI wieku, "Studia Liturgiczne" 7(2011), s. 31-50.
Oñatibia I., Ministerios eclesiales: orden, w: La celebración en la Iglesia, vol. II: Sacramentos, red. D. Borobio, ed. 5, Salamanca: Ediciones Sígueme 2008, s. 593-652.
Paternoster M., L'imposizione delle mani nella chiesa primitiva. Rassegna delle testimonianze bibliche, patristiche e liturgiche fino al secolo quinto, Roma: Edizioni Liturgiche 1983.
Santantoni A., L'ordinazione episcopale. Storia e teologia dei riti dell'ordinazione nelle antiche liturgie dell'Occidente, Roma: Editrice Anselmiana 1976.
Santantoni A., Parenti S., Gli ordini sacri e i ministeri, w: Scientia liturgica, red. A.J. Chupungco, t. 4, Casale Monferrato 1998, s. 209-266.
Sorci P., Liturgie papali, liturgie delle basiliche a Roma e genesi degli Ordines Romani, w: Liturgie e culture tra l'età di Gregorio Magno e il pontificato di Leone III, red. R. Salvarani, Città del Vaticano 2011, s. 175-200.
Vogel C., L'imposition des mains dans les rites d'ordination en Orient et en Occident, "La Maison-Dieu" 1970, nr 102, s. 52-72.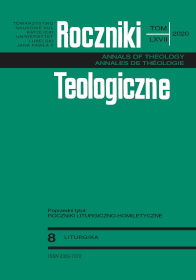 Copyright (c) 2020 Roczniki Teologiczne
This work is licensed under a Creative Commons Attribution-NonCommercial-NoDerivatives 4.0 International License.