Aesthetic Experience and Mystical Experience – Take in the Theological Horizon
Keywords:
aesthetic experience, mystical experience, art, mysticism, sensitivity, detail, emptying, purification, contemplation, union, beauty, God
Abstract
Aesthetic experience and mystical experience are similar in three stages of development. The first is to focus attention on detail. The artist does this in relation to the used element of the surrounding reality by bringing out something special in it, while the mystic seeks God's footprints in the natural world. In the second stage, the artist pushes away what distracts him, and he also frees himself from artistic conventions to create his intended work in an original way. In turn, the mystic cleanses himself of his weaknesses and attachment to the world. In the third stage, the artist can contemplate his work, and the mystic is able to experience the presence of God. The artist's temporary satisfaction passes. And in its place there is a sense of inadequacy between the intended idea and its inefficient implementation in a limited form. On the other hand, the mystic, after a moment's experience of God's presence, is aware that the object of his desire exceeds the limits of all possibilities of knowledge. Beauty and God appear as the two names of the One.
References
Antonioni, Michelangelo. Lista napisów z filmu "Po tamtej stronie chmur", [brak miejsca i daty wydania].
Bonawentura, św. Trzy drogi albo inaczej ogień miłości. Tłumaczenie. Cecylian Niezgoda. W Pisma ascetyczno-mistyczne, 15–30. Warszawa: Inne, 1984.
Dec, Dorota. Rembrandt, Krajobraz z miłosiernym Samarytaninem. Dostęp: 24.03.2020. https://mnk.pl/wystawy/rembrandt-krajobraz-z-milosiernym-samarytaninem.
Dzidek, Tadeusz. Funkcje sztuki w teologii. Kraków: WAM, 2013.
Eco, Umberto, Rorty, Richard, Culler, Jonathan, Brooke-Rose, Christine. Interpretacja i nadinterpretacja. Tłumaczenie Tomasz Bieroń. Kraków: Znak, 2008.
Grzegorz z Nyssy, św. Żywot Mojżesza. Seria: Sources chrétiennes, t. 1. Paris: Éditions du Cerf, 1965.
Giacometti, Alberto. Écrits. Paris: Hermann, 1997.
Gogh, Vincent van. Listy do brata. Tłumaczenie Joanna Guze, Maciej Chełkowski. Kraków: Znak, 997.
Guardans, Teresa. "Experiencia estética y experiencia religiosa". Iglesia Viva nr 256 (2013): 9–32. Dostęp: 5.01.2020. https://cetr.net/files/1392245664_256-11-guardans_este769ti.pdf
Jankowski, Augustyn. Królestwo Boże w przypowieściach. Poznań: Pallottinum, 1989.
Keats, John. Letter to Richard Woodhouse. Dostęp: 5.01.2020. https://genius.com/John-keats-the-chameleon-poet-letter-to-richard-woodhouse-october-27th-1818-annotated
Louth, Andrew. Początki mistyki chrześcijańskiej. Tłumaczenie Henryk Bednarek. Kraków: Wydawnictwo M, 1997.
Malecka, Teresa. "Zbigniew Bujarski, Człowiek i twórca. Rozmowa z kompozytorem". Teoria Muzyki. Studia, interpretacje, dokumentacje, 2, nr 2 (2013): 59–75.
Marí, Antonio. Formes de l'individualisme. València: Eliseu Climent, 1994.
Matisse, Henri. Écrits et propos sur l'art. Paris: Hermann, 2014.
Mikołaj z Kuzy. O oświeconej niewiedzy. Tłumaczenie Ireneusz Kania. Kraków: Znak, 1997.
Nikolaus von Kuec. "De Non-aliud". W Philosophisch-theologische Schriften, t. II, 443–565. Wien: Herder Verlag, 1964.
Ortega y Gasset, José. Dehumanizacja sztuki i inne eseje. Tłumaczenie Piotr Niklewicz. Warszawa: Czytelnik, 1980.
Orzech, Lucjan. "Refleksje nad współczesną formą artystyczną". Rocznik Naukowo-Dydaktyczny z. 1: 31–46. Dostęp: 6.02.2020. http://rep.up.krakow.pl/xmlui/bitstream/handle/11716/6204/RND117--03--Refleksje-nad-wspolczesna--Orzech.pdf?sequence=1&isAllowed=y
Proust, Marcel. W poszukiwaniu straconego czasu. T. 7: Czas odnaleziony. Tłumaczenie Maciej Żurowski. Warszawa: Wydawnictwo Mg, 2016.
Pseudo-Dionizy Areopagita. Teologia mistyczna. Tłumaczenie Maria Dzielska. W Pisma teologiczne, t. 1, 161–170. Kraków: Znak, 1997.
Rahner, Karl. "Die Kunst im Horizont von Theologie und Frömmigkeit". W Schriften zur Theologie, t. XVI, 364–372. Einsiedeln–Zürich–Köln: Benziger Verlag, 1984.
Tàpies, Antoni, Valente, José Ángel. Comunicación sobre el muro. Barcelona: Ediciones la Rosa Cúbica, 1998.
Teresa od Jezusa. Twierdza wewnętrzna. Tłumaczenie Henryk P. Kossowski. Kraków: Wydawnictwo Karmelitów Bosych, 2014.
Tillich, Paul. "Art and Ultimate Reality". W Art., Creativity, and the Sacred. Anthology in Religion and Art, red. Diane Apostolos-Canappadona, 219–235. New York: Continuum, 2001.
Vircondelet, Alain, red. Mémoires de Balthus. Monaco: Rocher, 2001.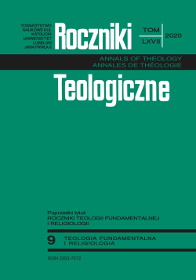 Copyright (c) 2020 Roczniki Teologiczne
This work is licensed under a Creative Commons Attribution-NonCommercial-NoDerivatives 4.0 International License.