Rewriting the Integrity of Formation and Development of the Church some Aspects of Trynitarian and Antropologian Ecclesiogenesic
Keywords:
Holy Trinity, Incarnation, beginnings of the Church, development, ecclesiology, chrystology, pneumatology
Abstract
By advocating a dynamic concept of the Church, the author deviates from the position that Jesus directly and openly founded the Church. He even puts forward a thesis: this was not the main motive of His earthly activity. In his argumentation, he presents the divine-human community, whose shape depends both, on God's mercy, as well as on human freedom. Jesus, in fact, does not so much establish the institutional and charismatic community but, above all, does the will of his Father "My food is to do the will of Him who sent Me" (Jn 4:34). The departure from christomonism in ecclesiology results in the appreciation of trinitology, eschatology, pneumatology, anthropology, mariology and the intensification of missionary and ecumenical aspirations.
References
Aletti, Jean-Noël. "8: The Incarnation and its Redemptive Impact". W The Incarnation, ed. Stephen T. Davis, Daniel Kendall, Gerald O'Collins, 93–115. Oxford: Oxford University Press, 2002.
Colzani, Gianni. "Missione". W Dizionario di ecclesiologia, 866–888. Città Nuova Roma, 2010.
Cwiekowski, Frederic J. The beginnings of the Church. New York–Mahwah: Paulist, 1988.
Czaja, Andrzej. Traktat o Kościele. Dogmatyka. T. 2, 291–543. Warszawa: Więź, 2006.
Forte, Bruno. La Chiesa della Trinità. Saggio sul mistero della Chiesa, comunione e missione. Cinisello Balsamo: San Paolo Edizioni, 1995.
Jan Paweł II. Encyklika o Duchu Świętym Dominum et Vivificantem. Kraków: Wydawnictwo M, 1986.
Jan Paweł II. Encyklika o stałej aktualności posłania misyjnego Redemptoris missio. Watykan, 1990.
Jan Paweł II. Encyklika Redemptor hominis. Kraków: Wydawnictwo M, 2010.
Jan Paweł II. List apostolski Tertio Millennio Adveniente w związku z przygotowaniem Jubileuszu roku 2000 (1994 r.).
Kasper, Walter. Kościół katolicki. Istota. Rzeczywistość. Posłannictwo. Kraków: WAM, 2014.
Katechizm Kościoła Katolickiego. Poznań: Pallottinum, 1994.
Meyers, Eric M., Burt, Sean. "Exile and Return. From the Babylonian destruction to the beginnings of Hellenism". W Ancient Israel. From Abraham to the Roman destruction of the Temple, ed. Hershel Shanks. Seria: Biblical Archaeology Society (3. ed.), 209–235. Washington: Pearson Education, 2011.
Międzynarodowa Komisja Teologiczna. Pamięć i pojednanie. Kościół i winy przeszłości. Kraków: Wydawnictwo Księży Sercanów, 2007.
Motte, René. "Reszta". W Słownik teologii biblijnej, red. Xavier Léon Dufour, 853–855. Poznań: Pallottinum, 1990.
Napiórkowski, Andrzej Adam. Proegzystencja Kościoła. Kraków: WAM, 2018.
Napiórkowski, Andrzej Adam. Od Arki Jahwe do Kościoła Trójjedynego Boga. Pelplin: Bernardinum, 2019.
Papieska Komisja Biblijna. Naród żydowski i jego Święte Pisma w Biblii chrześcijańskiej. Kielce: Verbum, 2002.
Ratzinger, Joseph. Wprowadzenie w chrześcijaństwo. Przekład Zofia Włodkowa. Kraków: Znak, 1994.
Ratzinger, Joseph. Kościół. Pielgrzymująca wspólnota wiary. Kraków: Wydawnictwo M, 2005.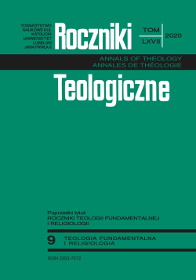 Copyright (c) 2020 Roczniki Teologiczne
This work is licensed under a Creative Commons Attribution-NonCommercial-NoDerivatives 4.0 International License.