The Peculiarities of Career Crises of Lawyers: Psychological and Social Aspects
Tetiana Yablonska

Taras Shevchenko National University of Kyiv

Lilia Sirokha

Taras Schev-chenko National University of Kyiv
Keywords:
career crisis, emotional burnout, legal professions, psycho-correction, social support, prevention
Abstract
The article deals with the phenomenon of professional crisis of lawyers. The emotional burnout as its manifestation is examined; the importance of detection and psycho-correction of this phenomenon is emphasized. In all the modern democratic developed countries, one of the priorities is to ensure high standards of labor and quality social protection. That is why studying the phenomenon of career crisis can help to improve working conditions and professional development.
Professional life is an integral part of human life, it is one of the important vectors of personality development, and it is a special form of person's socialization. The peculiarity of the professional activity of lawyers is high social responsibility, normativity, and a considerable number of conflict and stressful situations. Difficult conditions of professional activity affect the psychological state of employees, which can cause stress and emotional burnout and even career crisis.
The social and psychological factors of career crises of legal professions were revealed on the basis of empirical research, especially the level of emotional burnout. Features and manifestations of emotional burnout of male and female lawyers, as well as the role of gender stereotypes, were analyzed. Also the role of gender stereotypes in professional activity, which is a significant factor in women's career crisis, is analyzed. The importance of activities to prevent career crises of legal professions is emphasized.
References
Beck Connie, J.A., Sales Bruce, D. & Benjamin, G., Andrew, H. "Lawyer Distress: Alcohol-Related Problems and Other Psychological Concerns among a Sample of Practicing Lawyers." Journal of Law and Health (1995). Cleveland state university. https://pdfs.semanticscholar.org/a53c/caac05214a0eb7a93da70f25fedbbf4a0de0.pdf
Bulatevych, N. "Teacher's burnout syndrome: the phenomenology of the process." Polish Journal of Public Health (2017), 127(2): 62–66.
Chuchra, М., Gorbaniuk, J. "Znaczenie pracy zawodowej w życiu kobiet i mężczyzn." Roczniki Teologiczne (2017), 64, 1. DOI:http://dx.doi.org/10.18290/rt.2017.64.1-12.
Doherty, J. Women's Representation in Judiciaries Worldwide: Arguments in Favor of Increasing the Gender Diversity on the Bench, (2012). http://www.gwu.edu/~ggi/assets/docs/igis_wp2_ggp_wp1_doherty.pdf.
Feenan, D. "Women Judges: Gendering Judging, Justifying Diversity." Journal of Law and Society (2008), 35, 4: 490–519. https://www.jstor.org/stable/40206863?seq=1#page_scan_tab_contents.
Gächter, M., Savage, D.A., & Torgler, B. "Gender Variations of Physiological and Psychological Stress Among Police Officers (October 2, 2009)." Available at SSRN: https://ssrn.com/abstract=1498187 or http://dx.doi.org/10.2139/ssrn.1498187.
Gender and Judging. Ed. by Ulrike Schultz and Gisela Shaw, 2013.
Kobiety i mężczyźni na rynku pracy. Warszawa: GUS, 2014.
Moya, M., Expósito, F., & Ruiz, J. "Close relationships, gender, and career salience." Sex Roles (2010), 42(9–10), 825–846.
Kriti, P., Shekar, R., Jayashree, N. "Occupational stress and burnouts as predictors of job satisfaction amongst lawyers in district Sangli." National Journal of Medical Research (2012), 2, 2: 141–144. https://www.researchgate.net/publication/267827776_Occupational_Stress_and_Burnouts_as_Predictors_of_Job_Satisfaction_Amongst_Lawyers_in_District_Sangli.
Rackley, E. Women, Judging and the Judiciary: From Difference to Diversity. Routledge-Cavendish, 2012.
Thebaud, S. "Gender and entrepreneurship as a career choice do self-assessments of ability matter?" Social Psychology Quarterly (2010), 73(3): 288–304. https://doi.org/10.1177/0190272510377882.
Uyguç, N. "Gender, personal values and choice of profession." D.E.Ü.İ.İ.B.F Journal (2003), 18(1): 93–103.
Бойко, В.В. "Синдром «эмоционального выгорания» в профессиональном общении. 2-е изд. СПб.: Сударыня, 2001. [Bojko, V.V. Sindrom «emotsyonalnogo vygoranyia» v professyonalnom obshchenii. 2-e izd. SPb.: Sudarynia, 2001.
Борисюк, О.М., Фостяк, М.В. Дослідження синдрому професійного вигорання у працівників національної поліції України." Науковий вісник Львівського державного університету внутрішніх справ (2016), 2: 102-112. [Borysiuk, O.M., Fostiak, M.V. "Doslidzhennia syndromu profesiinoho vyhorannia u pratsivnykiv natsionalnoi politsii Ukrainy." Naukovyi visnyk Lvivskoho derzhavnoho universytetu vnutrishnikh sprav (2016), 2: 102-112]. http://www2.lvduvs.edu.ua/documents_pdf/visnyky/nvsp/02_2016/13.pdf.
Бризгалов, І.В. Юридична деонтологія: короткий курс лекцій. К.: МАУП, 2003. 3-те вид., стереотип. 48 с. [Bryzghalov, I.V. Yurydychna deontolohiia: korotkyi kurs lektsii. K.: MAUP, 2003. 3-te vyd., stereotyp. 48 s.].
Бурлачук, Л.Ф. Психология жизненных ситуаций. М.: РПА, 1998. [Burlachuk, L.F., Korzhova, E.Yu. Psyholohyia zhyznennykh sytuatsij. M.: RPA, 1998].
Заіка, В.М. "Динамічна модель особистісних трансформацій в умовах подолання кризових станів особистості." Соціальна психологія (2009), 1: 69–76 [Zaika, V.M. "Dynamichna model' osobystisnyh transformatsii v umovah podolannia kryzovykh staniv osobystosti." Sotsialna psykholohiia (2009), 1: 69–76].
Зеер, Э.Ф. Психология профессий: учеб. пособие. 3–е изд., перераб. и доп. М.: Академический Проект, Фонд «Мир», 2005. [Zeer, E.F. Psyholohyia professyi: uchebn. posobye. 3–e izd., pererab. i dop. M.: Akademicheskyi Proekt, Fond «Mir», 2005].
Климов, Е.А. Психология профессионала. М.: Институт практической психологии; Воронеж: МОДЭК, 1996. [Кlimov, Y.А. Psyhologia professionala. M.: Instytut prakticheskoi psykholohii; Voronezh : MODEK, 1996].
Кон, И.С. "Постоянство и изменчивость личности." Психологический журнал (1987), 8, 4: 126–137. [Kon, I.S. "Postojanstvo і izmenchivost' lichnosti." Psiholohycheskij zhurnal (1987), 8, 4: 126–137].
Про Національну поліцію України: Закон України від 02 липня 2015 року № 580-VIII. Відомості Верховної Ради України (2015), 40–41: 379. Редакція від 05.10.2016. [Pro Natsionalnu politsiiu Ukrainy: Zakon Ukrainy vid 02 lypnia 2015 roku № 580-VIII. Vidomosti Verkhovnoi Rady Ukrainy (2015), 40–41: 379. Redaktsiia vid 05.10.2016].
Романов, В.В. Юридическая психология: учеб. для юридических специальностей ВУЗов. М.: Юрист, 2009. [Romanov, V.V. Yurydycheskaia psykholohyia. Uchebnyk dlia yurydycheskykh spetsyalnostei VUZov. M.: Yuryst, 2009].
Ряшко, О.В. "Жінка в міліцейському однострої (соціально-правовий аспект)." Наук. вісник Львівського держ. ун-ту внутрішніх справ (2008), 1–7 [Riashko, O.V. "Zhinka v militseiskomu odnostroi (sotsialno-pravovyi aspekt)." Naukovyi visnyk Lvivskoho derzhavnoho universytetu vnutrishnikh sprav (2008), 3: 1–7] http://www2.lvduvs.edu.ua/documents_pdf/visnyky/nvsy/03_2008/08rovosa.pdf.
Скорик, М.М. Гендерна дискримінація у доступі до праці й послуг: оцінка стану впровадження Україною антидискримінаційних Директив Ради ЄС. Аналітичне дослідження. Київ: Бюро соціальних та політичних розробок, 2017. [Skoryk, M.M. Henderna dyskryminatsiia u dostupi do pratsi y posluh: otsinka stanu vprovadzhennia Ukrainoiu antydyskryminatsiinykh Dyrektyv Rady YeS. Analitychne doslidzhennia. Kyiv: Biuro sotsialnykh ta politychnykh rozrobok (2017)] https://bureau.in.ua/downloads/2017%20IRF%20Project_.pdf.
Чернуха, Н.М., Рижиков, В.С. "Професійна діяльність юриста: теоретичні засади." Трипільська цивілізація (2012), 7: 45–48. [Chernukha N.M., Ryzhykov V.S. "Profesiina diialnist' jurysta: teoretychni zasady." Trypil'ska tsyvilizatsija (2012), 7: 45–48].
Юрчик, Г.М. "Дискримінація на ринку праці: прояви, вітчизняний і європейський досвід подолання." Соціально-трудові відносини: теорія і практика: зб. наук. пр. М-во освіти і науки України; ДВНЗ «Київ. нац. екон. ун-т ім.В. Гетьмана»; Ін-т соц.-труд. відносин; редкол.: А.М. Колот (голова). Київ: КНЕУ (2016), 2: 118-128. [Yurchyk, H.M. "Dyskryminatsiia na rynku pratsi: proiavy, vitchyznianyi i yevropeiskyi dosvid podolannia." Sotsialno-trudovi vidnosyny: teoriia i praktyka: zb. nauk. pr. M-vo osvity i nauky Ukrainy; DVNZ «Kyiv. nats. ekon. un-t im. V. Hetmana»; In-t sots.-trud. vidnosyn; redkol.: A.M. Kolot (holova). Kyiv: KNEU (2016), 2: 118-128].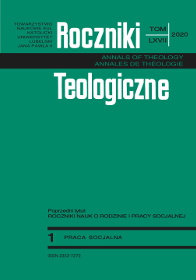 Copyright (c) 2020 Roczniki Teologiczne
This work is licensed under a Creative Commons Attribution-NonCommercial-NoDerivatives 4.0 International License.