Religiousness in the Context of End of Life
Andrzej Zwoliński

Pontifical University of John Paul II in Krakow
Keywords:
death, belonging to Christ;, preparation, meeting
Abstract
Awaiting the meeting with God is connected with the person's faith. This is faith, in the strict sense of the word, in life "after" the earthly life, life in the "future world." Such life, which is not merely an extension of the familiar existence, is hard to imagine. This existence is different in its essence. Life on earth continues as an endless sequence of successive moments. Eternity is a new dimension of existence, a new quality, continuous "now." In all contacts with God – in the sacraments, prayer, and meditation – we learn to see Him properly. It is a way of life in eternity already "now," today. Present and eternity do not oppose each other, they do not separate from each other, but they are entangled with each other. Eternal life grows in strength within the time that is given to us.
Entire religious care over the dying person is of equally important significance. Every sick person has a right to receive this care, which is also a way of evangelizing illness, a discovery of the redeeming significance of the suffering and pain of passing away. It involves giving a testimony of love through diaconia (service) and canonia (community formation).
References
Balter, L. "Nadzieja życia wiecznego." Communio (1984), 4: 74–94.
Boros, L. Istnienie wyzwolone – rozważania teologiczne. Mysterium mortis – człowiek w obliczu ostatecznej decyzji, 90–128. Trans. B. Białecki. Warszawa: Instytut Wydawniczy PAX, 1985.
Chabanis, Ch. Śmierć, kres czy początek? Trans. A.D. Tuaszyńska. Warszawa: Instytut Wydawniczy PAX, 1987.
Frankl, V. Bóg ukryty. W poszukiwaniu ostatecznego sensu, 171–192. Trans. A. Wolnicka. Warszawa: Wydawnictwo Czarna Owca, 2012.
Grzegorz z Nyssy. "Homilia I in Steph." In: PG, vol. 46, p. 708 b.
Guardini, R. O rzeczach ostatecznych. Trans. T. Grodecki. Kraków: Wydawnictwo WAM, 2004.
Hołownia, Sz., Kalb, C. "Wiara i medycyna." Newsweek Polska (2003), 49: 72–82.
Jakimowicz, M. "Nie mogę się doczekać." Gość Niedzielny (2015), 44: 18–21.
Jugie, M. Teologia dogmatica christianorum orientalium, vol. 5. Roma, 1935.
Kasper, W. "Nadzieja na ostateczne przyjście w chwale." Communio (1987), 2: 32–46.
Konik-Korn, A. "Na progu życia wiecznego." Niedziela (2016), 16: 28–29.
Kożuchowski, J. "Śmierć i umieranie w ujęciu Roberta Spaemanna." Studia Elbląskie (2012), 13: 381–393.
Liszka, P. "Struktura czasowa wydarzenia śmierci." Horyzonty Wiary (1993), 16: 31–43.
Makselon, J. "Optymalny model poradnictwa psychologiczno-religijnego?" In: Poradnictwo psychologiczno-religijne. Teoria i praktyka. Ed. J. Makselon, 59–69. Kraków: Wydawnictwo Naukowe PAT, 2001.
Pawliszyn, M. "Leszka Kołakowskiego kilka uwag na temat śmierci." Studia Elbląskie (2012), 13: 395–404.
Pytlik, A. Cierpienia współczesnych Hiobów. Kraków: Wydawnictwo Salwator, 2008.
Rahner, K., Vorgrimler, V. Mały słownik teologiczny. Warszawa, 1987.
Ratzinger, J. "Aby Bóg był wszystkim we wszystkich." Trans. J. Jarco. Znaki Czasu (1992), 28: 3–16.
Rode, O. "O śmierci – medycznie, filozoficznie i teologicznie." Posłannictwo (1977), 3: 25–58.
Sacred Congregation for the Doctrine of the Faith: Letter on Certain Questions Concerning Eschatology, http://www.vatican.va/roman_curia/congregations/cfaith/documents/rc_con_cfaith_doc_19790517_escatologia_en.html (July 15, 2017).
Schweitzer, A. "Poszanowanie życia." In: idem. Życie. Trans. J. Piechowski. Warszawa, 1971; after: Ethos (1989), 5: 135–136.
Sikorski, T. "Wolność ludzka wobec śmierci." Collectanea Theologica (1987), 3.
Śpidlik, T. Życie po śmierci. Maranatha, 91–95. Trans. P. Mikulska. Kraków: Wydawnictwo Salwator, 2009.
Sporken, P. "Postępowanie z umierającymi." In: Z pomocą umierającym. Przyczynki do rozmowy na temat umierania i śmierci, 84–85. Trans. S. Szczyrbowski. Warszawa: PAX, 1989.
St. Augustine, The City of God (Book XIII), 6: http://www.newadvent.org/fathers/120113.htm (July 18, 2017).
Stinissen, W. "Czas i wieczność." Trans. J. Iwaszkiewicz. W drodze (1992), 12 (232): 6–14.
Vasiliadis, N. Misterium śmierci. Trans. A. Bień. Białystok: Wydawnictwo Bratczyk, 2005.
Wróbel, J. Człowiek i medycyna. Teologicznomoralne podstawy ingerencji medycznych. Kraków, 1999.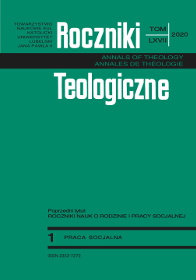 Copyright (c) 2020 Roczniki Teologiczne
This work is licensed under a Creative Commons Attribution-NonCommercial-NoDerivatives 4.0 International License.