Concepts of Spirituality at Universities of Today
Andrzej Jastrzębski

Faculty of Human Sciences, Saint Paul University, Ottawa
Keywords:
spirituality; theology; university
Abstract
In today's world, the concept of spirituality has entered into an extremely dynamic phase. This evolution is especially noticeable in the way spirituality is being taught at various universities. This paper will discuss studying spirituality from a Roman Catholic perspective viewed in a combination of four dimensions: ontological or phenomenological and foundational or pragmatic. It will take into account future directions in the approach to spirituality, including the ecumenical (Christian), the interreligious, and the non-religious.
The aim of this paper is to develop the above-stated characteristics based on some chosen examples of university curricula, then having done so, to elaborate a comparative analysis of the understanding of spirituality and its implications for academic programs.
References
Chmielewski, M. "Duchowość." In Leksykon duchowości katolickiej. Ed. M. Chmielewski, 226-232. LublinKraków: Wydawnictwo M, 2002.
Daniluk, M. "Duchowość chrześcijańska." In Encyklopedia Katolicka, vol. 4. Ed. R. Łukaszyk, L. Bieńkowski, F. Gryglewicz, 317-330. Lublin: TN KUL, 1985.
Darowski, R. Filozofia człowieka. Zarys problematyki. Kraków: WAM, 2002.
Elkins, D.N. Beyond religion: A personal program for building a spiritual life outside the walls of traditional religion. Wheaton, IL: Quest Books, 1998.
Gall, T., Malette, J., Guirguis-Younger, M. "Spirituality and Religiousness: A Diversity of Definitions." Journal of Spirituality in Mental Health (2011), 13/3: 158-181. DOI/abs/10. 1080/19349637.2011.593404
Granat, W. Osoba ludzka. Próba definicji. Lublin: TN KUL, 2006.
Helminiak, D.A. "Confounding the Divine and the Spiritual: Challenges to a Psychology of Spirituality." Pastoral Psychology (2008), 57: 161-182.
Jastrzębski, A. "Gordon W. Allport's concept of the human person. On a possible dialog between philosophy and psychology." The Pluralist (2011), 1: 71-86.
Jastrzębski, A. "On the possibility of the psychology of spirituality." Counseling and Spirituality (2017), 36/1-2: 33-49.
Koenig, H.G. Medicine, Religion and Health: Where Science and Spirituality Meet. West Conshohocken: Templeton Press, 2008.
Oman, D. "Defining religion and spirituality." In Handbook of the psychology of religion and spirituality. Ed. R.F. Paloutzian, C.L. Park, 23-47. New York: The Guilford Press, 2013.
Puchalski, C., Ferrell, B., Virani, R., Otis-Green, S., Baird, P., Bull, J., Chochinov, H., Handzo, G., Nelson-Becker, H., Prince-Paul, M., Pugliese, K., Sulmasy, D. "Improving the quality of spiritual care as a dimension of palliative care: the report of the Consensus Conference." Journal of Palliative Medicine (2009), 12(10): 885-904.
Rubin, J.B. "Psychoanalysis and spirituality." In Psychoanalysis and religion in the 21st century: Competitors or collaborators. Ed. D.M. Black, 132-153. New York: Routledge, 2006.
Schneiders, S.M. "Spirituality in the Academy." Theological Studies (1989), 50: 676-697.
Špidlik, T., Gargano, I., Grossi, V. "Duchowość Ojców Kościoła." In Historia duchowości, vol. 3. Kraków: Homo Dei, 2004.
Taylor, Ch. Sources of the Self. The Making of the Modern Identity. Cambridge, MA: Harvard UP, 1989.
Tischner, J. Spór o istnienie człowieka. Kraków: Znak, 1998.
Von Balthasar, H.U. "The Gospel as Norm and Test of All Spirituality in the Church." Concilium (1965), 9: 5-13.
Wiseman, J.O. Spirituality and Mysticism: A Global View. Theology in Global Perspective Series. Orbis Books: Maryknoll, NY, 2006.
Witek, S. "Duchowość religijna." Encyklopedia Katolicka, vol. 4. Ed. R. Łukaszyk, L. Bieńkowski, F. Gryglewicz, 330-334. Lublin: TN KUL, 1985.
Wojcieszek, K.A. Na początku była rozpacz… Antropologiczne podstawy profilaktyki. Kraków: Rubikon, 2005.
Zaborowski, Z. Człowiek jego świat i życie. Próba integracji. Warszawa: Wydawnictwo Akademickie "Żak", 2002.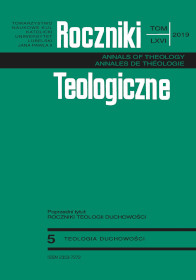 Copyright (c) 2019 Roczniki Teologiczne
This work is licensed under a Creative Commons Attribution-NonCommercial-NoDerivatives 4.0 International License.