Jan Polkowski's Poetic Conversations With Herbert and Różewicz
Wojciech Kudyba

Cardinal Stefan Wyszyński University in Warsaw, Poland
Keywords:
Jan Polkowski, Zbigniew Herbert, Tadeusz Różewicz, intertextuality
Abstract
Jan Polkowski's poetry is linked to Herbert's through the programme of ethical poetry, which is common to both poets, as well as their characteristic passion for admitting fundamental values and faith in the salvational power of culture. However, an interesting intertextual game, initiated by the younger writer in his poem Przesłanie pana X [The Envoy of Mr X], brings a more nuanced perspective to this simplified image. From the beginning of Przesłanie pana X, it is clear that hope, which Polkowski does not actually reject, seems to be much more problematic in his text than the vision of living in the myths of culture, which emerges from Herbert's work. The image of Polkowski and Różewicz's clear antagonism must also be verified. As the author of Rozmowy z Różewiczem [Conversations with Różewicz], Polkowski allows his older colleagues to drag him into a conversation about poetry and its tasks, outlining not only certain divergences, but also looking for what is close to his heart in Różewicz's work.
References
Bolecki W.: Poezja polska po 13 grudnia 1981 r., "Almanach Humanistyczny" 1984, nr 1-2.
Fiut A.: W potrzasku (O poezji stanu wojennego), w: tegoż, Pytania o tożsamość, Kraków 1995.
Herbert Z.: Pan Cogito, wyd. II poprawione, Wrocław 1993.
Inglot M.: O poezji stanu wojennego, "Język Polski w Szkole Średniej" 1992-1993, nr 1.
Mielniczuk J.: Dawanie świadectwa – Herbert, Polkowski, Świetlicki, "Polonistyka" 1999, nr 4.
Patrzałek T.: Dwa przesłania, "Polonistyka" 1992, nr 4.
Pawelec D.: Poezja stanu wojennego. Przymiarka do tematu, "Postscriptum" 1992, nr 2.
Polkowski J.: "Gdy Bóg się waha". Poezje 1977-2017, red. J.M. Ruszar, Kraków 2017.
Polkowski J.: Rozmowy z Różewiczem, Kraków−Warszawa 2019.
Różewicz T.: I znów zaczyna się przeszłość, wybór i wstęp J. Polkowski, Warszawa 2018.
Sławkowa E.: Jan Polkowski "Przesłanie pana X" – przejmujące świadectwo epoki. Propozycja interpretacyjna dla klasy IV liceum i V technikum, "Język Polski w Szkole Średniej" 1993, z. 1.
W mojej epoce już wymieram. Antologia szkiców o twórczości Jana Polkowskiego (1979-2017), red. J.M. Ruszar, I. Piskorska-Dobrzeniecka, Kraków 2017.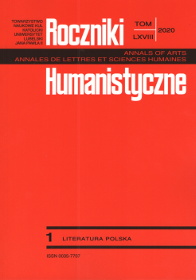 Copyright (c) 2020 Roczniki Humanistyczne
This work is licensed under a Creative Commons Attribution-NonCommercial-NoDerivatives 4.0 International License.