Bronisława Wójcik-Keuprulian in the Light of the Study by Małgorzata Sieradz
Maciej Gołąb

University of Wrocław
Keywords:
Bronisława Wójcik-Keuprulian, Małgorzata Sieradz, Henryk Opieński, Ludwik Bronarski, correspondence
Abstract
The aim of the article is to present the assumptions and discuss the edition of Bronisława Wójcik-Keuprulian's correspondence published in 2018 by Małgorzata Sieradz. Bronisława Wójcik-Keuprulian, who specialized mainly in chopinology, belonged to the group of outstanding Polish musicologists of the interwar period. Among other things, she was the originator of the "Fryderyk Chopin Complete Works" edition prepared by Ignacy Jan Paderewski.
Małgorzata Sieradz meticulously and with competent critical skills presents the correspondence, which Wójcik-Keuprulian conducted with two influential figures of the Polish musical life of her time: Henryk Opieński and Ludwik Bronarski. The study proves to be a valuable source for research on the beginnings of musicology as an academic discipline in Poland.
References
Bronarski L., Harmonika Chopina, Towarzystwo Wydawnicze Muzyki Polskiej, Warszawa 1935.
Muszkalska B., Bronisława Wójcik-Keuprulian – niepokorna uczennica Adolfa Chybińskiego, "Muzyka" 2012, nr 4, s. 47-70.
Sieradz M., "Kwartalnik Muzyczny" (1928-1950) a początki muzykologii polskiej, Instytut Sztuki PAN, Warszawa 2015.
Sieradz M., Adolf Chybiński – Józef Michał Chomiński. Korespondencja 1945-1952, Instytut Sztuki PAN, Warszawa 2016.
Windakiewiczowa H., Wzory ludowej muzyki polskiej w Mazurkach Fryderyka Chopina. Studium muzykologiczne, Polska Akademia Umiejętności, Kraków 1926.
Wójcik-Keuprulian B., Chopin: studja, krytyki, szkice, wyd. Gebethner i Wolff, Warszawa 1933.
Wójcik-Keuprulian B., Elementy ludowej rytmiki polskiej w muzyce Chopina, Zakład Narodowy im. Ossolińskich, Lwów 1936.
Wójcik-Keuprulian B., Melodyka Chopina, wyd. K.S. Jakubowski, Lwów 1930.
Wójcik-Keuprulian B., Rytmika czy metryka? (W związku z "Analysen der Chopinschen Klavierwerke" H. Leichtentritta), "Muzyka" 1928, nr 3, s. 115-118.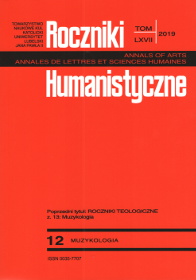 Copyright (c) 2019 Roczniki Humanistyczne
This work is licensed under a Creative Commons Attribution-NonCommercial-NoDerivatives 4.0 International License.