Melodies of the Prefaces Outside Mass in the 12th-Century Pontificale Plocense
Piotr Wiśniewski

The John Paul II Catholic University of Lublin
Keywords:
prefaces outside Mass, Pontificale Plocense, Gregorian chant, manuscript, cheironomic notation
Abstract
The paper discusses the prefaces outside Mass supplied with melodies that can be found in the 12th-century Pontificale Plocense (Seminary Library in Płock, Poland). Firstly, a short characterization of the manuscript is presented, the beginnings of the singing of prefaces as well attempts to note down the melodies is discussed. Next, the prefaces outside Mass are analysed with emphasis placed on the musical cadences with cheironomic notation. In addition, a comparison is undertaken between the discussed Pontifical and the Pontificals of Kraków (11th/12th c.) and of Wrocław (12th c.). It is possible that the recitative of the prefaces was subject to various degrees of melodisation, which was connected with the varying influence of compound neumes. The melodic versions of the cadences represent the varieties in tono solemnis and in tono solemniori. Numerous patterns of cadences in tono solemniori point to attempts to create new melodic patterns.
References
Abraham W., Zawarcie małżeństwa w pierwotnym prawie polskim, Gebethner i Wolff, Lwów 1925.
Adamko A., Kantylacje liturgiczne w mszale słowackim "Rímsky Misál" z 1980 roku, MTM – Milan Tejbus, Levoča 2005.
Bernat Z., Cheironomiczny zapis śpiewów liturgicznych w rękopisie ORDINARIUM PONTIFICALE ANTIQUUS Biblioteki Kapitulnej we Wrocławiu /sygn. 145/, Lublin 1964 (mps pracy lic. w Arch. Bibl. KUL).
Liphardt W., Leteinische Osterfeiern und Osterspiele, t. 3, Förlag de Gruyter, Berlin 1975-1976.
Liszewska J., Wstępna analiza kodykologiczna, technologiczna i konserwatorska Pontyfikału Płockiego, w: Pontyfikał. Odzyskana perła płockiego średniowiecza, red. D. Majewski, Płocki Instytut Wydawniczy, Płock 2016, s. 19-45.
Miazga T., Pontyfikały polskie w aspekcie muzykologicznym, Akademische Druck- u. Verlagsanstalt, Graz 1981.
Michalak J., Zarys liturgiki, Instytut Wyższej Kultury Religijnej, Płock 1939.
Misiarczyk L., Pontyfikał Płocki z XII wieku. Ogólna charakterystyka i treść kodeksu, w: Pontyfikał. Odzyskana perła płockiego średniowiecza, red. D. Majewski, Płocki Instytut Wydawniczy, Płock 2016, s. 47-72.
Morawski J., Recytatyw liturgiczny w średniowiecznej Polsce, Sutkowski Edition Warsaw, Warszawa 1996.
Ostrzołek H., Śpiewy gregoriańskie w Pontyfikale Biskupów Krakowskich z XI/XII w. Studium paleo-graficzno-muzykologiczne, Lublin 1962 (mps pracy magist. w Arch. Bibl. KUL).
Pawlak I., Muzyka liturgiczna po Soborze Watykańskim II w świetle dokumentów Kościoła, Polihymnia, Lublin 2000.
Podleś A., Pontyfikał Płocki z XII wieku, Płockie Wydawnictwo Diecezjalne, Płock 1986.
Semkowicz W., Paleografia łacińska, Universitas, Kraków 20022.
Wagner P., Einführung in die gregorianischen Melodien, t. 3, Gregorianische Formenlehre, Breitkopf & Härtel, Leipzig 1921.
Wiśniewski P., Das Reimoffizium von der Hl. Katharina aus dem 12. Jahrhundert im Pontificale von Płock (Polen), "Seminare" 401(2019), nr 3, s. 171-183.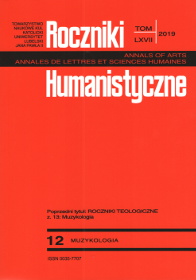 Copyright (c) 2019 Roczniki Humanistyczne
This work is licensed under a Creative Commons Attribution-NonCommercial-NoDerivatives 4.0 International License.