Broken heroes... Kitsch or art? Reception of Igor Mitoraj's works
Magdalena Howorus-Czajka

University of Gdańsk
Keywords:
Polish sculpture of the twentieth century; figurative sculpture; art reception; Igor Mitoraj
Abstract
The article summarizes the reception of Igor Mitoraj's art in his motherland, which he emigrated from in the 1960's.
Mitoraj is one of few Polish sculptors who were celebrated in the world, and what is more, they succeeded financially. His sculptures adorn public areas in Europe, Asia and America. However, reception of his works in his motherland was bipolar – cherished by some and at the same time undervalued by others. The artist was being accused of conformism, creating commercial art, even kitsch.
Then who was Igor Mitoraj? How is his art evaluated almost four years after his death? In this article, besides the summary of his art, I wish to present episodic background of the ambiguous reception of Mitoraj's sculptures in Poland. I use information from articles in professional magazines and from ordinary newspapers.
References
(GW), 'Pornograficzne' rzeźby w Krakowie, Queer.pl, 2 January 2004, http://queer.pl/news/189023/pornograficzne-rzezby-w-krakowie [accessed: 30.01.2016].
AN, Sacrum w marmurze z Carrary, "Dziennik Polski" 22 December 2007, http://www.dziennikpolski24.pl/artykul/1468716,sacrum-w-marmurze-z-carrary,id,t.html [accessed: 29.03.2016].
Andreeva Ekaterina, Sztuka protest, "Herito" 6 (2012), pp. 32-43.
Badach Artur, Igor Mitoraj – rzeźby i rysunki, Zamek Królewski w Warszawie – Muzeum, 11 February 2004, https://www.zamek-krolewski.pl/zwiedzanie/archiwum-wystaw-czasowych/igor-mitoraj-rzezby-i-rysunki [accessed: 29.03.2016].
Badach Artur, Igor Mitoraj: Powrót do ojczyzny, "Muzealnictwo" 45 (2004), pp. 71-79.
Capelli Pia, Scultore dal cuore italico, "Il Sole 24 Ore", 12 October 2014, http://www.ilsole24ore.com/art/cultura/2014-10-12/scultore-cuore-italico-081358.shtml?uuid=AB5ZCQ2B [accessed: 19.03.2018].
Górecka-Czuryłło Monika, Fascynuje jednością, "Życie Warszawy", March, 2009, http://www.zw.com.pl/artykul/348331.html?print=tak [accessed: 1.04.2016].
Jarco Joanna, Warszawa nie chce pomnika Papieża, Liturgia.pl, August 2008, http://www.liturgia.pl/blogi/Joanna-Jarco/Warszawa-nie-chce-pomnika-Papieza.html [accessed: 1.04.2016].
Kierkegaard Søren, Powtórzenie. Przedmowy, tłum. i oprac. B. Świderski, Warszawa 2000.
Kursa Magdalena, Głowa na głowie: Magdalena Kursa o 'Erosie bendato' na Rynku, Gazeta Wyborcza.pl, October 2005, http://krakow.wyborcza.pl/krakow/1,35797,2956500.html#ixzz43X7Ckslz [accessed: 4.06.2016].
Lameński Lechosław, Anioł z Pietrasanta, "Akcent" 4 (2014), pp. 125-135.
Leszkowicz Paweł, Sztuka a seksualna przebudowa polskiej przestrzeni publicznej: Igor Mitoraj i Niech nas zobaczą, "Obieg" May 2005, http://www.obieg.pl/teksty/5771 [accessed: 6.04.2016].
Mikołajewski Jarosław, Nie masz tu czego szukać – Mikołajewski o Mitoraju, "Gazeta Wyborcza", October 2014, http://wyborcza.pl/magazyn/1,141463,16784990,Nie_masz_tu_czego_szukac___Mikolajewski_o_Mitoraju.html [accessed: 6.04.2016].
Mitoraj Igor, Constantini Constanzo, Blask kamienia [Luhnítēs], tłum. S. Kasprzysiak, Kraków 2003.
Miziołek Jerzy, Ikar i Anioły: Wystawa dzieł Igora Mitoraja na Campo Santo w Pizie, "Biuletyn Historii Sztuki" [Bulletin of the Art History] 4 (2014), pp. 711-720.
Myjak Adam, Uwielbiany za granicą, niedoceniany w Polsce: Igor Mitoraj i jego sztuka, Polskie Radio pl., 8 Oktober 2014, http://www.polskieradio.pl/24/4455/Artykul/1252923,Uwielbiany-za-granica-niedoceniany-w-Polsce-Igor-Mitoraj-i-jego-sztuka. [accessed: 5.03.2016].
Rottenberg Anda, Zasada wspomagania, "Herito" 6 (2012), pp. 12-24.
Sarzyński Piotr, Igor Mitoraj, polski rzeźbiarz w Toskanii: Duch w marmurze, "Polityka" [2007] Oktober 2014, http://www.polityka.pl/tygodnikpolityka/kultura/1595015,1,igor-mitoraj-polski-rzezbiarz-w-toskanii.read [accessed: 1.04.2016].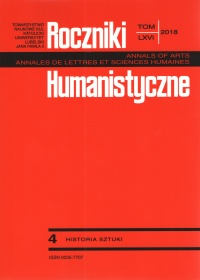 Copyright (c) 2018 Roczniki Humanistyczne
This work is licensed under a Creative Commons Attribution-NonCommercial-NoDerivatives 4.0 International License.