Child's View and Fairytale Form as Modes of Memoryless Examination of the Shoah in Novels by the Third Generation
Anna Rutka

The John Paul II Catholic University of Lublin, Faculty of Humanities
Keywords:
Ramona Ambs; Channh Trzebiner; Jan Himmelfarb; Kevin Vennemann; child's view; fairytale form; memory of the Shoah
Abstract
This paper provides an analysis of four contemporary novels by Ramona Ambs, Channah Trzebiner, Jan Himmelfarb and Kevin Vennemann, representatives of the third generation after the Shoah. All novels apply strategies of child's view or fairytale stylisation to expound on issues related to the process of transmitting the memory to the contemporary context of the 21st-century reality. The child's perspective helps to redefine the identity (Ambs, Trzebiner), the strategic narrative elements of naivety and fairytale expose the critical view on memory heritage (Himmelfarb) and on the intratextual level they destabilize violence and atrocity of the Nazi persecution (Vennemann).
References
Adorno, Theodor. "Über epische Naivetät". In: Max Horkheimer, Theodor Adorno, Dialektik der Aufklärung. Frankfurt am Main: Fischer Verlag, 1994.
Assmann, Aleida. Geschichte im Gedächtnis. Von der individuellen Erfahrung zur öffentlichen Inszenierung. München: C.H. Beck, 2007.
Das Konzept der Generation. Eine Wissenschafts- und Kulturgeschichte, hrsg. von Ohad Parnes, Ulrike Vedder, Stefan Willer. Frankfurt am Main: Suhrkamp, 2008.
Das Unbehagen in der 'dritten Generation'. Reflexionen des Holocaust, Antisemitismus und Nationalsozialismus, hrsg. von Villigster Forschungsforum zu Nationalsozialismus, Rassismus und Antisemitismus .Münster: Lit, 2003.
Diez, Georg. "'Ein bisschen Moral ist doch nicht schlecht.' Interview mit Kevin Vennemann und Nikolaus Wachsmann", Die Tageszeitung 16.02.2008. Verfügbar über: https://www.taz.de/1/archiv/print-archiv/printressorts/digiartikel/?ressort=ku&dig=2008%2F02%2F16%2Fa 0199&cHash=bcc99902618260bc25843438.
Dückers, Tanja. "Der Schrecken nimmt nicht ab, sondern wächst." Süddeutsche Zeitung 27.04.
Frieden, Kirstin. Neuverhandlungen des Holocaust — Mediale Transformationen des Gedächtnisparadigmas. Bielefeld: Transcript, 2014.
Griese, Sebastian. Inszenierte Privatheit. Möglichkeiten und Grenzen literarischer Erinnerung. Marburg: Tectum Verlag, 2009.
Hetzer, Katja. Kinderblick auf die Shoah. Formen der Erinnerung bei Ilse Eichinger, Hubert Fichte und Danio Kiš.Würzburg: Könighauser & Neumann: 1999.
Kliewer, Anette. "Naivität und Schrecken. Der ,kindliche' Blick und der Holocaust." In: Holocaustliteratur und Deutschunterricht. Erinnerungskultur in schulischer Perspektive. Hrsg. von Jens Birkmeyer. Hohengehren: Schneider Verlag, 2007, 225- 235.
Schulte, Philipp. Naivität als Möglichkeit: Überlegungen zur Undarstellbarkeit der Holocaust-Realität. Verfügbar unter: http://www.theater-wissenschaft.de/naivitaet-als-moeglichkeit-ueberlegungen-zur-undarstellbarkeit-der-holocaust-realitaet.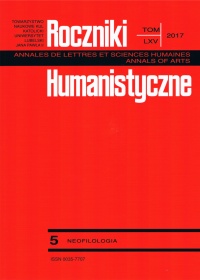 Copyright (c) 2017 Roczniki Humanistyczne
This work is licensed under a Creative Commons Attribution-NonCommercial-NoDerivatives 4.0 International License.