Fostering intercultural competence in L2-translations lessons at the John Paul II Catholic University of Lublin
Muriel Waterlot

The John Paul II Catholic University of Lublin, Faculty of Humanities
Keywords:
L2-translation; foreign language teaching; intercultural competence; didactics of T2- translation; prose translation
Abstract
This article analyses to what extent the didactic insights used in foreign language teaching and translation training, which both are intended to foster intercultural competence, can be combined. It presents a minimalistic 'transitional' model (the so-called Waterlot-model) which can be applied by foreign language university teachers who teach L2-translation within a language programme and who desire to integrate L2-translation into their foreign language teaching. Besides the introduction and conclusion, the article is composed of four parts. The first part defines several key terms — such as intercultural competence — and demonstrates how this competence is being promoted in Dutch foreign language teaching by means of the Van Kalsbeek-model. The second part presents the functional model designed by Christiane Nord aiming at enhancing the same competence in translation teaching. The third part finally reveals that elements of the Nord model can be integrated in the Van Kalsbeek-model which provides for a combined and model (cfr. Waterlot-model) that can applied at universities where translation is being taught as part of a language programme
References
Byram, Mike. 2009. 'The Intercultural Speaker and the Pedagogy of Foreign Language Education.' In Darla K. Deardorff (ed.), The SAGE Handbook of Intercultural Competence, 321-332. Thousand Oaks (CA): Sage.
Colina, Sonia. 2003. Translation Teaching, From Research to the Classroom, A Handbook for Teachers. Singapore: McGraw-Hill Companies, Inc.
Deardorff, Darla K. 2006. 'Identification and assessment of intercultural competence as a student outcome of internationalization of higher education in the United States.' Journal of Studies in International Education 10, 3: 241–266.
EMT expert group. 2009. Competences for professional translators, experts in Multilingual and multimedia communication. http://ec.europa.eu/dgs/translation/programmes/emt/key_ documents/emt_competences_translators_en.pdf. (geraadpleegd in maart 2016).
Kalsbeek, Alice van. 2003. 'Taal en cultuur of cultuur en taal?' In: Christine van Baalen, Ludo Beheydt & Alice van Kalsbeek. Cultuur in taal. Interculturele vaardigheden voor docenten Nederlands aan anderstaligen, 61–102. Utrecht: ncb.
Kalsbeek, Alice van. 2010. Cultuur in het onderwijs Nederlands als tweede taal: auteurskwaliteiten of docentvaardigheden? (=Vakwerk 6). Amsterdam: VU Reprografie.
Kramsch, Claire. 1993. Context and Culture in Language Teaching. Oxford: Oxford University Press.
Munday, Jeremy. 2012. Introducing Translation Studies. Theories and applications. Third edition. London & New York: Routledge.
Nord, Christina. 1991. Text analysis in translation: theory, methodology, and didactic application of a model for translation-oriented text analysis. Amsterdam & New York: Rodopi.
PACTE group. 2005. 'Investigating Translation Competence: Conceptual and Methodological Issues.' Meta 50, 2: 609–619.
Peverati, Costanza. 2007. 'Professionally-oriented translation teaching in a foreign language faculty,' paper delivered at the conference New Research in Translation and Interpreting Studies 2, Universitat Rovira i Virgili, Tarragona.
PICT. 2013. Promoting Intercultural Competence in Translators. http://www.pictllp.eu/pl (geraadpleegd in maart 2016).
Pym, Anthony, Kirsten Malmkjær & Maria del Mar Gutiérrez-Colón Plana. 2013. Translation and language learning: the role of translation in the teaching of languages in the European Union: a study. Luxembourg: Publications Office of the European Union.
Reiß, Katharina, & Hans J. Vermeer. 1984. Grundlegung einer allgemeinen Translationstheorie. Tubingen: Niemeyer Verlag.
Schäffner, Christina. 2004. 'Developing professional translation competence without a notion of translation.' In: Kirsten Malmkjaer (ed.), Translation in Undergraduate Degree Programmes (=Benjamins Translation Library 59), 113–125. Amsterdam & Philadelphia: John Benjamins,.
Vermeer, Hans J. 1998. 'Didactics of translation.' In: Mona Baker (ed.), The Routledge Encyclopedia of Translation Studies, 60–62. London & New York: Routledge.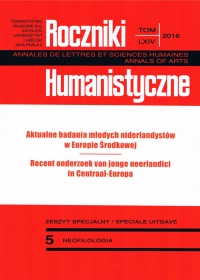 Copyright (c) 2016 Roczniki Humanistyczne
This work is licensed under a Creative Commons Attribution-NonCommercial-NoDerivatives 4.0 International License.