Outside the literary canon: Literature of working class women and the modernisation of South Africa in the first half of the 20th century
Małgorzata Drwal

Adam Mickiewicz University in Poznań
Keywords:
trade union press; women's writing; literary canon; Klerewerker/Garment Worker; socialism
Abstract
This article focuses on literary texts published in the Klerewerker/Garment Worker, the periodical of the Garment Workers' Union. The GWU which was an organisation consisting mainly of Afrikaner female workers, was established in 1930 in Johannesburg, against the background of economic and social changes in South Africa, which can be collectively described as modernisation. It is argued that the Klerewerker/Garment Worker, while striving to spread the ideology of socialism amongst working class women, has created — by modifying the Volksmoeder [Mother of the Nation] ideal rooted in the Afrikaner nationalist tradition — a modern model of femininity. Moreover, the literary forms employed in the periodical constituted a parallel line to the development of the canonical literature in Afrikaans, even though they were discredited by critics as socialist propaganda.
In the analysis of selected short stories and dialogues written by GWU activists the focus is placed on recurring motifs and literary conventions applied by the authors and aims they tried to achieve. It is concluded that these texts can be viewed as a counter-discourse to the dominant unifying attempts in the Afrikaans literature created in the 1930s and 1940s. The discussed instances of working class literature, free of limitations imposed by the dominant middle class literary taste, can be viewed as a form which temporarily offered a relative independence of expression to the Afrikaner women. Furthermore, these texts give an insight into how movements foreign to the canonical literature of the period, such as socialism and feminism, were present in the cultural and social debate.
References
Anon. 1940. 'Rype Ondervinding.' Klerewerker/Garment Worker, februarie 1940, p. 14 en april/mei 1940: 13
Anon. 1947. 'Die plig van 'n fabriek verteenwoordiger.' Klerewerker/Garment Worker, mei/junie 1947: 1–4.
Brink, Elsabé. 1984. Plays, Poetry and Production: The Literature of the Garment Workers. Johannesburg: ASSA Conference.
Brink, Elsabé. 1987. 'Maar 'n Klomp 'factory' Meide: The Role of the Female Garment Workers in the Clothing Industry, Afrikaner Family and Community on the Witwatersrand During the 1920s.' In Belinda Bozzoli (ed.). Class, Community, and Conflict: South African Perspectives, 177–208. Johannesburg: Ravan Press.
Brink Elsabé 1989. 'Purposeful Plays, Prose and Poems: The Writings of the Garment Workers, 1929–1945.' In Cherry Clayton (ed.). Woman and Writing in South Africa, 107–127. Marshalltown: Heinemann.
Brink, Elsabe 1990. 'Man-Made Women: Gender, Class and the Ideology of the Volksmoeder.' In Cherryl Walker (ed.). Women and Gender in Southern Africa to 1945, 273–292. Cape Town: D. Philip.
Conradie, Pieter. 1996. 'Redefining Identity: A Survey of Afrikaans Women Writers.'. Alternation 3, 2: 67-75.
Coetser. J.L. 1999. 'KWU-werkersklasdramas in Afrikaans (ca. 1930 – ca. 1950).' Literator 20, 2, aug. 1999: 59-75.
Coetzee, Ampie. 2000. 'n Hele os vir 'n ou broodmes. Grond en die plaasnarratief sedert 1595. Pretoria-Kaapstad: Van Schaik-Human & Rousseau.
Coetzee, John M. 1988. White Writing. On the Culture of Letters in South Africa. New Haven & London: Yale University Press & Johannesburg: Radix.
Du Toit, Marie. 1921. Vrou en feminist, of iets oor die vrouevraagstuk. Bloemfontein: Nationale Pers.
Huigen, Siegfried. 2009. 'Kwesties van literariteit en (dis)continuïteit in Nederlandstalige Zuid-Afrikaanse literatuur.' Tijdschrift voor Nederlandse Taal- en Letterkunde 125: 253–263.
Koch, Jerzy. 2012. Historia Literatury Południowoafrykańskiej: Literatura Afrikaans: (Okres Usamodzielnienia 1900-1930). Warszawa: Wydawnictwo Akademickie DIALOG.
Lourens, Amanda. 1997. 'Afwesig uit die kanon: Die prosageskrifte van die Klerewerkers,' Tydskrif vir Nederlands en Afrikaans. Jaargang 4 (2), december 1997. URL: http://www.dbnl.org/tekst/_tyd001199701_01/index.php (toegang 20.03.2016)
Malherbe, Mabel. 1950. Die Boerevrou-Boek: Saamgestel uit die eerste Afrikaanse vroueblad, Die Boerevrou. Pretoria: J.L. van Schaik.
Mawbey, J. 1978. 'Afrikaner Women of the Garment Union during the Thirties and Forties.' In Eddie Webster (ed.). Essays in Southern African Labour History, 192-206. Johannesburg: Ravan Press
Moodie, T Dunbar. 1980. The Rise of Afrikanerdom: Power, Apartheid, and the Afrikaner Civil Religion. Berkeley: University of California Press.
Myburg Mary, Maud Goldwyer. 1939.''n Staaltjie uit die Lewe van Twee klerewerksters.' Klerewerker/Garment Worker aug. 1939: 8–9.
Postma, Willem (Dr. Okulis). 1918. Die Boervrouw: Moeder van Haar Volk. Bloemfontein: Nasionale Pers.
Stander Christell, Hein Willemse. 1992. 'Winding through Nationalism, Patriarchy, Privilege and Concern: A Selected Overview of Afrikaans Women Writers.' Research in African Literatures. 23, 3: 5–24
Stockenström, Eric. 1921. Vrou in die geskiedenis van die Hollands-Afrikaanse volk: 'n Beknopte oorsig van die rol wat die vrou in die geskiedenis van Suid-Afrika gespeel het in die 350 jaar tussen 1568–1918. Stellenbosch: Pro Ecclesia.
Totius. 1977. Versamelde werke 7: Die staat, maatskappy, taal en kultuur. Ed. Hertzog Venter. Cape Town: Tafelberg.
Van Coller, H. P. 2011. 'Literatuur in die marge: Die plek van die middelmoot-literatuur.' Litnet Akademies: 'n Akademiese Joernaal vir die Natuurwetenskappe, Regte, Geesteswetenskappe en Godsdienswetenskappe. 8, 2: 66–111.
Van Niekerk, Annemarié. 1994. Vrouevertellers 1843–1993. Kaapstad: Tafelberg.
Van Niekerk, Annemarié. 1999. 'Die Afrikaanse vroueskrywer van egotekste tot postmodermisme (18e eeu – 1996).' In Hennie P. van Coller (ed.). Perspektief & Profiel. 'n Afrikaanse literuurgeskiedenis. Deel 2, 305–443. Pretoria: Van Schaik.
Vincent, Louise. 1999. 'A Cake of Soap: The Volksmoeder Ideology and Afrikaner Women's Campaign for the Vote.' The International Journal of African Historical Studies 32, 1: 1–17.
Vincent, Louise. 2000. "Bread and Honour: White Working Class Women and Afrikaner Nationalism in the 1930s." Journal of Southern African Studies 26, 1: 61–78.
Venter, C.W.B. 1944. 'Pure Goud.' Klerewerker/Garment Worker, november/december 1944: 14.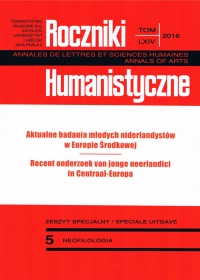 Copyright (c) 2016 Roczniki Humanistyczne
This work is licensed under a Creative Commons Attribution-NonCommercial-NoDerivatives 4.0 International License.