Evaluation of content and form in informing texts
Marcel Ištván

Charles University in Prague
Keywords:
text quality; text optimization; text reception; mental representation; canon
Abstract
This article describes a part of a research aimed at evaluating text-optimizing techniques. The respondents were presented with original texts and with differently manipulated versions of them. The text types studied here were an instruction manual to a digital camera and written instructions on how to fill in the annual tax declaration form. The original texts came in two language variants, namely Slovak and Dutch. They were tested on native speakers of both languages and learners of Dutch. Among other post-reading tasks, the respondents were asked to freely comment on the text they just had read. One interesting detail came up among the comments on the Dutch version of the texts that accompany the tax form: namely, there were relatively many comments questioning if these texts fulfill the canon of a "real" administrative text. On the other hand, no such questioning comments were recorded for the Slovak texts. More interestingly, the Slovak texts were more heavily manipulated than the Dutch ones, because the original Dutch texts were more suitable for the end recipient. Another striking fact is that the manipulation of the Dutch texts did not lead to statistically significant changes in the ability of the respondents to score better in questions about the facts in the texts, whereas the Slovak respondents did score better.
References
Kamalski, Judith, Leo Lentz & Ted Sanders. 2006. 'Effects of Coherence Marking on the Coprehension and Appraisal of Discourse.' In Proceedings of the CogSci 2006, 28th Annual Conference of the Cognitive Science Society in Cooperation with the 5th International Conference of the Cognitive Science: July 26–29, 2006, Vancouver, BC., Canada. Mahwah (NJ): Lawrence Erlbaum Ass., 1575–1580.
Kamalski, Judith, Leo Lentz & Ted Sanders. 2004. 'Coherentiemarkering in informerende en persuasieve teksten. Een empirisch onderzoek naar cognitieve en affectieve effecten.' Tijdschrift voor Taalbeheersing 26, 2: 85–103.
Laar, Felix van de. 2011. 'Het Libelle–gehalte als toetssteen. Begrijpelijkheid valt niet bij wet te regelen.' Tekstblad: Tijdschrift over tekst & communicatie 4.
Onrust, Margreet, Arie Verhagen & Rob Doeve. 1993. Formuleren. Houten: Bohn–Stafleu Van Loghum.
Plass, Jan & Dorothy Chun. 1997. 'Research on Text Comprehension in Multimedia Environments.' Language Learning & Technology 1, 1: 60–81.
Průcha, Jan. 1998. Učebnice: teorie a analýzy edukačního media: příručka pro student, učitele, autory učebnic a výzkumné pracovníky. Brno: Paido.
Renkema, Jan. 1987. Tekst en uitleg: een inleiding in de tekstwetenschap. Dordrecht: Foris Publications.
Searle, John R. 1971. The Philosophy of Langauge. London: Oxford University Press.
Steenhouder, Michaël & Peter Jan Schellens (eds.). 2008. Tekstanalyse: methoden en toepassingen. Assen: Van Gorcum.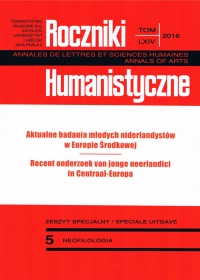 Copyright (c) 2016 Roczniki Humanistyczne
This work is licensed under a Creative Commons Attribution-NonCommercial-NoDerivatives 4.0 International License.