By way of introduction
Wilken Engelbrecht

The John Paul II Catholic University of Lublin, Faculty of Humanities
Keywords:
Dutch studies; colloquium; linguistics; literary science; cultural studies; John Paul II Catholic University of Lublin
Abstract
The prologue to this issue of Roczniki Humanistyczne, series Neofilologia opens with a short survey of Central European colloquia of Ph.D. students and candidates for a habilitation in Dutch Studies. Thus far such colloquia have been held in 2006 (Bratislava), 2008 (Wrocław), 2010 (Olomouc), 2014 (Budapest) and 2016 (Lublin). From more than 40 papers, half of them, 19 have been selected for this issue, 11 written by Ph.D. students and 8 by habilitandi. Seven Ph.D. students (Marcel Ištván, Jana Kijonková, Markéta Kluková, Martin Konvička, Marta Kostelecká, Beata Sprawka and Kaloyan Velikov) had linguistic papers. The other four Ph.D. papers had a different scope: Milan Potočar on assessment of juridical translations, Adéla Elbel and Albert Gielen on literary themes and Mieke Langenberg on the role of history in the curriculum of foreign students of Dutch. Five habilitandi (Pavlína Knap-Dlouhá, Agata Kowalska-Szubert, Milan Kříž, Muriel Waterlot and Katarzyna Wiercińska) had a linguistic theme as well. Three habilitandi (Małgorzata Dowlaszewicz, Małgorzata Drwal and Anna Sikora-Sabat) choose literary or cultural themes.
In this issue, all articles have been thematically grouped: Linguistics, Practical Linguistics, Literary Science and Cultural Studies and Glottodidactics.
The papers were reviewed by Wilken Engelbrecht, Jan Pekelder, Agnes Sneller, Cor van Bree, Folkert Kuiken and Gábor Pusztai. The first three were assessors during the colloquium as well, the others were asked as external reviewers for this publication. The colloquium was made possible by a subvention of the Nederlandse Taalunie (Dutch Language Union), the publication by the John Paul II Catholic University of Lublin.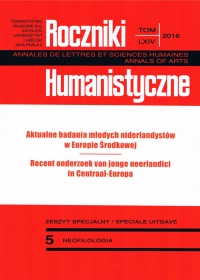 Copyright (c) 2016 Roczniki Humanistyczne
This work is licensed under a Creative Commons Attribution-NonCommercial-NoDerivatives 4.0 International License.