Zeus' Lightning in Early Greek Myth and in Cleanthes' Hymn
Jan Maarten Bremer

University of Amsterdam
Keywords:
lightning; thunderbolt; fire; logos
Abstract
[Abstrakt tylko w j. polskim / Abstract only in Polish]
Piorun Zeusa we wczesnym greckim micie i w hymnie Kleantesa
W okresie archaicznym kosmiczny fenomen pioruna był dla Greków nieomylnym znakiem niszczącej mocy Zeusa, używanej przezeń do eliminowania nieprzyjaznych sił we wszechświecie, a także pozbywania się tych spośród śmiertelników, którzy ważyli się przekroczyć granice swojej ludzkiej kondycji. Homer, Hezjod, Pindar i Ajschylos poświadczają, że takie było powszednie przekonanie im współczesnych. Potwierdza to również malarstwo wazowe. W III wieku przed Chr. w ramach stoicyzmu rozwinęło się nowe, pozytywne postrzeganie pioruna, stoicy mianowicie głosili, że piorun to narzędzie Zeusowej władzy we wszechświecie, ogień zaś jest podstawowym składnikiem wszechrzeczy i określa ich strukturę oraz zachowanie. Autor artykułu dowodzi, że (1) owa stoicka doktryna była obecna już u presokratycznego filozofa Heraklita oraz że (2) najwymowniejszy swój wyraz znajduje w hymnie do Zeusa autorstwa stoickiego filozofa Kleantesa.
References
Arafat K. W.: Classical Zeus: a study in art and literature, Oxford: Clarendon Press, 1990.
Danielewicz J.: Morfologia hymnu antycznego, Poznań: UAM, 1976.
Furley W.D.: Studies in the use of fire in ancient Greek religion, (Monographs in Classical Studies), New York: Arno Press, 1981.
Furley W.D. & J.M. B r e m e r: Greek Hymns, Tübingen: Mohr Siebeck, 2001.
Jacobsthal P.: Der Blitz in der orientalischen und griechischen Kunst: ein formgeschichtlicher Versuch, Berlin: Weidmannsche Buchhandlung 1906.
Hopkinson N.: A Hellenistic Anthology, Cambridge: Cambridge University Press, 1988.
Mansfeld J.: 'Providence and the destruction of the universe in early Stoic thought', in: Studies in Hellenistic Religions, ed. M.J. Vermaseren, Leiden: Brill Academic Publishers, 1979, pp. 129-189.
Thom J.: Cleanthes' hymn to Zeus, Tübingen: Mohr Siebeck, 2005.
Usener H.: 'Keraunos', Rheinisches Museum 60 (1905), pp. 1-30 = Kleine Schriften, vol. IV, Leipzig–Berlin 1913, pp. 471-498.
Verdenius W.J: 'Heraclitus' conception of fire', in: Kephalaion. Festschrift prof. C.J. de Vogel, ed. J. Mansfeld & L. de Rijk, Assen: Royal Van Gorcum & Comp., 1975, pp. 1-8.
Wachter R.: 'Griechisch χαῖρε: Vorgeschichte eines Grußwortes', Museum Helveticum 55 (1998), pp. 65-75.
ZuntzG.: 'Zum Kleanthes-Hymnus', Harvard Studies in Classical Philology 63 (1958), pp. 289-308.
ZuntzG.:, Griechische philosophische Hymnen, Aus dem Nachlaß herausgegeben von H. Cancik und L. Käppel, Tübingen: Mohr Siebeck, 2006.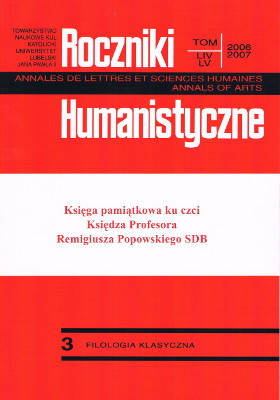 Copyright (c) 2007 Roczniki Humanistyczne
This work is licensed under a Creative Commons Attribution-NonCommercial-NoDerivatives 4.0 International License.