Calvarian Singing in the Written and Oral Tradition in Kalwaria Zebrzydowska and Kalwaria Pacławska in the Context of Their Perception in Selected Parishes of South-Eastern Poland
Keywords:
Calvarian singing, Calvaries, folk passion cult, variability, regional performance determinants
Abstract
The aim of this article is to characterise the Calvarian singing in the written and oral tradition in Kalwaria Zebrzydowska and Kalwaria Pacławska in the context of their perception in selected parishes of south-eastern Poland. Pilgrimages to these Calvaries fostered the development of local singing. A comparative analysis has shown that, by coming into contact with the distinctiveness of pilgrimage performances, local singing became susceptible to their influence, and thanks to the perception of those believers visiting the Calvaries, such local singing spread to other regions of the country. The repertoire practised by pilgrims in their parishes was combined with local religious songs, becoming known as "Calvarian singing," with rich melodies and content (we can also find contrafacta among them). The audio collection of the Music Archive of Religious Folklore of KUL contains recordings of 47 incipits of Calvarian singing from south-eastern Poland. Research has proved that, as a documented oral tradition, they show a variability (i.e. various types of transformations of their songbook notations) which is often regionally determined. Calvarian songbooks confirm the coexistence of written and oral traditions. It has been shown that songbook notation is identical to the oral tradition and it is merely a printed source functioning in parallel with the practice of this repertoire.
References
Adamowski, Jan. Kategoria przestrzeni w folklorze. Studium etnolingwistyczne. Wydawnictwo UMCS, 1999.
Barcik, Józef Symeon. Kalwaria Pacławska. Cieszyńska Drukarnia Wydawnicza, 1985.
Bartkowski, Bolesław. "Badanie żywej tradycji polskich pieśni religijnych a hymnologia". Materiały X Ogólnopolskiej Konferencji Muzykologicznej (Katowice, 10-12.XII.1976 r.), Zeszyty Naukowe PWSM w Katowicach, 1978, ss. 90-99.
Bartkowski, Bolesław. "Przedmiot badań i źródła etnografii muzycznej". Muzyka, nr 3, 1977, ss. 77-85.
Bartkowski, Bolesław. Polskie śpiewy religijne w żywej tradycji. Style i formy. Polskie Wydawnictwo Muzyczne, 1987.
Bilska-Wodecka, Elżbieta. Kalwarie europejskie. Analiza struktury, typów i genezy. Instytut Geografii i Gospodarki Przestrzennej UJ, 2003.
Bystroń, Jan Stanisław. Dzieje obyczajów w dawnej Polsce w. XVI-XVIII, t. 1. Nakładem Księgarni Trzaski, Everta i Michalskiego, 1960.
Chadam, Augustyn. "O kalwaryjskich pieśniach". Śpiewnik Kalwaryjski, wyd. III. Wydawnictwo Calvarianum, 1984, ss. 31-39.
Górni, Stanisław. "Nabożeństwo dróżkowe". Pielgrzym Kalwaryjski, nr 34, 2008, ss. 8-10.
Grochowski, Piotr. "Polskie pieśni pielgrzymkowe i kalwaryjskie". Łódzkie Studia Etnograficzne, t. 55, 2016, ss. 23-45.
Kałwa, Dobrochna. "Polska doby rozbiorów i międzywojenna". Obyczaje w Polsce, red. Andrzej Chwalba, Wydawnictwo Naukowe PWN, 2006, ss. 221-336.
Kopczyńska-Jaworska, Bronisława, i Wanda Paprocka. "Przekazy kultury w społeczności wiejskiej". Etnografia polski. Przemiany kultury ludowej, t. 2, red. Maria Biernacka, Maria Frankowska i Wanda Paprocka, Ossolineum. Wydawnictwo PAN, 1981, ss. 371-389.
Kopeć, Jerzy Józef CP. "Kalwaria Zebrzydowska jako Nowa Jerozolima". Kalwaria Zebrzydowska, Polska Jerozolima skarbem Kościoła i Narodu Polskiego, red. Czesław Gniecki, Wydawnictwo Calvarianum, 2002, ss. 153-176.
Krąpiec, Albert OP. "Od Ks. Rektora Katolickiego Uniwersytetu Lubelskiego". Polskie śpiewy religijne społeczności katolickich. Studia i materiały, t. I, red. naukowa Bolesław Bartkowski, współpraca Karol Mrowiec i Jan Stęszewski, Towarzystwo Naukowe KUL, 1990, ss. 7-8.
Obruśnik, Andrzej Efrem. "Kalwaria Leżajska". Peregrinus Cracoviensis, z. 7, 1999, ss. 73-85.
Prusowski, Wojciech. "Współczesny ruch pątniczy do Sanktuarium Matki Bożej Licheńskiej". Peregrinus Cracoviensis, z. 17, 2006, ss. 149-162.
Sołjan, Izabela. "Kalwaria Zebrzydowska na tle innych ośrodków pielgrzymkowych w Karpatach Polskich". Peregrinus Cracoviensis, z. 2, 1995, ss. 77-90.
Strycharz-Bogacz, Kinga. "Józef Jasek z Milówki jako wybitny śpiewak i depozytariusz lokalnej religijnej tradycji muzycznej". Muzyka, nr 2, 2021, ss. 141-161.
Świerczek, Edmund. "Kalwaria jako polska Jerozolima". Peregrinus Cracoviensis, z. 2, 1995, ss. 27-37.
Wyczawski, Hieronim Eugeniusz. Kalwaria Zebrzydowska. Historia Klasztoru Bernardynów i kalwaryjskich dróżek. Wydawnictwo Calvarianum, 2006.
Zoła, Antoni. "Problem autentyczności żywej tradycji ludowych śpiewów religijnych w Polsce". Współczesna polska religijna kultura muzyczna jako przedmiot badań muzykologii, red. Bolesław Bartkowski, Stanisław Dąbek i Antoni Zoła. Redakcja Wydawnictw KUL, 1992, ss. 85-89.
Zoła, Antoni. Melodyka ludowych śpiewów religijnych w Polsce. Wydawnictwo Polihymnia, 2003.
Żerańska-Kominek, Sławomira. Muzyka w kulturze. Wprowadzenie do etnomuzykologii. Wydawnictwa UW, 1995.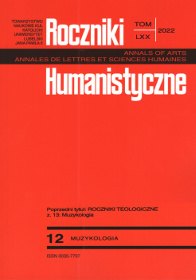 Copyright (c) 2022 Roczniki Humanistyczne
This work is licensed under a Creative Commons Attribution-NonCommercial-NoDerivatives 4.0 International License.