Latin School Drama in the Low Countries
Keywords:
theatre, school drama, Latin, Low Countries, Middle Ages, Renaissance
Abstract
This contribution first gives a brief overview of the development of Latin-language education in the Low Countries in the Middle Ages and the Renaissance. Subsequently, the position of Renaissance Latin school drama in the Low Countries is examined in relation to the incorporation of Middle Dutch material, with special attention paid to the play Elckerlijc. It also examines which themes are shared in both Middle Dutch drama and Latin school drama. The three most important generations of school drama authors are also briefly introduced. The period of these school dramas is that of the Dutch Renaissance of the late sixteenth and early seventeenth century. This period is illustrated with examples of several authors and plays, in particular the Acolastus by Guillemus Gnaphaeus and the Hecastus by Georgius Macropedius.
References
Bloemendal, Jan. Spiegel van het dagelijks leven? Latijnse school en toneel in de noordelijke Nederlanden in de zestiende en zeventiende eeuw. Verloren, 2003.
Bloemendal, Jan. 'Neo-Latin Drama in the Low Countries'. Neo-Latin Drama and Theatre in Early Modern Europe, geredigeerd door Jan Bloemendal en Howard B. Norland, Brill, 2013, pp. 293-364.
Boekholt, Petrus Th. F. M., en Engelina P. de Booy. Geschiedenis van de school in Nederland vanaf de middeleeuwen tot aan de huidige tijd. Van Gorcum, 1987.
Boogerd, Leonardus van den. Het Jezuïetendrama in de Nederlanden. Wolters, 1961. Katholieke Universiteit Nijmegen, dissertatie Faculteit Godgeleerdheid.
Erenstein, Robert L., redacteur. Een theatergeschiedenis der Nederlanden. Tien eeuwen drama en theater in Nederland en Vlaanderen. Amsterdam UP, 1996.
Engelbrechtová, Jana. 'Latinské školní drama v Nizozemí'. Nizozemské divadelní hry ve středověku, geredigeerd door Benjamin Bossaert e.a. Univerzita Palackého v Olomouci, 2019, pp. 207-229.
Giebels, Henk. 'Macropedius's Life and Times'. European Medieval Drama, vol. 13, 2009, pp. 7-38.
Hamelink, Roos. 'Doe uw voordeel met de verborgen betekenis.' Een vergelijking tussen Macropedius' en Gnapheus' schooltoneelstukken gebaseerd op de Verloren Zoon. 2016. Universiteit Utrecht, Masterscriptie. www.studenttheses.uu.nl/handle/20.500.12932/23184.
Minderaa, Pieter, redacteur. Guilielmus Gnapheus. Acolastus. Tjeenk, 1956.
Mohrmann, Christine. 'Le latin médiéval'. Cahiers de la Civilisation Médiévale, vol. 1, nr. 3, 1958, pp. 265-294.
Porteman, Karel, en Mieke B. Smits-Veldt. Een nieuw vaderland voor de Muzen. Geschiedenis van de Nederlandse literatuur 1560-1700. Bert Bakker, 2008.
Post, Regnerus R. The modern devotion. Confrontation with Reformation and Humanism. Brill, 1968.
Verschelde, Bernadette. 'Macropedius' Hecastus (1539), Ischyrius' Homulus (1536) en Elckerlyc'. Handelingen der Koninklijke Zuidnederlandse Maatschappij voor Taal- en Letterkunde en Geschiedenis, vol. 37, 1983, pp. 235-254.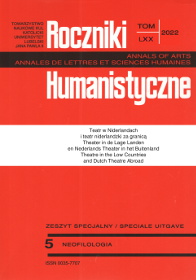 Copyright (c) 2022 Roczniki Humanistyczne
This work is licensed under a Creative Commons Attribution-NonCommercial-NoDerivatives 4.0 International License.