Images of the Netherlands in War with the Little Netherlands (1965): An Unstaged Two-Act Play by Rudolf Sloboda
Keywords:
imagology, chronotopes, Rudolf Sloboda, absurdist theatre, communist censorship
Abstract
The Slovak writer Rudolf Sloboda is considered one of the leading authors of Slovak literature since World War II. His oeuvre is divided into prose, which, according to Sloboda expert Zora Prušková, can be called extremely autobiographical, and several collections of poems, essays and children's books, but in addition he also wrote several film scenarios and two theatre plays. Most biographers forget to mention the two-act play that was published in 1965 in two issues of the literary magazine Slovenské pohľady as Vojna s malým Holandskom (War with the Little Netherlands), because this play was never performed.
In this contribution, some striking features of the play are explained. It also outlines the context in which the play originated, which was accompanied by censorship by the Communist regime. Finally, it is argued that, if the geographical names and the characters are examined closely, a chronotopical counterpart to Alfred Jarry's absurdist play Ubu Roi was created here, with the Netherlands deemed an abstract enough concept.
References
'The Final Cut: Holgyeim és Uraim'. Dalfar, 25 mrt. 2015, www.dalfar.wordpress.com/2015/03/25/the-final-cut-holgyeim-es-uraim. Geraadpleegd op 11 nov. 2020.
'Ubu Roi'. Wikipedia, 5 nov. 2021, www.nl.wikipedia.org/wiki/Ubu_roi.
Bachtin, Michail. 'Forms of Time and of the Chronotope in the Novel'. The Dialogic Imagination, geredigeerd door Michael Holquist. U of Texas P, 1981, pp. 84-258.
Delbeke, Astrid. Een blik op de stad. De beeldvorming van het Gentse stadslandschap in de literatuur en de fotografie. Universiteit Gent, Faculteit Letteren en Wijsbegeerte, niet-gepubliceerde masterscriptie, 2010.
Dominte, Carmen. 'The Stage as the Chronotope of Memory'. The University of Bucharest Review, vol. 3, nr. 2, 2013, pp. 73-79.
Foucault, Michel. 'Des Espaces Autres'. Architecture, Mouvement, Continuité, n 5, octobre 1984, pp. 46-49.
Istropolitán. Slovenský katolický spolok.. www.istropolitan.sk/2003/05/07/citacka-hry-r-slobodu-%25E2%2580%259Evojna-s-malym-holandskom%25E2%2580%259C/+&cd=1&hl=sk&ct=clnk&gl=sk. Geradpleegd op 11 nov. 2020.
Keunen, Bart. Verhaal en verbeelding. Chronotopen in de Westerse verhaalcultuur. Academiapress, 2007.
Leerssen, Joep. 'A Summary of imagological theory'. Imagologica.eu, www.imagologica.eu/theoreticalsummary. Geraadpleegd op 22 jun. 2021.
Meulenare, Annelies de. De idyllische ruimte in de twintigste-eeuwse cultuur. Een analyse van idyllische chronotopen via het spatialiserende denken. Universiteit Gent, Faculteit Letteren en Wijsbegeerte, niet-gepubliceerde licentiaatscriptie, 2007.
Prušková, Zora. Rudolf Sloboda. Kalligram, 2001.
Sabbe, Anke. Theater als oppositiemedium. Onderzoek naar theater tijdens de val van het communisme in Tsjechië en Polen. Universiteit Gent, Faculteit Letteren en Wijsbegeerte, niet-gepubliceerde masterscriptie, 2013.
Sloboda, Rudolf. 'Vojna s malým Holandskom'. Slovenské pohľady, vol. 81, nr. 6, 1965, pp. 144-156, en nr. 7, pp. 147-157.
Sloboda, Rudolf. Pokus o autoportrét. Slovenský spisovateľ, 1988.
Sloboda, Rudolf. Z Tvorby. Tatran, 2002.
Žemberová, Viera. 'Literatúra vložená do záznamov'. Proudy, středoevropský časopis pro vědu a literaturu. www.phil.muni.cz/journal/proudy/filologie/materialy/2018/2/zemberova_literatura_vlozena_do_zaznamu.php. Geradpleegd op 10 Nov. 2020.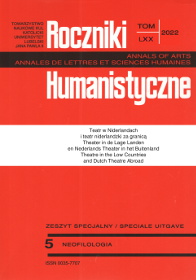 Copyright (c) 2022 Roczniki Humanistyczne
This work is licensed under a Creative Commons Attribution-NonCommercial-NoDerivatives 4.0 International License.