The Pragmatics of the Designation жид and of Compounds with the Stem жид- in the Discourse of the Russian Conservative and Orthodox Church Movement
Keywords:
Jew, discourse, nationalism, anti-Semitism, Russia
Abstract
In Russian, the designation жид is a negative and stylistically low disrespectful term used in relation to people of Jewish ethnicity. This had possibly already been realised in the 18th century. In the 19th century, this designation was still being used as a neutral term in colloquial language, but since the beginning of the 20th century it has been increasingly considered disrespectful. Today, its invective nature is beyond doubt; furthermore, its direct use places the sender at risk of criminal charges. Therefore, in the anti-Semitic discourse of contemporary radical Russian nationalists its direct use is avoided. However, this does not mean that the use of the designation жид has been abandoned. It appears in quotations, in metalanguage functions, and ironically. However, the rule of avoidance of the direct use of designations does not apply to interfixed compounds with the stem жид-, which are used without any limitations.
References
Allport, Gordon W. The Nature of Prejudice. Reading, MA, 1966.
Cała, Alina. Wizerunek Żyda w polskiej kulturze ludowej. Oficyna Naukowa, 2005.
Galyashina, Yelena Igorevna. "Lingvistika vs ekstremizma. V pomoshchʹ sudʹyam, sledovatelyam, ekspertam". Yuridicheskiy Mir, 2006 [Галяшина, Елена Игоревна. Лингвистика vs экстремизма. В помощь судьям, следователям, экспертам. Юридический Мир, 2006].
Grosbart, Zygmunt. "«Yevrey» i «zhid»» etnolingvisticheskiye refleksii" [«Еврей» и «жид»» этнолингвистические рефлексии"]. Studia Rossica Posnaniensia, nr 28, 1998, ss. 73-78.
Krysin, Leonid Petrovich. "Nenormativnyye etnonimy: problema slovarnogo opisaniya". Ekologiya yazyka i kommunikativnaya praktika, nr 1, 2015, ss. 46-56 [Крысин, Леонид Петрович. "Ненормативные этнонимы: проблема словарного описания". Экология языка и коммуникативная практика, № 1, 2015, сс. 46-56].
Krysin, Leonid Petrovich. Slovo v sovremennykh tekstakh i slovaryakh. Ocherki o russkoy leksike i leksikografii. Znak, 2008 [Крысин, Леонид Петрович. Слово в современных текстах и словарях. Очерки о русской лексике и лексикографии. Знак, 2008].
Masłowska, Ewa. "Z problemów pejoratywizacji lub melioracji nazw własnych użytych w funkcji apelatiwów". Język a Kultura, t. 3, 1991, ss. 29-40.
Pereferkovichʹʹ, Naumʹʹ. "Filologicheskiya zamtki. I. Kʹʹ istoríi slova «subbota». II. Kʹʹ istoríi slova «zhidʹʹ»". Zhurnalʹʹ ministerstva narodnago prosvshcheniya, oktyabrʹ, 1913, ss. 260-274 [Переферковичъ, Наумъ. "Филологическiя замѣтки. I. Къ исторіи слова «суббота». II. Къ исторіи слова «жидъ»". Журналъ министерства народнаго просвѣщенiя, октябрь, 1913, сс. 260-274].
Polyakov, A.S. "Nekotoryye voprosy slovoobrazovaniya nenormativnykh etnonimov v Internet-diskurse". Yurislingvistika, nr 1(12), 2012, ss. 84–96 [Поляков, А.С. "Некоторые вопросы словообразования ненормативных этнонимов в Интернет-дискурсе". Юрислингвистика, № 1(12), 2012, cc. 84-96].
Sokolovskaya, Yevgeniya. "Lider pravoslavnykh ekstremistov svyazal volnu evakuatsiy po vsey Rossii s protestom protiv «Matilʹdy»" [Соколовская, Евгения. "Лидер православных экстремистов связал волну эвакуаций по всей России с протестом против «Матильды»"], snob.ru/news/151429. Dostęp 01.11.2021.
Soldatov, Aleksandr Valerʹyevich. "Pravoslavnyy IGIL, poka yeshche ne zapreshchennyy v Rossii" [Солдатов, Александр Валерьевич. "Православный ИГИЛ, пока еще не запрещенный в России"], www.novayagazeta.ru/articles/2017/09/12/73792-pravoslavnyy-halifat. Dostęp 01.11.2021.
Stepanov, Anatoliy Dmitriyevich. "Chernaya sotnya – vzglyad cherez stoletiye" [Степанов, Анатолий Дмитриевич. "Черная сотня – взгляд через столетие"], 3rm.info/ publications/5150-chernaya-sotnya-vzglyad-cherez-stoletie.html. Dostęp 01.11.2021.
Turanskaya, Nadezhda Vladimirovna. "Lingvoekologiya etnostereotipov sovremennogo mediynogo prostranstva [Туранская, Надежда Владимировна. "Лингвоэкология этностереотипов современного медийного пространства"], psyjournals.ru/langpsy/2015/n3/ Turanskaya.shtml. Dostęp 01.11.2021.
Vepreva, Irina Trofimovna, Kupina, Nataliya Aleksandrovna. "Trevozhnaya leksika tekushchego vremeni: neofitsialʹnyye etnonimy v funktsii aktualʹnykh slov". Politicheskaya lingvistika, nr 3(49), 2014, ss. 45-50 []Вепрева, Ирина Трофимовна, Купина, Наталия Александровна. "Тревожная лексика текущего времени: неофициальные этнонимы в функции актуальных слов". Политическая лингвистика, № 3(49), 2014, cc. 45-50].
Vikhnovich, Vsevolod Lʹvovich. Iudaizm. Piter, 2006 [Вихнович, Всеволод Львович. Иудаизм. Питер, 2006].
Voroshilova, Mariya Borisovna. "Chernaya chuma: nominatsii vraga v ekstremistskom tekste". Yurislingvistika, nr 1, 2012, ss. 67-72 [Ворошилова, Мария Борисовна. "Черная чума: номинации врага в экстремистском тексте". Юрислингвистика, № 1, 2012, cc. 67-72].
Wierzbicka, Agnieszka. "Żyd, Żydzi, Żydy, Żydki – stereotypes and judgments ingrained in the Polish language". Acta Universitatis Lodziensis. Folia Linguistica, nr 49, 2015, ss. 57-67.
Zemszał, Piotr. "Ideologem i ideologemnoye slovo – k opredeleniyu terminov" ["Идеологем и идеологемное слово – к определению терминов"]. Przegląd Rusycystyczny, nr 2, 2019, ss. 150-170.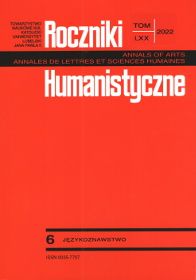 Copyright (c) 2022 Roczniki Humanistyczne
This work is licensed under a Creative Commons Attribution-NonCommercial-NoDerivatives 4.0 International License.